Winter of the Black Swan?
EARLY PROJECTIONS ON FIRST ARRIVAL OF SIGNIFICANT WINTER WEATHER IN THE EASTERN US
10/25/2014 (Forecaster Foot & the Long Range Team) While relative calm has been the general rule this Fall for a good portion of the eastern U.S., those of us who follow long term trends in seasonal climate data are increasingly concerned that a period of major upheaval in weather is fast approaching.
In this second of our annual three part "What about winter" we will discuss the Black Swan theory and its implications for the winter ahead.
We will also revisit our overview of climate indicators as
first posted on 9/22/2014
to determine what changes or anomalies have developed since.
From that assessment, the objective of this report is to present evidence in the data we believe points to the following for this winter:
Identifying the period from November 15 to 25 for arrival of the Mid-Atlantic's first significant winter storm;
Atmospheric parameters that suggest storms this winter will produce storms highly disruptive conditions, such as heavy wet snow combined with strong winds in coastal cities and paralyzing ice storms in interior areas followed by long periods of below normal temperatures;
What is the "Black Swan" factor?
Pro-democracy rallies in Hong Kong, led by students demanding government
accountability for changing election rules without the people's consent
In 2008, author Nassim Nicholas Taleb expanded the meaning of this phrase with his book "The Black Swan: The Impact Of The Highly Improbable" (Penguin, 2008). His premise centers on the idea that despite our best efforts to plan and prepare for major events that we know may occur in the future, the world is "severely affected by events that are rare and difficult to predict." Origins of the Black Swan impact first developed among stock market traders, who would over time see the arrival and aftermath of seemingly surprise and unpredictable events as major drivers of market behavior but over short periods of time. The following excerpt is taken from Investopedia's page on the topic:
"Black Swans, Markets and Human Behavior Classic black swan events include the rise of the internet and personal computer, the Sept. 11 attacks and World War I. However, many other events such as floods, droughts, epidemics and so on are either improbable, unpredictable or both. This "non-computability" of rare events is not compatible with scientific methods. The result, says Taleb, is that people develop a psychological bias and "collective blindness" to them. The very fact that such rare but major events are by definition outliers makes them dangerous."
The relevance to weather and climate planning?
One might wonder, "What connection if any is there between stock markets, geopolitics and weather events??" Keep reading to uncover our answer to that question. Following last winter's multi-pronged assault on much of North America, the frequency of major disruptive weather events - while becoming became more isolated - also tilted toward increasingly catastrophic in areas that were directly impacted. The shifts in weather patterns since 2011 have been startling:
In 2011, the U.S. was beset by a multitude of widespread weather events that impacted millions of people on a regular basis. Most notable were the Spring 2011 tornado outbreaks that tore through the Southeast, then the summer 2011 heatwave, followed by Hurricane Irene, and the October 2011 "Frankenstorm." The most explosive disaster of 2011 that trumps all of these was the Earthquake, Tsunami and Fukushima nuclear disaster in March.
By 2012, following Hurricane Sandy, government agencies and the media alike were discussing how the nation had seen 13 billion dollar disasters in the previous 12 months. This was also the year the western drought began building, laced with the rising trend of unusually frequent forest fires in California.
In 2013, winter for much of the U.S. was markedly less destructive than in recent years, with snowfall rates plummeting to 75% below seasonal norms for many eastern cities - while midwestern and southern plains cities saw much higher snowfall than in the north.
What is the data suggesting for a winter kickoff?
A review of our first set of climate indicators used to evaluate pre-winter conditions shows the following:
Rutgers University Global Snow Lab graphic from September 2014
Siberia snow cover by mid-October 2014 had reached an extent nearly 25% greater than observations from 2013 and 2009. Source: NOAA National Ice Center. Note: NATICE has a data outage as of this writing. Image links will be provided once the site is reported to be operational.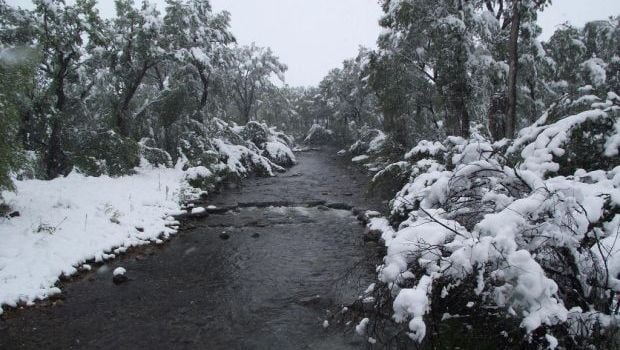 Winter comes early to Wyoming. Images courtesy of the Casper
Great Lakes water surface temperatures are reported to be 6 degrees cooler than normal as of October 15. Source: NOAA as reported on sott.net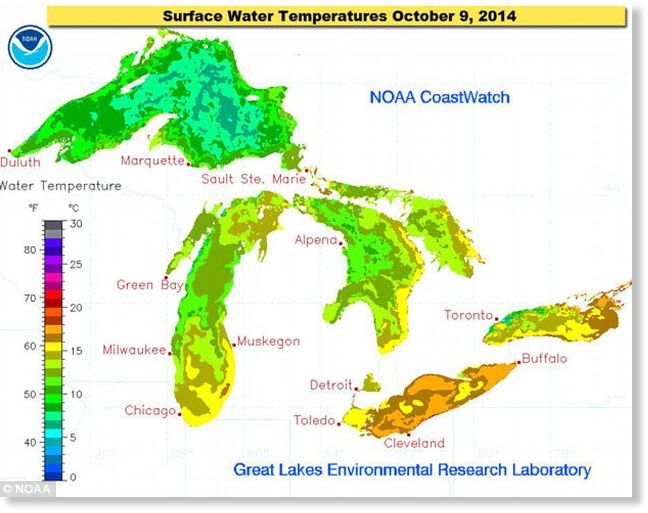 Ebola: A winter-enhanced Black Swan?
With the incessant drumbeat of dire predictions for the upcoming winter, from Accuweather, the Weather Channel and a host of weather enthusiasts alike, we seek to approach the challenges ahead for our readers from the perspective of actionable weather intelligence.
While some may wonder what Ebola Viral Disease (EVD) has to do with the winter forecast, we want to underline that we consider this emerging threat central to our mission here of analyzing short- and long-term risks to public safety. Addressing the impact that climate can have on public health is be well within the wheelhouse of that role. Further, we hold the view that readers benefit more from sourced information that can assist in their decision making about how to best protect family, property and community against emerging threats, whether the concern originates from weather hazards or disease outbreaks, or both.
EVD & EL NINO.
That said, the arrival of Ebola on U.S. soil, as well as outside of West Africa into European countries among others, most certainly qualifies for a Black Swan event that has roiled stock markets, and has cost of millions of dollars in preparatory and reactionary responses. We draw a critical connection between the weather and this public health issue due to the potential correlations between onset of El Nino and the oceanic temperature phenomenon's effect on disease outbreaks.
One example of the investigation into this issue is studies on how the 2009 H1N1 "Swine Flu" Pandemic appeared to affect tropical countries much less than higher latitude countries. You can review the findings in this article at the online literature publication PLOS: "
Were Equatorial countries less effected by the 2009 Pandemic? The Brazilian experience."
IMPACT OF WEATHER ON PUBLIC HEALTH
Heading into winter, and considering the changed situation Ebola presents with regard to the annual risk of influenza leads to important questions we will examine through a review of journal research literature and present our findings in part three of "What about Winter?"
1. What impact could winter conditions have on the transmissibility and infection rate of Ebola?
2. Are there similarities between how Ebola and Influenza act in cold weather?
3. What can people more susceptible to cold weather infections do differently this season?
Until we complete our review of these questions, we offer this excellent and plain-spoken commentary by a highly-respected and well-published professional in the disease research community. Dr. Michael Osterholm is Director of the University of Minnesota's Center for Infectious Disease Research and Policy. He recently visited the Johns Hopkins Bloomberg School of Public Health.
His remarks carried on C-SPAN are available for your review
and in 4:50 minute version below. We also offer these resources for those following the situation:
YOUR INPUT IS WELCOME.
We invite a respectful and fact-based discourse among readers on these issues, as well your concerns about the upcoming winter season. If you have sourced information to provide that can augment everyone's understanding of these topics, please join our comment community in advance of what is looking to be an interesting winter ahead.
The Foot's Forecast Long Range Team