Wednesday, November 25, 2015
Saturday, November 21, 2015
"Amid The Falling Snow..."
(in Iowa!)
-
2005 Single by Enya in the album Amarantine  (Youtube music video)
9:00 PM EST 11/21
- Taking a trip in the week ahead? (Or wondering about winter?)
We're watching the long range for you and indications are this year's busy travel season may leave behind one passenger NO ONE is going to miss: Bad weather (at least in the East.)
With heavy snow having blanketed Iowa and parts of the Midwest, perhaps some will slide more easily into holiday mode knowing that winter is tapping at the door. With this being the "last normal weekend" before the holiday headrush hits - we offer one weather map below worth of giving out this early. The short version for the Eastern U.S.:
1) High pressure dominates the pattern through this Friday.
2) Morning chill in the 30s with afternoon sun in the 50s.
3) BEST of all, regarding rainfall, a whole lotta nothin' on that map for travelers launching into the traffic adventure on Wednesday and Thursday.
As for the snowy home image above, this was Saturday afternoon outside Chicago, as captured by Forecaster Jake from Iowa State University, where nearly 14" fell in just one day. Boy where they ever pumped about that! Scenes like this certainly put 
Powderhounds into that "snow on the mind" mood, with even more hungry for our seasonal forecast in final stages of review. For now, here's a prelim winter Q & A to help you plan ahead:
Wednesday, October 28, 2015
"From a distance..."
5:00 PM 10/28 - With the wind swept rainy remnants of once Category 5 Hurricane Patricia having moved through the eastern U.S., thoughts now turn toward what is ahead on the long range horizon.
It is surmised by some climate analysis writers that downstream "blocking" in Greenland, as indicated by a negative Arctic Oscillation since summer may correlate to interesting impacts on the not-too-distant winter weather pattern. An example?
In the short term, could the southerly winds and moisture from Patricia's remnants:
A) cause a reduction in northern snow cover, and B) Slow the onset of future wintry conditions in the eastern U.S.? Below are shocking photos that unveil new evidence of this unfolding tragedy in the snow cover community.
SHOCKING TRUTH OF SNOW COVER
The two images shown are from the NOAA National Ice Center. Left is snow cover as of Saturday 10/24/15 - a day after Patricia's landfall. Right is the most recent image as of Tuesday 10/27. Look carefully at the stark reduction in snow cover. The province of Ontario was nearly half-covered, and now in just a few days, most of that has vanished!
If Jim Kirk were a forecaster, he might say "Come on Spock...Big deal." For those gaming to have a White Christmas, or just have a fighting chance to get anything white out of the sky, you need Canada's snow cover to get back on track, and fast. We will expand upon this report to outline if there is any probability of that happening in the near future.
Otherwise, the "snow-capped mountains white" sung about by Bette Midler will stay just lyrics in a song until January for some. From this distance, even the 8-14 day temperature outlook below points to further delays in snow cover buildup likely well into November.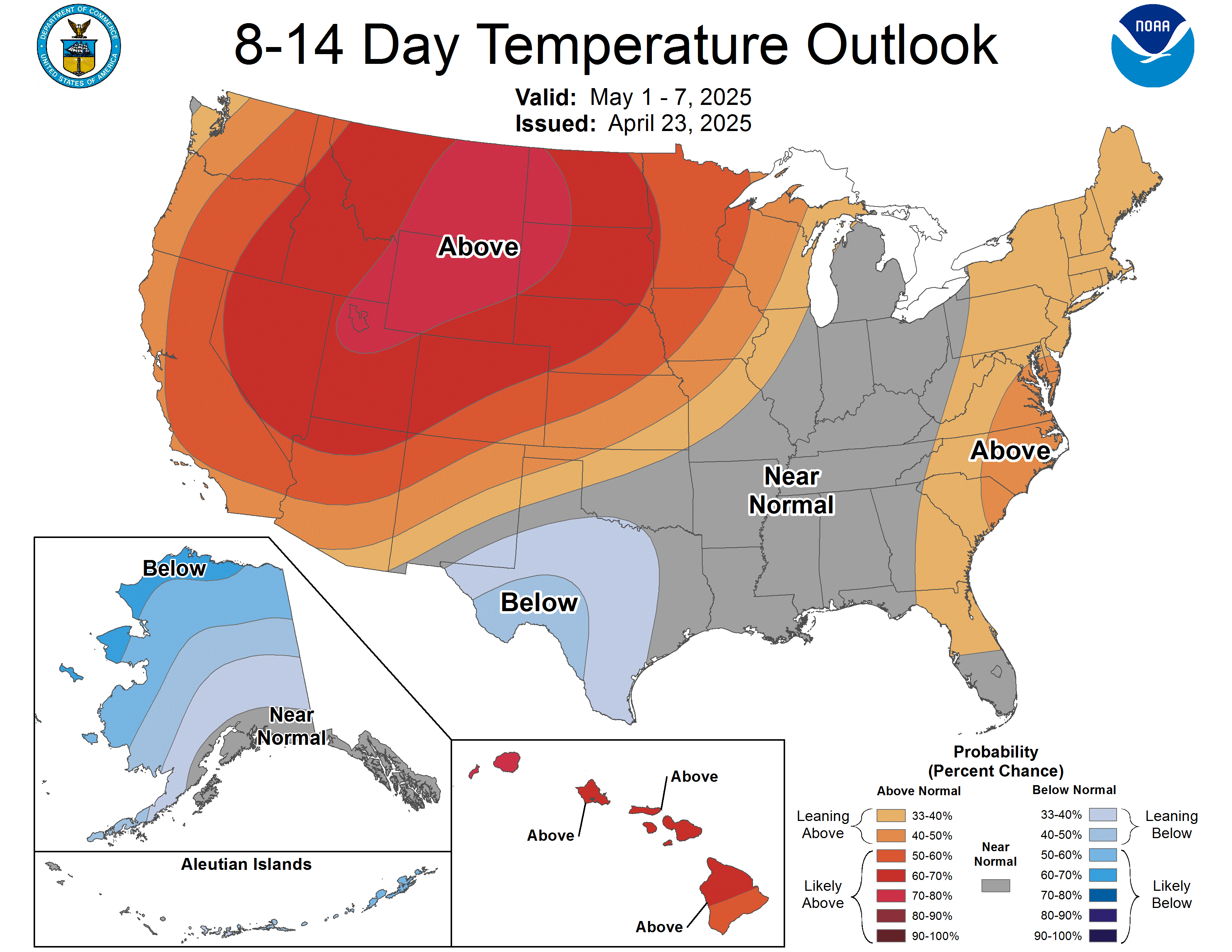 -The FF Long Range Team