Steps Toward Winter Begin
A summary of what's ahead from our Long Range Team:
Image source: WGN TV Channel 9.
FIRST SIGNIFICANT COLD PERIOD OF SEASON ARRIVES IN MID-ATLANTIC THURSDAY 12/8 THROUGH THE WEEKEND.
JANUARY-LIKE CONDITIONS EXPECTED THROUGH FRIDAY 12/16, HIGHS BARELY CROSSING 40 F FOR MOST AREAS, OVERNIGHT LOWS IN 20S.
THIS WIDESPREAD COLD PERIOD RESEMBLES THE WEEK LEADING UP TO THE DECEMBER 19, 2009 MAJOR SNOW EVENT IN THE MID-ATLANTIC.
WE HAVE TARGETED THE PERIOD FROM 12/12 TO 12/19 AS THE NEXT LIKELY PERIOD FOR ACCUMULATING SNOW EAST OF I-81 TO THE 95 CORRIDOR.
Does this mean a major storm is brewing?
Not exactly, at least not yet for the eastern Mid-Atlantic. It does however mean the essential ingredient needed to permit accumulating snowfall in the I-95 corridor and adjacent areas is falling into place: A solid week of serious cold in advance of any approaching storms, whether coastals or clippers.
The difference between 2016 and 2009: This year, the influence of El Nino and it's associated moisture influx is absent from the indicators. Instead, U.S. weather is now being strongly influenced by a La Nina- driven pattern where the Pacific sea surface temperatures have cooled dramatically from last year at this time. The rapid cooling of surface waters induces ridge of High pressure over the western U.S., and in turn drives a Low pressure trough in the Eastern U.S. Learn more about La Nina's effect on U.S. weather patterns at this NOAA site.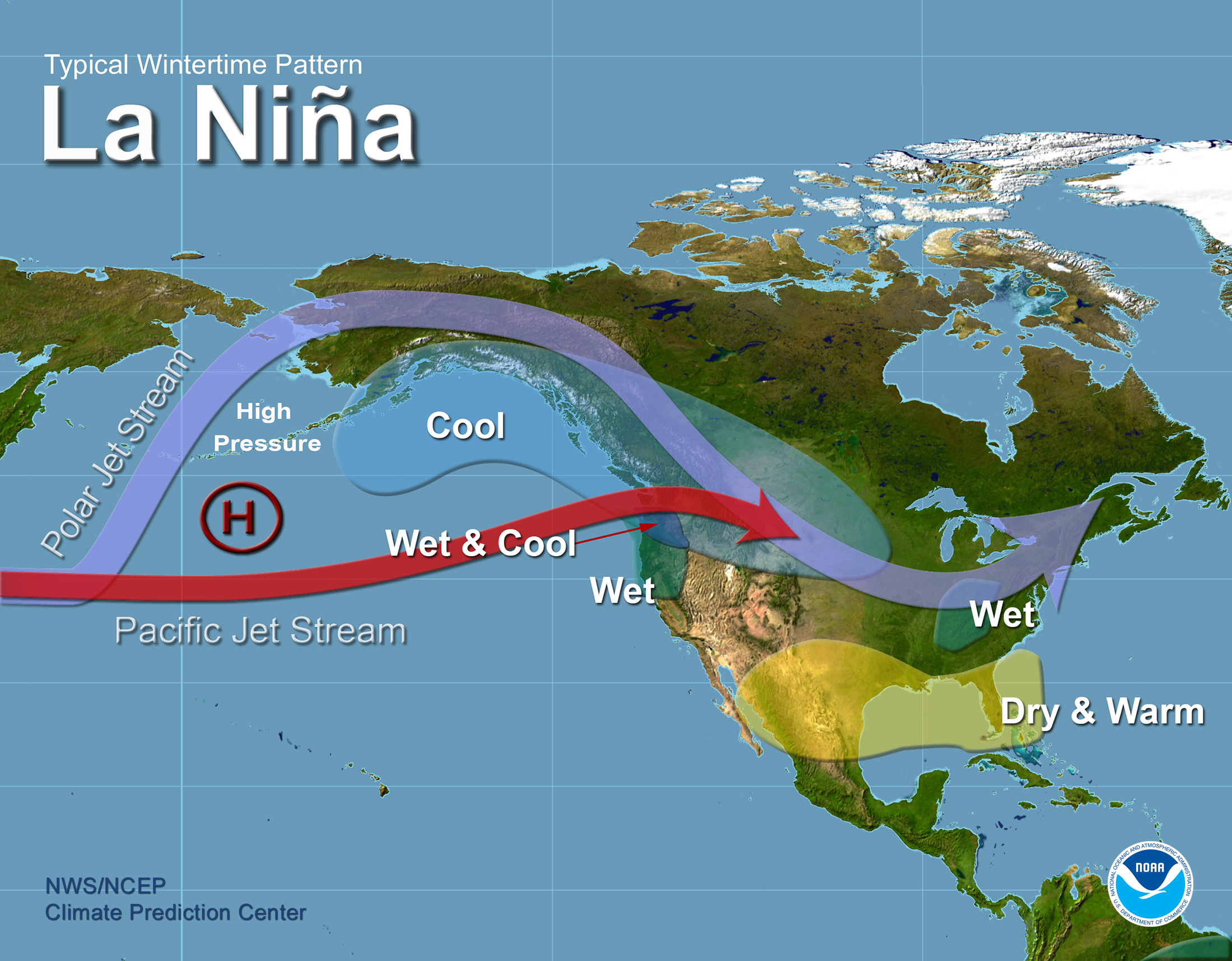 Results of this La Nina so far? You are seeing it now:
An Arctic front blasting through the Midwest heading east, dropping quick amounts of snow -- not crippling but happening fast enough to cause serious disruption.
For the metros & coast: Long periods of cold, dry, windy weather. Not much rain. But when it does rain, there are deluges-- but only for 1 day.
For areas bordering the Great Lakes: Higher than normal rainfall and snowfall due to the warm waters being tapped by passing fronts.
For everyone east of the Rockies: Reduced snow cover until only just this week due to less moisture available to produce snow.
What is next?
Once snowcover establishes in the northern and central U.S., and a period of cold controls the East, the stage will be set for any coastal or clipper storms to "over-perform" and be provided the conditions necessary to generate potentially significant snow in the next 2 weeks. We shall be watching as we are certain many Powderhounds will be also...
Latest snow cover from the NOAA National Ice Center