NOW THIS WILL BE MARCH MADNESS...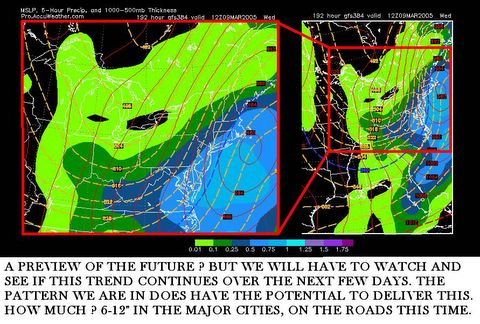 FIRST, JUST THE WEATHER

A quick look at the next 2 weeks indicates that we (the Northeast U.S.) are locked in an cold, windy and stormy pattern that will produce another minor to moderate snowfall on Saturday-Sunday from the Mid-Altantic into New England. This will be followed by a brief warmup on Monday-Tuesday of next week which will reload the cold in eastern Canada and allow it to explode southward right before a new storm arrives from the Southwest U.S. This storm has the potential to become Kahuna 3. (A Big Kahuna as referred to on this site would be a storm which delivers at least 12" of snow to a major east coast city.) Please note that I have not read anyone else's analysis on this, it's only me, the models and my mind.
The timeframe for this event is Wednesday-Thursday, and it will be followed by a tremendous surge of Arctic air at least 20 degrees below normal blasting southward to engulf the entire eastern third of the country right into the weekend of the 11th.

From next weekend forward into St. Patrick's Day, the pattern is ripe to deliver a continous round of cold blasts and small clipper storms, any of which has the potential to develop snow on their way to and once they reach the coast. This summary is based on an analysis of the current GFS model output and a consideration of upper air indicators, as well as the 2-week trends of the North Atlantic Oscillation, among other things. A detailed analysis of each of the factors follows this section.

WEDNESDAY: As you have already figured out, it will be cold and windy. Not a pleasant day for the start of spring sports. The remnant low from Kahuna 1.75 is swirling in the Gulf of Maine and the entire Northeast is being raked by backlash winds and flurries, except for the Great Lakes, which have turned on the snow machine again for their cities..extending into western and central PA.

THURSDAY: As the low departs, the leftover snow will lessen and disappear. Continued cold, blustery, and well… more like January than March with a high of 38 in Baltimore when it should be 52 by now. Fields partially snow covered (in Baltimore)

FRIDAY: Slight warming ahead of the first of many clippers as it dives southeast from the Lakes. Otherwise dry and still a little windy. Fields wet with some snow still.

SATURDAY: This clipper has the potential to deliver up to 4" in western and central PA with perhaps 1-2" in southeast PA until it can reach the coast and tap Atlantic moisture. A straight east track across PA to NJ would deliver snow on the north side to New York, Long Island and possibly SE New England. A northeast track would bring more snow to New York and New England. The maximum extend of snowfall would be 4-8" but that is unlikely. A general 2-4" snow seems reasonable from Pittsburgh and the Seven Springs area streaking eastward, bisecting the PA/MD line. Some models are sending this into Virginia with a healthy little 3-6" snow there...probably too far south. More on this as it gets closer.

SUNDAY: Lingering flurries and chilly with some wind.

MONDAY-TUESDAY: A new system approaching the eastern Great Lakes will send welcome southwest winds across the Northeast, raising temperatures to about 5 degrees below normal. For example DC should be 53 by then, but will actually be 47. Baltimore 52, actually 45 and so on.

WEDNESDAY-THURSDAY: This is the current timeframe targeted for development and impact of Kahuna 3, which is expected to form on the heels of the leftover front from the front runner low going through the Lakes. Arrival time would be early to mid-morning Wednesday, lasting into Thursday morning. Cold air will quickly recharge behind the front runner low, and snow would quickly break out along the I-95 corridor given this setup. Liquid equivalents being pegged to this event at .75 – 1.25 for the major cities. With a snow ratio of 10 to perhaps 15:1…the potential exists for 12 to 18 inches to fall out of the SKY. However, as we have learned in our last storm, 2 days of warming will allow roads to be above freezing at onset of the snow. The difference is there much more cold air is expected to accompany this storm, so snowfall rates will be higher, but perhaps 3-4 inches will be lost to melting. What will appear to be a 12-18 inch storm may be cut down to an 8-12 inch storm…but temperatures on Wednesday 3/9 and Thursday 3/10 could be in the upper 20's, so that will enable the storm to somewhat counter daytime solar heating.

Remember the March 1993 Blizzard occurred on 3/11, and despite higher sun angle and days of 50 F I advance of the stor, every major city from Atlanta, GA to Portland, ME got 12 inches or more, ON THE ROADS.

HOW CERTAIN ARE WE OF THIS SCENARIO? As the NWS would say, confidence is medium to low. If the storm develops but the upper level polar vortex sitting nearby in eastern Canada is somehow not involved, it will be a snow to rainstorm for most areas. If the vortex gets involved early in the game, it will resemble the March 93 Superstorm.

WHAT DOES MR. FOOT THINK? Well as a card-carrying Powderhound, you know I am rooting for snow, but only if the atmospheric dynamics support the idea. Our last storm was nice, but not enough cold air was available to let it crank up the way you or I wanted. This time around, the TRUE cold air is being held at bay BECAUSE of the storm which passed, and the next two coming. The front runner Low on Monday-Tuesday is the key to allow direct discharge of polar air behind it into the Northeast. The NAO continues it's long march into another universe (-6, -8 we have no idea really) and I think that is one of the critical elements which can give rise to another significant snow event.

WHAT EFFECT WILL THIS HAVE ON THE MONTH IN GENERAL? This over-abundance of cold which should have been spent in December, January and February is now being worked out of the system. It will take a while to do this, probably 2-3 weeks. I would not expect a consistent return to normal temperatures until at least the weekend AFTER St. Patty's Day. But I do think March will follow it's traditional route… in like a lion, out like a lamb. It is not impossible to see much-above normal temperatures by Easter, maybe 70 F? Maybe 80 F ? It has happened before, and this March I believe will go to the extremes for both sides of the aisle.

ANALYSIS OF THIS PATTERN

Unfortunately I had network problems this morning, and was not able to complete the next section, but I will put that online later today or tonight. Here is the one paragraph summary:

Last big storm sends heat pumping into the Labrador Low and Azores High pressure ridge poking into Greenland. This warm air enhances both systems, creating a double barrel flow into far northeast Canada. The polar vortex now located in SE Canada is blocked by these two systems. Each Low that passes by uses it's counterclockwise motion to enhance the double barrel effect which puts increasing pressure on the 500 mb Polar Vortex swirling about. Meanwhile a strong west coast ridge forces the split jet stream to ridge up over the ridge into far northwestern Canada, and the rides down east side of rockies towards northeast. The "front runner" low on Tuesday is going to be little boy who pulls his finger out of the dam, allowing the Vortex air to come charging in behind that system right into the face of the newly energized southern stream riding along the southwest winds ahead of the front runner cold front. Combine these two forces together with the possibility of phasing along the Mid-Atlantic coast and you have a major snowstorm on the docket.
Storm Grading: reports still coming in, thank you to all who posted on that. When all data is in we will do a roundup of the grades and an overall GPA for the storm forecast.

SOMETIMES YOU GET THE BEAR,

AND SOMETIMES THE BEAR GETS YOU
Tuesday morning 3/1 update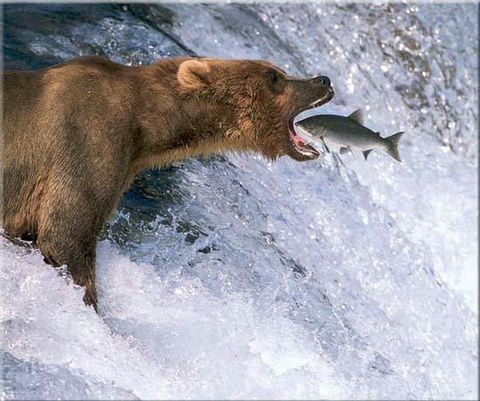 I hope you have enjoyed this late winter celebration. Powderhounds should feel amply fed by now given that many locations in the Northeast, including my home here in Dundalk, MD have received about 12 inches of snow in the past 5 days. The storm is still raging fiercely in New England, and the cold air we've been avoiding for most of the past month is striking back with a vengence.
It is a bittersweet ending for those of us heading back to school today. I realize many who read the site are not in education and don't have that little perk called a snowday unless it is a massive storm. My headline from last Thursday night was not too far off...as Harford County Schools get a six day vacation, and the rest of us get a 5.25 day weekend. Not too bad considering that Mr. Marty Bass in Baltimore said as recently as last Tuesday: "No winter activity in the next 5 days." I can revise that to say, "No excessive late nights blogging about winter activity in the next 5 days."


UNWINDING FROM THIS STORM...PREPARING FOR THE LAST ROUND
We all probably need a break from this twilight zone by going back to our regular life for a while. So in your time of reflection as you look back on this storm and this winter, I need your help with a few things. It is time to consider what changes or improvements that should be made with this site to keep it fresh and delivering the information you need. So here are my points for you to ponder between now and the LAST KAHUNA sometime in the March 8-11 time frame.
1. Storm Grading. I need someone who is willing to be my "storm grader", especially for this event. Have a ski trip coming up Saturday, another one next Saturday and just generally catching up on life means I would like someone to take over this job at least for the next 2 weeks until winter runs out of calendar. All you have to do is use the Snowfall Observation Links and compare the final totals against the forecasted amounts. The grade is based on deviation from the actual. So in Dundalk, I predicted 7" and we have 5.5 in the backyard. That's a 78% = C. If the amount goes OVER the predicted, same deal. 9" prediction in Boston, but 12" snowfall would be graded same way. First come first served... be the first to post a comment volunteering and the job is yours.


2. Ask And Ye Shall Receive. What do you want to see on this site? How can the information be conveyed differently or better so storm forecasting is in line with what you want to know. I have been trying to adhere to the "Weather, Analysis, Philosophy" approach to keep it simple. If wee have one more big storm, how should this last one be handled in terms of what to forecast when? You're the customer, you tell me what you want.


3. Storm Wrapup. I would like for someone to provide a brief review of the storm for the archives. This job would be reserved for those who have a fairly thorough understanding of atmospheric dynamics, fully comprehend all the technical jargon on the site, and know at least intrinsically how the computer model data is used. You will be credited as the author. I am looking for an independent analysis of how the storm matched our expectations and that of the computer models. I am also looking for a discussion of why the forecasting was so variable and why we believe there was so much variance in model output even during the event.


4. Spring-a-ling Services. As we head into Spring, my focus shifts away from forecasting because I really don't care that much about non-storms. If it is nice and sunny, good, I am happy. If it is raining, good, the plants are getting watered. However the suggestion has been made to provide site specific forecasting for Athletic Directors in Baltimore County. (No offense to other readers in the Northeast, the Baltimore Metro region is my main area of focus in non-storm periods). I could do a very brief chalktalk forecast each day on what impacts there might be to spring sports. Would this be of value to anyone? It is not nearly as time consuming as storm prediction.


5. Any Other Ideas? If you have any other suggestions, now is the time before our thoughts turn to spring. Strike while the iron is hot. Pretend it is December and we are gearing up for Winter Storm season...what do you wish you would have had at your disposal then you don't have now in terms of weather information?
WHAT ABOUT THE LAST KAHUNA?
The pattern that just got fired up is not going anywhere for the next 10-15 days. We remain in a cold and stormy pattern that will keep temps 10 to 15 degrees below normal, making spring practice and scrimmages very very unpleasant. I ran and coached track, I know how biting that wind can be in March. I don't see the pattern breaking until...the last storm. Time frame is somewhere between next Wednesday and Friday. Some Accuweather meteorologists are already thinking about this, so I cannot take credit for claiming I called it first. But I can tell you that with the NAO remaining super incredibly negative, the PNA trending positive, the Atlantic Ridge building, the Gulf Stream warming, the SOI crashing and El Nino hanging tough... the setup remains firmly in place to deliver one more fairly Big Kahuna before winter takes a bow and exits stage left.
I will have more information about this in a couple days. Until then, enjoy the peace and serenity of our most recent snowfall.