Paying it forward
9:30 AM EST 12/15/2011
Long time readers remember our coverage of the 2-2011 Chicago Blizzard, led by Affiliate Forecaster Joe Puma of Puma Weather: Chicago. This event was a prime example of how our student-led Affiliate program provides hard-working forecasters in any state the opportunity to have their reports become the "lead story" on this page when breaking weather occurs in their area.
In our team's Kevin Spacey-inspired quest to keep "paying it forward," we welcome new Affiliate Forecaster StormCentral, also from the Chicago area and acquainted with Puma Weather. Co-owner/Operator Matt B., has provided our readers with a national overview for the rest of December in our Winter Stormcast page. Please give a welcome to Matt and his staff while your U.S. Winter Stormcast Team continues preparing for paybacks. We all know it is only a matter of time before winter exacts revenge for the recent nice weather. (Lead Advisor Mr. Foot / Outreach Director Nikki B.)
The Twelve Days of "Snowless" ?
9:30 AM EST 12/14/2011

"On the first day of Snowless my true love gave to me..." Um, oh snap, that is not how the song starts. Truth is, were the timeless holiday tune viewed in a climate context, Powderhounds in the central and eastern U.S. would agree that Mother Nature has not been showing her true love with snow of late. Recent perceptions of a snowy start to winter, such as the Mid-South snowstorm and the Northeast Shocktober storm, are unfortunately trounced by a year-to-year comparison of U.S. & southern Canada snowcover.
Imagery from the NOAA National Ice Center: 12/13/2011 (left) and 12/13/2010 (right) shows a confounding observation of La Nina winters.
Below normal snowfall in all the wrong places creates long "lead times" before "tough to snow" places in the East see Charles Dickens-type snow by the holidays.
As reported in the UK Telegraph, historians believe the "Little Ice Age" aberration in the early 1800's allowed Mr. Dickens to observe six Snowy Christmases before he turned nine years old

.

This December 5th-like coincidence sparked the snowy images in A Christmas Carol

and led to

our Currier & Ives visions

of glistening sleigh rides by the eve of St. Nick. Ah perchance to dream...why is climate data such a doggy downer?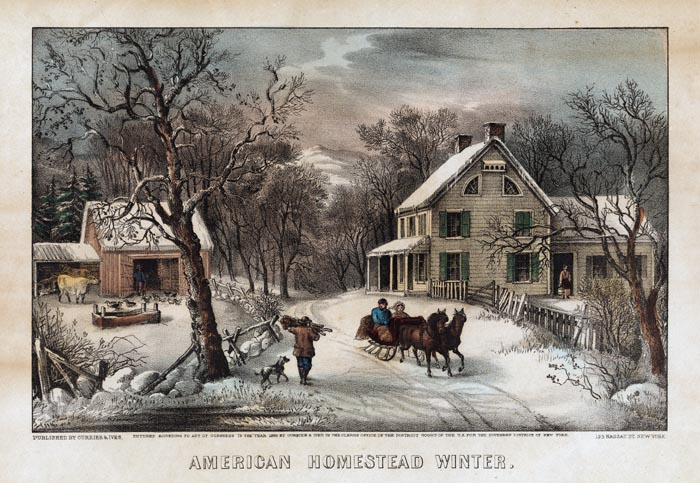 Star Trek's Captain Kirk might say, "Don't mince words Bones, tell me what you really think." The response from our Winter Stormcast Team might have to take a line from Jack Nicholson in A Few Good Men*, and ask if we can handle the truth (*Youtube excerpts). We know many of you are looking for a
little
White in the Winter night*
while lighting the Menorah or the Advent Candles.
Snowless ski resort in December
Photo credit: Reuters
The truth? Snow for the Eastern U.S. remains possible BEFORE or AFTER the holidays, but probably not during. To be assured real holiday snow, the west remains best, so plan on outsourcing the family to areas covered by our Central Colorado page or our Pacific Northwest page. The time-honored period between Dec 21 and 25, does not appear likely for the Mid-Atlantic, Carolinas or Ohio Valley. There is hope elsewhere, as reported by Affiliate Forecaster Matt B. of StormCentral in Illinois.
A new report on the projected U.S. weather pattern for remainder of December is posted in our Winter Stormcast Zone. Until then, you might want to prepare for another "Twelve Days of Snowless..." Good things will come to those who wait...for January.
Many thanks to Matt B. the StormCentral staff and the Winter Stormcast Team for this report.
(Lead Advisor Mr. Foot)