Kitchen Sink Weather


Graupel, tiny ice-like pellets that form

when snow flakes partially melt while
falling into warmer air and then re-freeze on passing back into colder air
. (NOAA)
Photo credit: Wordpress.org site "Sitkanature" in Alaska
Message to readers: If you or your class are following our special series commemorating the 100th anniversary of Titanic, you can track the latest stories on climate, weather, technology and history in these links:
8:25 PM EDT 4/12/12
(Forecaster Mike N.) Compared to the serene atmosphere around the country Easter weekend, the weather has now heated up to numerous extremes. Storms are far more active now, and we have everything from snow to fire to severe weathe
r!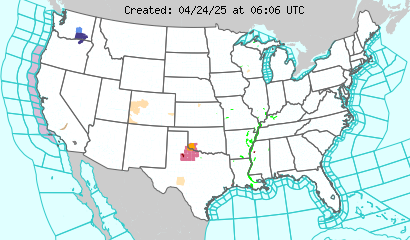 Snow & Shivers - Places that typically don't see snow this time of year saw a few flakes falling on Wednesday amidst the scattered showers, including portions of Maryland and Pennsylvania. Some readers reported snow, sleet, rain and even the rare sighting of the hail-like graupel all within a few minutes. The image above was actually taken by a blog writer in Sitka, Alaska, but graupel is a precipitation phenomenon which can occur anywhere the conditions are ripe as described the sitkanature.org website.
It would seem the lower 48 have been recently graced by an Alaska-like chill given the current observations:
Showers and snow showers will be widely scattered around New England and the Northeast for our Thursday.
From Minnesota to South Carolina, a huge swath of Freeze Warnings posted last night expired this morning, to be replaced by Winter Weather Advisories as shown in bright blue on the map above.
Wind & Fire threat - This will be again concentrated in the 4 corners region, but especially high in New Mexico. High winds and dry air may provide fertile area for fires to spread and grow in this region.
Severe Weather - On Wednesday, residents in Texas saw exceptionally rare hailstorms. Today, the severe threat shifts just slightly east. We'll have to keep a close eye on Central Texas, Oklahoma, Kansas, and into Nebraska. Hail will be a risk again, as well as gusty winds and possibly tornadoes.
For more details on the risks in these areas, please visit our Affiliate ConvectiveWeather operated by Forecaster Wesley H. of Wylie, TX.
For those of you in the cold now, just wait until the warmth starts to build this weekend and have a wonderful Thursday! (Forecaster Mike)