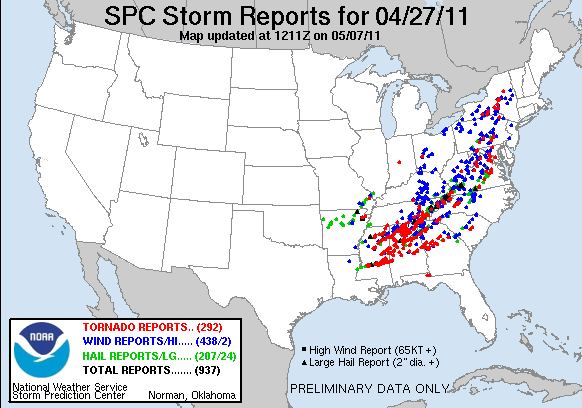 Storm Prediction Center preliminary
7:50 AM EDT 4/26/12
(Forecaster Mike N.) One year ago, the weather pattern was much different around the country. That pattern was what was able to fuel the April 25-27 Tornado Outbreak that will be remembered for its unprecedented impact and tragic destruction.
Today in the Southeast - Just one year makes a big difference in many of the regions hard hit by last spring's outbreak, including the
Foot's Forecast | Central Mississippi
and
Foot's Forecast

| East Tennessee
zones. Those regions will see some scattered thunderstorms with a slight potential to become strong or severe, but this will be no where near last year's event. A dipping jet stream over the east reduces the chance for severe rather than a big ridge.
Record heat coming? - The southern plains roasted Wednesday, and unfortunately, another scorcher is coming to West and Central Texas on Thursday. The heat will be abated in the central and northern plains, but some places near the Rio Grande Valley and all across central Texas could reach into the 100s again.
Classic April in the Mid-Atlantic - A frontal boundary will set up across the Mid-Atlantic region Thursday causing warmth to seep into the southern Mid-Atlantic, while the northern portions and the Northeast remain cool. A weak storm system will try to push along this boundary, bringing showers and possibly thunderstorms to the coast.
Drought help in the west - The west will be wet for a large portion of the region, with widely scattered showers all across the region from Washington to Colorado. All of this rain is actually making for flood concerns in portions of Idaho, but the drought in the Southwest is still running a rainfall deficit not too far away at all.
Have a wonderful (and much calmer) Thursday for most.