The US Surface Fronts and Pressures Surface Analysis
as of 800 AM EDT 10/2. If you want a good East coast snowstorm,
better hope this low pressure track trend starts edging eastward over time.
11:45 AM EDT 10/2

(Winter Stormcast Team) About this time of year, we know Powderhounds like us enjoy observing the first big rainstorm event with glee and love to say, "Just think, if this were happening in December...we'd have two feet of snow!!"
This year, we're not so sure about that. Were it actually December 2 right now, the current arrangement of a High pressure system in eastern New England with an occluded front over the Tennessee Valley would mean just ONE outcome for much of the Eastern U.S.:
A steady rain, temps in the mid 40s, disappointed skiers and snowboarders everywhere.


Not what you wanted to hear? Already getting angry at the winter pattern two month searly? Blame it on this summer's rapid and record melt off of Arctic sea ice (ASI), which leveled off in mid September 2012 nearly 2 million square kilometers LOWER than it was at this point in 2009. Compare the official ASI minimums as reported by the National Snow & Ice Data Center:
The point? October 2009, leading into that historic winter of dreams and nightmares for the Mid-Atlantic, started with a huge buildup of Siberian snowcover, an Arctic sea ice level close to the 30-year average, and an El Nino values that were already steaming.
Fast forward to October 2012, and we have many across the Eastern U.S. gaming for a snowy winter, yet:
Arctic Sea Ice data suggests a winter more like 2006-07 is probable, at least for the eastern Mid-Atlantic states. That winter, appreciable snowfall in I-95 corridor did not get underway in earnest until the end of January. Central Pennsylvania, Ohio and New York State were the big winners with snow. The biggest snow event for Baltimore and Washington that year was the bookends of the February 13-14, 2007 ice storm to affect those areas.
El Nino has become El Nada, for now. Current NOAA data shows there is a lot of catchup to do in the equatorial Pacific, with readings hovering near +0.2 degrees C instead of the near +1.0 degrees C originally forecasted by some computer models. The latest NOAA current sea surface temperature anomalies for the Nino regions are shown in the animation below.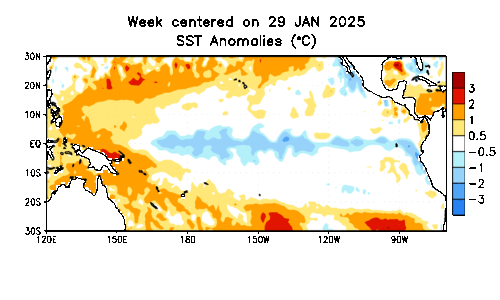 If this key intraseasonal variability of sea surface temperature anomalies is going to deliver the moisture necessary for that big city snowstorm, someone better turn up the heat fast.
Where to learn more? If you're in the decision support community and would like more details on our rationale for this less-than-snowy forecast, you can place a private request for our FREE Winter Risk Assessment in an email to winter@footsforecast.org.