Uncertainty vs. Probability
What's The Difference?
A weekly forecast-in-jest from 2012 by our Western U.S. Coordinator Mark Ingalls, using humor to point out although history show the certainty that objects have struck Earth, and will again, on any given day there is a very low probability of that actually taking place.
LESSON # 1 -
Identifying probability in a forecast
using this Thursday & Sunday as examples
2:05 PM EST 1/28

- With bright, cold sunshine returning to storm weary readers across the Eastern U.S., we take a moment to convey our deep appreciation and gratitude for the tremendous support you all have provided our team this winter and in the previous ten stretching back to January 26, 2004.
We appreciate and are thankful for the generous, insightful and thought-provoking feedback submitted in our previous post regarding the January 26-27 storm forecast and the weather politics that followed it.
If you are looking for the forecast, look below for details, except today it is presented as part lesson, part prediction as a learning exercise.

At end of the post, for those who have the patience to read and digest the content here, we reward you with

a really funny, situationally appropriate video
Sample graphic from a previous storm
showing how 50 miles makes a big difference
In the wake of the past storm, our Leadership Team has already begun implementing enhancements to our communication of weather, uncertainty and probability on this site and in our Facebook pages. Here is a
comment from a reader in one of our Facebook forecast pages that we think best sums up the situation:
"...forecasters of every ilk should be a bit introspective when this type of missed forecast happens."
WHERE OUR IMPROVEMENTS BEGIN:

To begin the process of explaining and including for our readers the importance of Uncertainty AND Probability in a forecast, we start with these three steps:
Examining and identifying in two existing "sample" forecasts by our team where uncertainty and probability appear in the wording.
How a forecaster accounts for both elements in a forecast, and why it's equally critical for readers to closely evaluate if the information represents "most probable" or "most uncertain."
Why this approach to forecasting from a probablistic-based, (what we have done a long time here, and not just uncertainty-based, can aid forecasters and readers alike in avoiding the thought-process trap that can lead to under- or over-predicting a serious weather event.
SAMPLE FORECAST 1A:

Forecaster Mike's update for the Central Maryland region at 8:15 AM this morning (1/28) for the rest of the week and into the weekend.


COLOR KEY
GREEN

represents text describing a "high probability" event

BLUE

represents text describing an element of "uncertainty" in the forecast

RED

denotes text that is both highly uncertain and/or low probability.
8:15 AM 1/28

- Good morning all! Bundle up before you head outside today. The last few days of January will bring nothing but cold weather, but we do have

some storm systems to talk about.

The first one

doesn't look like much

, and the

second one could be too warm to produce snow,

but read ahead for the details!
TODAY - Bitter cold, but at least

it will be sunny with highs struggling to get to 30

º

. Winds will be NW at 10-15 mph.
TONIGHT -

Lows will fall back to the upper teens

under mostly clear skies. Winds will die down a bit overnight.
THURSDAY - Increasing clouds with highs reaching the mid 30s. Winds will be in from the south. The afternoon and evening hours

bring a chance for some precipitation

with the next clipper system. However, most of the precipitation should be to our north. Still, we are watching

for some snow showers or light wintry mix

briefly during the evening rush hour Thursday.
FRIDAY - Colder and clearer.

We'll be partly sunny and cold

with highs only reaching the freezing mark again. The real issue is strong NW winds back at 15-25 mph with higher gusts.

Friday night looks very cold

, back down into the teens or even some single digits.
LOOKING AHEAD - Saturday should be colder with daytime highs in the 20s,

but thankfully winds will be lighter

. The next storm system is slated for Sunday-Monday. Most model projections currently send this storm to our west (

which means we would be in the warm sector and get more rain

), but this is worth watching for the potential for snow or wintry mix if the track changes. Stay tuned for the latest and have a great day!

PICKING OUT THE PROBABILITY?
Of the underlined sections above, can you identify and explain one example of a statement discussing a "probable" weather event or pattern vs. a statement that conveys "uncertainty" above a type of weather event? Note your findings in the comments!
Of those sections you picked, suggest a way it could be worded to better convey any potential uncertainty in the expected outcome of the forecasted weather.
7:00 PM 1/27

- Good Tuesday evening everybody! This is Forecaster Joe, and here at the Mid-Atlantic Winter Stormcast Team, we're already watching for our next two systems to arrive. The first storm will be a VERY fast moving clipper,

and w

e're not expecting too much in the way of travel problems

with this storm, as it quickly brushes by the area during the early hours on Friday

. (WPC surface projection for Friday 1/30 at 1 PM)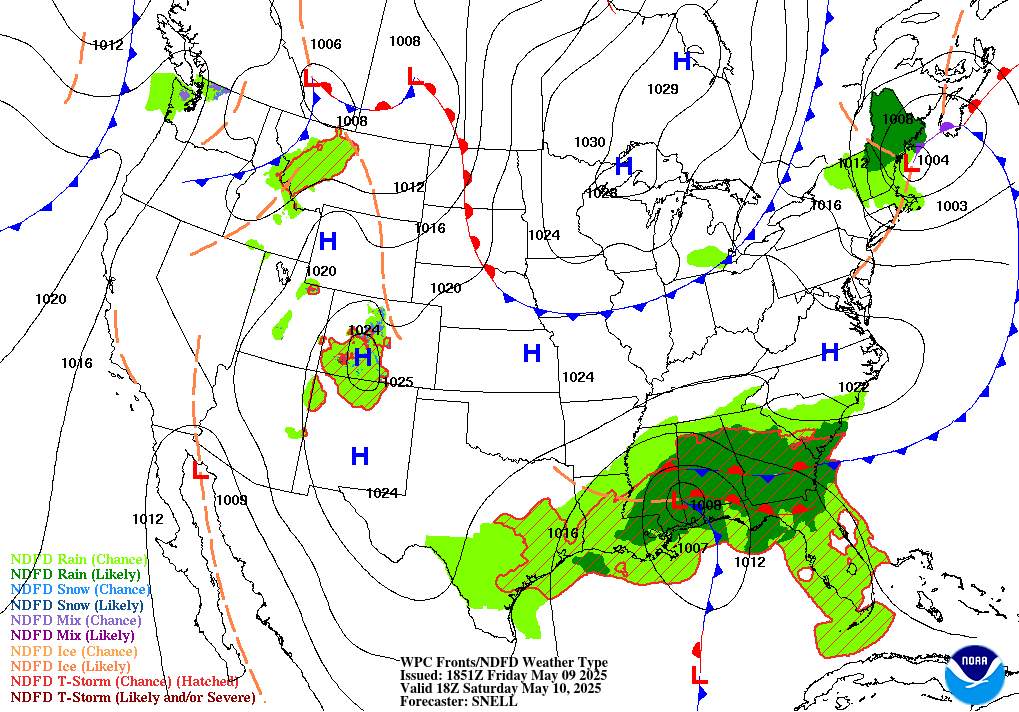 At this time, our team

isn't really seeing more than a dusting of snow

, so though there may be a slick spot here or there, we're not talking about anything major for this Thursday.
WHAT WOULD BE THE "MOST PROBABLE WEATHER

& IMPACTS" TO OCCUR ON THURSDAY IN THE MID-ATLANTIC?
a) A surprise storm that dumps heavy snow overnight with no warning?
b) At present, a minor clipper that could produce light snow and scattered traffic issues?
c) A clipper producing light snow which could lead to icy patches and some traffic issues?
d) A fast-moving clipper producing light snow with very little accumulation, but which may create some traffic issues due to timing and icy patches on roads.
Post your thoughts and reactions, (or learning exercises & results) in the comments!
LAST QUESTION

Why is understanding probability and uncertainty important in your decision making? Especially in winter weather management? Because it helps you make a well-informed evaluation of what is will be the most probable weather outcome. Doing otherwise can cost a lot of extra money, lost business or missed opportunity.
And, so you don't end up like this guy...
(scrambling for bread and milk based on a highly uncertain, low probability forecast)


LESSON # 2 - Using Scenarios in Complex Forecasts
BUT, WHAT ABOUT SUNDAY? We will use a set of scenarios to outline what we see as the most and least probable outcomes for Sunday.
Long time readers know we've been doing "Boom vs. Bust" and A v. B scenarios, complete with movie quotes and lyrics,
for as long as this website has existed.
Don't believe us? Here's a short list of our favorites: