"I got this feelin' inside my bones..."
A PERSISTENTLY COLD PATTERN INTO NEXT WEEK WILL CREATE MULTIPLE WINTRY PRECIPITATION EVENTS THROUGHOUT THE MID-ATLANTIC.
IT MAY BEGIN FEELING LIKE A SEQUEL TO BILL MURRAY'S GROUNDHOG DAY, WHEN YOU CONSIDER THIS FORECAST:


THE QUICK SUMMARY
MON-TUE: RAIN & SNOW MONDAY EVENING CHANGES TO ALL SNOW OVERNIGHT, WITH 2-4" REGION-WIDE BY TUE AM IMPACTING THE COMMUTE.
WED-THU: SECOND COASTAL LOW TO FORM, ADDITIONAL SNOW POSSIBLE & OVERNIGHT REFREEZING MAY IMPACT AM COMMUTES INTO THU.
FRI-SAT: JANUARY-LIKE TEMPERATURES PERSIST INTO THE WEEKEND, WITH A NEW CLIPPER & COASTAL THREAT FOR SATURDAY 3/24.
7:45 AM 3/18/18 - Just when you thought winter's luck had run out, that feeling starts creeping up on you and it makes us think maybe there is one more chance:
NWS Sterling VA "Model guidance is agreeing more and more each run that we are anticipating a winter storm to some degree of magnitude."
NOAA Weather Prediction Center:

"

CURRENT DAY 2 WPC PROBABILITIES SHOW THE GREATEST CHANCE FOR SNOWFALL ACCUMULATIONS TO EXCEED 4-INCHES CENTERED ALONG THE PENNSYLVANIA / MARYLAND BORDER."
WHAT ARE THE PROJECTIONS & TIMING?
European and GFS models both
show a series of coastal low pressures developing in different arrangements but each working in tandem with a High in southern Canada to introduce 32 F and below temps Tue AM and Wed AM.
MON NIGHT: Overnight onset & changeover indicates snow will be able to accumulate in areas north & west of the major cities, especially north of I-695, north of I-70 and west of I-270.
TUE MORNING: Areas in Baltimore metro that are west of I-95 but east of I-83 may take the longest to changeover, perhaps not until just before daybreak.
WED MORNING: A lull in precip Tuesday night will allow colder air to filter south behind coastal # 1, reinforcing a sub-freezing surface and strengthening the potential for coastal # 2 to develop accumulating snow once again.
Preliminary projections from the Sterling VA NWS provide two glimpses of possible snowfall.

The "1 in 10 chance" map is secretly conveying to you the notion that various different runs of the European and GFS are showing significantly higher snowfall, upwards of 8-12" for the DC-Baltimore-Philly corridor.

However it is too far out in time to truly nail down that potential with any certainty.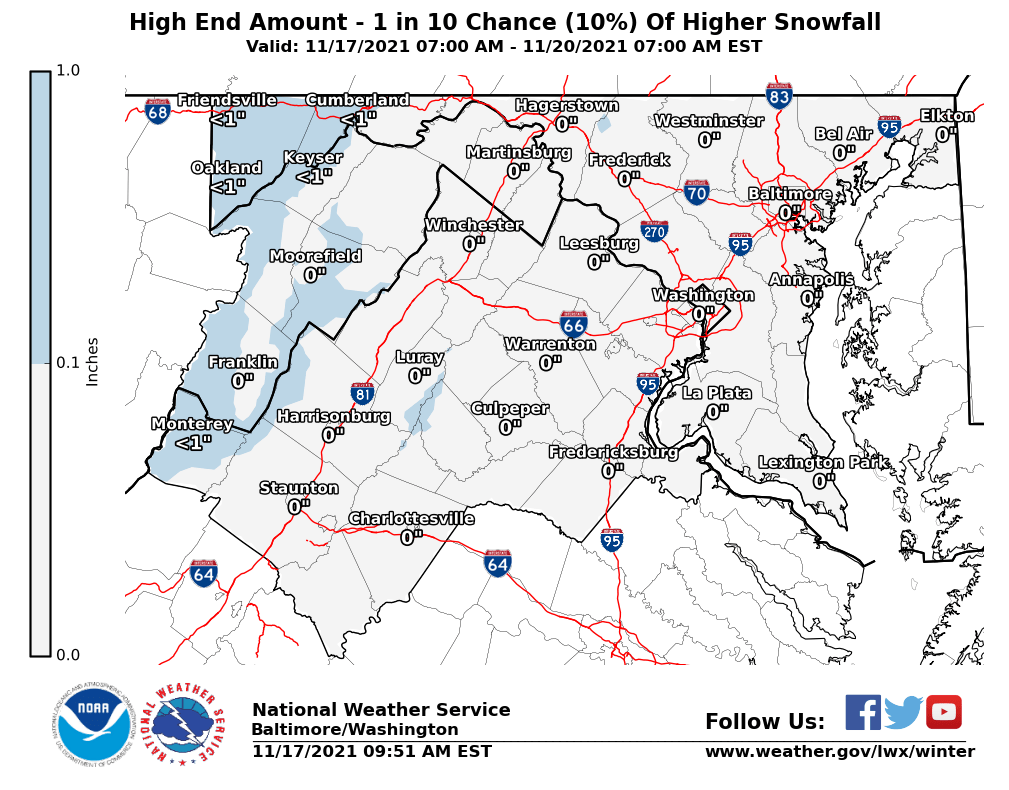 PROBABILITIES & BUST POTENTIAL?
There's always bust potential in every storm. Given this is March and surfaces are warmer, daylight is longer and cold is harder to come by, coastal Lows- or any kind of Low, has a lot to overcome for there to be actual accumulating snow on the ground. So we break down the probabilities like this -
for 7 AM Tuesday morning:
50% chance of at least 1" in all areas north of Route 100 in Howard County.
40% chance of 2-4" all areas north & west of I-95 & north of 495.
10% chance of 4" or more (all the way up to the 8-12"+ shown in some models)
Yes, we know it's March, but this time with a cold high in Canada, overnight timing and northeast winds, we feel there's enough good soul in our feet to overcome that sunshine in the pocket and deliver on the dream for one good snow.
If that's true, by Tuesday morning some of you will have nothing left to do
but just dance, dance, dance. The rest of us who have to move in it,
well you already know...so just imagine (another messy commute).