IS IT BECOMING A BIG KAHUNA?
UPDATED AS OF 6:30 AM WED 2/20
CURRENTLY - Current radar view at this hour shows moderate to heavy snow falling down towards Charlottesville VA and

just north of Richmond. Snow will continue to move north over the next several hours, reaching the DC metro now through 7 AM and the Baltimore metro 8-9 AM.
THROUGH THE MORNING - We expect snow rates to pick up quickly in all areas no later than 9 AM, and begin falling at a 1 inch per hour or more at times through 12 PM. If you have somewhere to be, we recommend getting there early to avoid what will look like a "wall of snow" moving over the area after 9 AM.
SLEET & SNOW RATES -

After 12 PM today, sleet should mix in with the snow, but just before that there may be an hour or more of high snowfall rates where heavy "banding" sets up on radar. Under these locations, you may see another 1-2" additional to what you received before Noon.
BIG KAHUNA OR NOT? -

To qualify for this unofficial label we assign to potentially big storms, it would have to produce 6 inches or more in a majority of locations where the snow is occurring. If the heavy banding depicted on short range models does develop, areas expecting 4" could easily end up with 6" or more. We think that remains a strong possibility between 10 AM and 2 PM. Bottom line: This has a good chance of going full Kahuna in some of our backyards, but not in all of them -- so when it does we want to celebrate! Let us know the moment you cross 6".
PREVIOUS UPDATE 4:30 PM TUE 2/19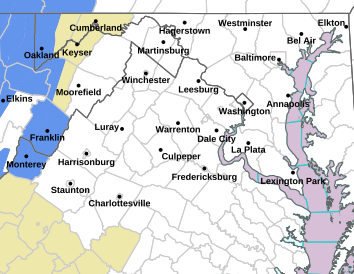 FF Winter Stormcast Team Public Messages
STORM MODE: For access to the latest official details on your local forecast for storm timing and precise accumulations, visit the links highlighted above specific to your region.
TEAM SNOW MAP: Our regional snow & ice map is posted below with revisions if needed around 11 AM and 6 PM.
SCENARIO SUMMARY: Our overview of the A,B,C scenarios from earlier posts will be consolidated into a summary statement with the snow map. The synopsis is we believe this event will encompass features of all three scenarios: Starting as a "Big Kahuna" with heavy snow the first 8-10 hours, then turning to an "Icecapade" for another 6-8 hours, and ending as a Cold, Curmudgeony Rain" into Thursday morning.
Latest Snow & Ice Maps from the Sterling VA NWS