"IT'S EITHER THIS OR THAT WAY, IT'S ONE WAY OR THE OTHER.
IT SHOULD BE ONE DIRECTION, IT COULD BE ON REFLECTION."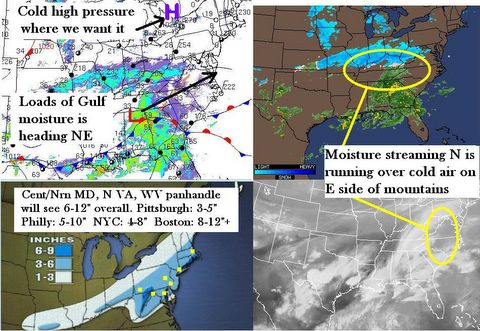 THERE IS SO MUCH TO SAY AND SO LITTLE TIME TO SAY IT. As with so many other storms, it's either this way or that way, one way or the other. I have chosen the slightly higher way, with a tad bit more snow than is forecasted, due to enhanced snow ratios from evaporative cooling, more wrap-around than expected, and and earlier start time than expected. Since we now have a FULL SNOW DAY for Baltimore County Schools (thank you very much), Later on, I will update my totals below slightly and add in the QPF rationale for these. Then sometime today will be a brief discussion of KAHUNA 2. Can't wait to show you the graphics I have prepared for this. Winter ain't done by a long shot.
THE BOTTOM LINE ? WE HAVE AN I-95 SPECIAL
SNOWFALL ACCUMULATIONS FOR THE PERIOD 5 AM 2/24 TO 5 PM 2/25: Revised as of 8AM Thursday.
NORTH CAROLINA: Sorry folks, light snow in mountains only.
VIRGINIA: Roanoke...3 / Hayes...1.5 / Richmond...2 / Loudon County...5.5
WASHINGTON, DC...6 / WEST VIRGINIA: Harper's Ferry...4
MARYLAND: Odenton...6 / Baltimore...5 / Dundalk...5 / Myersville...4.5
Towson...4 / Hereford...4.5 / Aberdeen...6 / Bel Air...5
PENNSYLVANIA: Pittsburgh...3 / Altoona...2.5 / State College....2 / Bucks County...6
York...6 / Paoli-Frazer-Exton...5 / Philadelphia....5 / NEW JERSEY: Rutgers U...6
NEW YORK: Binghampton...1 / NYC...4.5 / MASSACHUSETTS: Boston...4.5 / Woburn...4
I will revise this with an explanation of how I arrived at these numbers, as well as a storm overview Thursday later morning, after I get some more SLEEP. As of 5:05 AM, Flurries had begun in Dundalk.
8:00AM revision as it seems storm is now on a fairly consistent northeast track but is also moving a tad bit faster out to sea, snowfall amounts are being trimmed back a bit so that the numbers forecasted are on the high end but will fall within a margin of a passing grade (C or better, I don't consider D passing)
AND NOW... FOR THE BURNING QUESTION OF THE DAY...SCHOOL?
FUGGETABOUTIT. No School in Baltimore / DC Metro areas for THURSDAY and possibly even FRIDAY. Yes you read that correctly, the first 4 day snow weekend since December 2002. Why am I so confident? In Baltimore County, MD On December 4 of that year, we had a 7 inch snowfall occur on a Wednesday night-Thursday morning. It ended by late Thursday afternoon. But there was no school Thursday or Friday because it simply takes too long to clear 7 inches from the bus lots and school parking lots. So that is the key. 5 inches = school on Friday, 6 inches = 2 hour delay Friday. 7 or more inches = FOUR DAY WEEKEND!
And then lurking at the end of your local forecast is...............Kahuna 2
The next update around Lunch today, along with snow pictures from Dundalk, MD.