Weather whiplash has arrived
NOON Wednesday 1/26/
201
1
Winter Storm Watches and Warnings have expanded through the Southeast, Mid-South and into the Northeast. Although s
now has arrived in the Mid-Atlantic as part of the first pulse of this storm, A second and more significant phase will occur this afternoon as the upper level low over the Mid-South pulls east, and all precipitation changes back to snow by 4 pm along and east of I-81 in Virginia, Maryland, West Virginia and remainder of the Mid-Atlantic northward to New Jersey.
At this time, our team expects a general 5-8" of snow in the southern Mid-Atlantic today, with higher amounts along the Blue Ridge and Appalachian Mountains, as well as in Northern Maryland and Eastern Pennsylvania. Be advised, those areas that see a switchover from rain to snow sooner will see more snow accumulation.


In addition-

there are strong indications that significant banding will occur with this second system, with snowfall reaching a rate

up to 3, or more, inches per hour

. The timing of this event will put this snowfall during the Major Metro rush hours.

Our latest team statements will be posted in the Winter Stormcast Zone. Visit the Forecast Centers tab for direct access to the latest from local teams in the Eastern U.S.
Although surface conditions are just above freezing in many locations throughout the Mid-Atlantic and Tennessee Valley, this storm is a classic example of "dynamical cooling." In this case, the storm lacks a nearby surface high to produce cold air at the onset. In place of that normal mesoscale arrangement, the upper level low associated with this system is able to "generate" cold air as the entire system moves north.
Our team would like to point out that closer to the coast, lower snow-to-liquid ratios given warmer temperatures may reduce snow totals. Our Winter Stormcast Team will collaborate this afternoon and update as necessary.
We will post here as well as on
Facebook
Our p

revious lead story from 1/24/2011:
However brutally bone-chilled or bundled up we are, this frigid swath of storms and cold shows how weather can unite us all across many landscapes. The 110 degree contrast* in temperatures across the nation over the weekend is supports a theme millions of us could agree on: We are cold and sick and tired of being cold! (
*A Friday afternoon high of 80 F in Miami followed by a Saturday morning low of -30 F in Central Minnesota.)
So to distract you from the reality that just one month of winter has elapsed - we encourage you to warm up with an inspiring book about warmer days ahead. For anyone who wants to volunteer or work in the environmental movement, Sand County Almanac is essentially required reading. For age-appropriate reading with children about scientific ideas, gander on over to the U.S. Long Term Ecological Research Network (LTER) website. There is a delightful children's "Schoolyard Series" focusing on a youth perspective to topics of Water, Carbon, Biodiversity and the Oceans.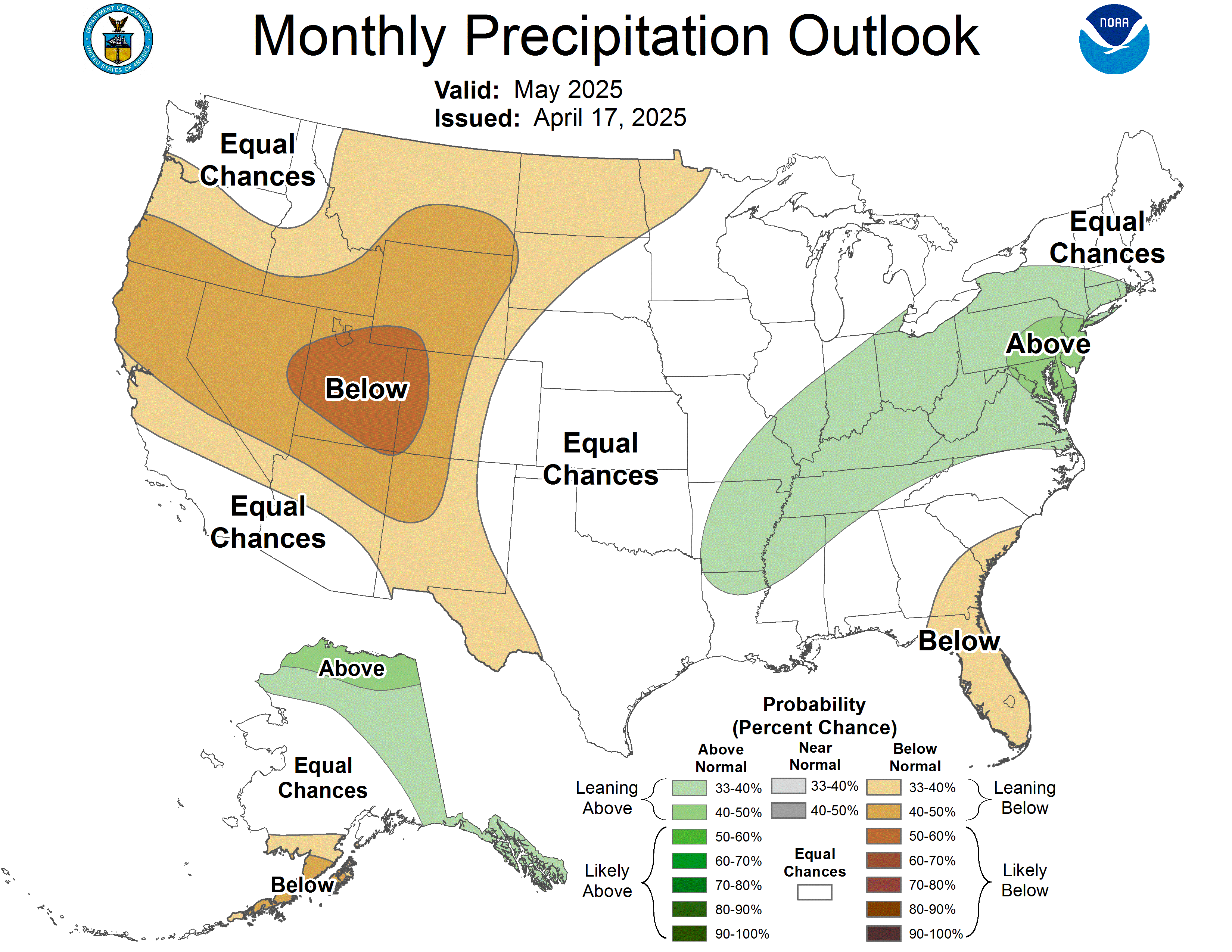 Will the next round of storms permit eastern U.S. school children and their parents or caregivers time to curl up with these and other literary works? If long range climate indicators hold true to their projections, and you are a "powderhound" -- be careful what you wish for. Mother Nature abhors a vacuum, and the climatological snow void in portions of the Mid-Atlantic faces at least 5 more weeks of opporunity to be filled. Dare we say a "Fantastic February" awaits? (Image: NOAA Climate Prediction Center's One-Month Precipitation Outlook for February 2011.)