"Has the jury reached a verdict?"
9:00 PM EST SATURDAY 1/29/2011
The impending "Groundhog" weather event is gearing up to make a run at the East Coast next week, and will bring a lot of the Gulf Of Mexico with it.
Models are trending toward a widespread, high impact severe and winter weather event covering a significant portion of the country east of the Missippippi. The rough guide to current ideas being discussed in the team as displayed on computer model projections:
1. SOUTHEAST: Starting Monday and continuing to Tuesday night, heavy rain, strong thunderstorms and an extensive outbreak of tornadoes.
2. OHIO & TENNESSEE VALLEYS: A long duration, high-impact and potentially paralyzing ice/sleet and rain scenario also in the Monday to Wednesday time frame.
3. MID-ATLANTIC: Southern states(Maryland, Virginia, Delaware) may experience a front end period of snow or sleet possibly transitioning to rain - producing high rainfall amounts and potential flooding. Northern states from Pennsylvania to New Jersey and into the entire Northeast are facing "the first insult" of February, as there is increasing probability of high snowfall accumulations over a very large area from eastern Pennsylvania north to Maine.
The Forecast team has been working diligently this evening on developing reports for each of those regions, and will update as soon as possible. Continue monitoring the Winter Stormcast Zone on this site and in facebook for our latest projections on this next winter weather nightmare. (Advisors Lear and Foot, Forecasters Winterman and Jason M.)

Mr. Freeze would be proud
from the Batman Series, played by Arnold Schwarzenegger
9:30 AM EST SATURDAY 1/29/2011
T
he weather pattern settling into place this weekend has the potential to generate a long-duration and widespread winter weather event next week from the Southern Plains to the Mid-Atlantic and Northeast. We'll do our best to "wishcast" this one away for you. Details in the Winter Stormcast Zone.
OUR REGIONAL ROUNDUP The Eastern U.S. tab has a roundup of coveage from our local forecast teams. You can also directly access our latest reports via these links to zones or facebook forecasts for Central Maryland, the Capital Region, and the Ohio Valley. The event is also being covered by our forecasters in Central Pennsylvania, the Carolinas and the Southeast. It is even a bit chilly in Central Florida, but notably milder than the snow-bound Northeast. Heading to the Sunshine State for a break? Get your very own Foot's Forecaster for Central Florida right in your pocket - visit and like the page by Lead Forecaster Matt B. in Brooksville near Tampa-St. Petersburg.
On this Arctic-encrusted morning back east, Forecaster Dakota and Advisor Mr. Foot are preparing for the long journey home from Seattle to Baltimore. It has been an action-packed week to say the least, with a major winter storm, school closures, conferences, and now this Advisors-in-Action Saturday to top it off.
With the student forecasters understandably in need of some rest after this week, today the advisors are immersing in adventures on behalf of the team. Dr. Pete Winstead, our Student Research Advisor and his entire family will be proudly displaying their Foot's Forecast T-shirts at the Annual "Polar Bear Plunge" held in Annapolis, MD. Advisor Brad Lear from Fallston, MD is representing the team from 11:00 AM to 2:00 PM EST during a Saturday family-oriented event at the Maryland Science Center titled "Deep Freeze."
And finally, a special video report taped Friday evening from Seattle's Pike Place Market by Forecaster Dakota and Mr. Foot:
-Bill Paxton in the 1996 film Twister
12:30 PM EST FRIDAY 1/28/2011
Happy Friday! (for some...)
Once again, a brief round of snow in the Mid-Atlantic arriving at "just the wrong time" complicated many school systems, businesses and government offices efforts to re-open, and forced another round of closures.
To put this latest set of Northeast U.S. school closures in perspective, some students and teachers in the East, just came off a THREE-day weekend due to teacher professional development on Monday. For them, the only "normal day" of this week was Tuesday, which has now been followed by a FIVE-day weekend due to school closures which started on Wednesday. A history teacher once told us that in situations like this, schools should just let July 4 be the last day, then students will have a real-life appreciation of "Independence Day"!
As the East coast continues to dig out from yesterday's hard-hitting winter storm, power outages remain a major problem throughout the Mid-Atlantic and Northeast. As of 9:00 am this morning it was reported in the Washington Post's Capital Weather Gang, that over 127,000 outages continue in the Washington metro area, and 23,000 or more in the Baltimore region. Many locations in the Northeast are reeling from this "three-peat" of heavy snow which pummeled places like Philadelphia with 15.1 inches and has all but shut down that region as well.
At one point, over 500,000 homes and businesses were without power at the height of the storm, As was reported in local media, thousands of commuters became stranded on major highways as "torrential snowfall" struck from northern Virginia to southeast Pennsylvania during Wednesday. This video from the Baltimore Sun provides our readers from the wes

tern and central U.S. with a brief look at the intensity of the Wednesday event.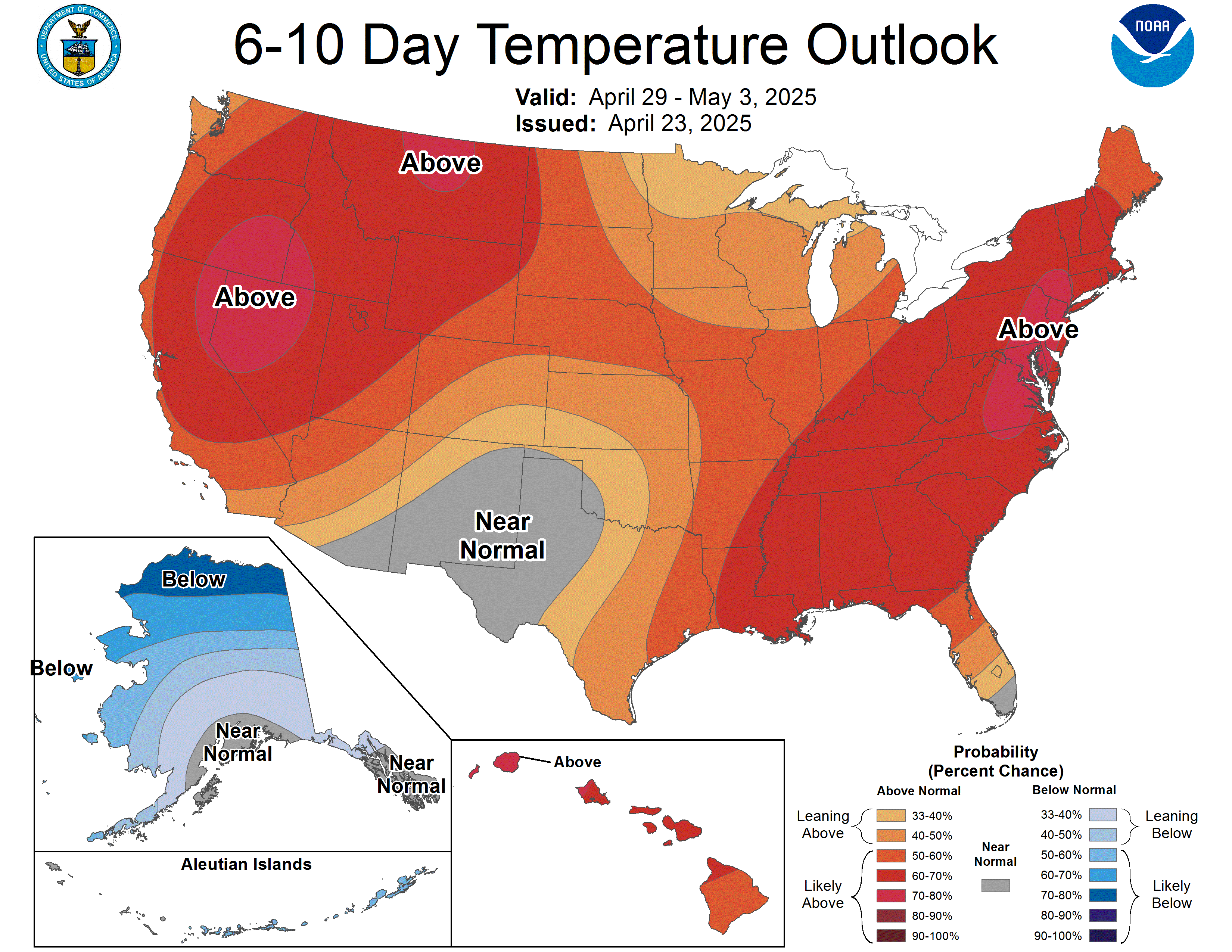 WHEN ARE WE GOING TO CATCH A BREAK?

Well, you had to ask... A clipper moving across the Mid-Atlantic and Northeast today will deliver brief rounds of snow generally accumulating 1-2 inches. Following this system, another pulse of Arctic air will charge southeast from central Canada, and is likely to send temperatures below normal in the 6 to 10-day period into next week. Cross-referencing the Climate Prediction Center's probability maps for temperature and precipitation shows an "uh oh" situation.
The concern lies with what happens when the long range projections point to below-normal temperatures followed by an increased probability of above-normal precipitation in the same period. The simple answer? This alignment increases the
possibility another coastal storm system traverse the southeast early next week, pickup moisture from the Gulf of Mexico, and then head north along the Eastern seaboard.
With this possibility still approximately "five days out" we will conduct internal analyses and can begin posting on scenarios for this event starting tomorrow.
SPECIAL MESSAGE FROM SEATTLE

On behalf of the entire Foot's Forecast team, we would also like to welcome those who have visited our site from the American Meteorological Society annual conference in Seattle. Forecaster Dakota and Advisor Mr. Foot were invited to the event courtesy of the NOAA- and NSF-grant funded Weather Camp Program headquartered at Howard University in Washington, DC. They met with representatives of the various CAREERS/Weather Camps from around the country to speak about opportunities available for students to become members of Foot's Forecast. Thanks for reading and we hope you enjoy our forecasts!
Below: A special video greeting to our Central Maryland readers from
Forecasters Dakota and Foot in downtown Seattle.
We know many of our readers have harrowing tales to tell about the impact of "snow-smack." One particular tale from the disaster that was yesterday afternoon involved a commuter in the Washington area - who was caught in the downpour of white. Their seven mile journey took seven hours! We hope they and all others who became stranded have gotten home safely. If you need a place to vent (appropriately) about your weather experiences in the past 24 hours - or wish to post pictures - we invite you to comment on it.
9:00 AM EST Thursday 1/27/2011

- While the western and central U.S. revels under tranquil conditions, people in the eastern U.S. are once again back to "you have got to be kidding me" mode. Torrential snowfall of 6 to 12 inches last night sent residents of the Mid-Atlantic scurrying for cover under widrespread thundering and lightning, paralyzing traffic across the region. Then it got worse.
As reported in this roundup of impacts by Comcast News, the major metro areas of the Northern I-95 Corridor were AGAIN pounded into snowstorm oblivion a THIRD time this winter: Philadelphia 12", New Jersey 19", Central Park of New York City 15" as well as Boston with 12".
The National Weather Service has a detailed list of latest snowfall totals in this Storm Summary.
Additional content is being added to this report in the next few minutes. Our best wishes for safety and warmth as our readers in the Eastern U.S. start the slow task of reclaiming their sidewalks, cars and roadways. Our team extends sincere thanks to the many useful and fervent reports of your experiences during the on-going impacts of this event in the Mid-South, Mid-Atlantic and Northeast.
Your latest forecasts from our regional teams can be easily found in the "Forecast Centers" tab noted above. Forecasters Foot and Dakota - Seattle, WA from the Conference of the American Meteorological Society