It's not in Kansas anymore,
but it was earlier today
photo credit: Kansas City Star. The city remains under Tornado Watch #369 until 6:00 PM CDT, following a warning earlier this afternoon as storms barreled through the Plains, producing 15 twisters so far today according to the SPC.
High Risk across the Mississippi Valley
**Updates in Stormcast**
2:25 PM EDT Wednesday 5/25/2011
The NOAA Storm Prediction Center has a large portion of the Central Mississippi Valley in a Moderate to High Risk for Severe Weather today into tonight. The overall risk, though slight in some areas, has expanded eastward for tomorrow to include every major metropolitan area in roughly one-third of the country. Areas in this risk regions are likely to see tornadoes, some large, as well as damaging hail and destructive wind gusts over 70 mph.
Tornado
Watches # 370 and
# 371
in the central and southern plains are rated a "Particularly Dangerous Situation" by the SPC. Supercell thunderstorms in these areas may produce large, long-track and highly destructive tornadoes not unlike what struck Joplin, Missouri and Oklahoma City. In addition, these storms can also produce large, damaging hail, frequent cloud-to-ground lightning and straight-line wind gusts over 70 mph. We urge all readers in these regions to remain in a sturdy underground shelter if a tornado warning is issued in your area, and until then closely monitor your local NWS forecast office for any additional warnings which are likely.
An 30 % probability for tornadoes in the Mid-Mississippi Valley is noted
on this outlook map
shown below.
The widespread atmospheric instability which has produced over 130 tornadoes since Saturday will continue to drive development of severe weather from the Midwest to the East.
These conditions include a
dynamic surface and upper level low pressure system, driven by an active sub-polar jet stream, is enhancing wind shear and tornadic activity across this area as a cold front pushes east into a warm and humid air mass over the outlooked area. Thunderstorms may also develop in regions outside the SPC's risk area, as indicated by this experimental graphic for thunderstorm potential this afternoon and evening.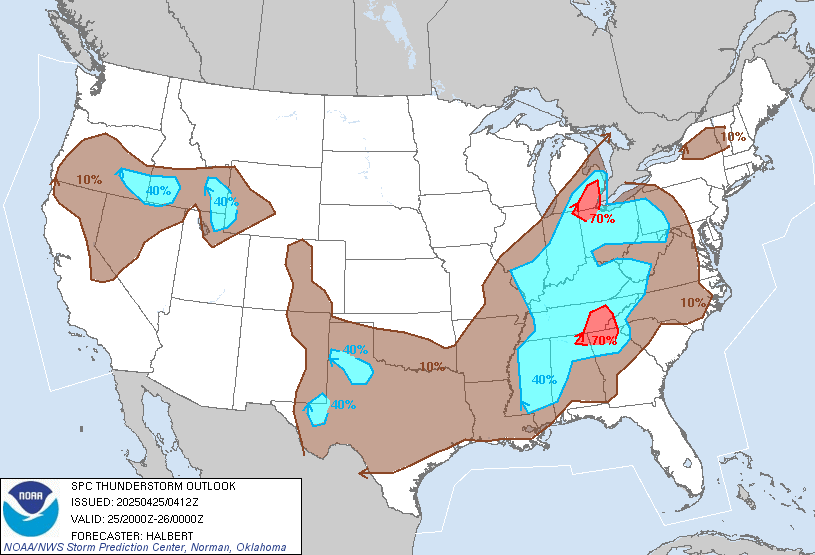 As you know, the te

rrifying fast outbreak of tornadoes on Sunday left at least 124 fatalities in Joplin, Missouri. An aerial overview (Youtube | school-friendly ABC news video) of the damage caused by this historic EF-5 twister that was a mile wide at one point. Our team conveys heartfelt sympathy to this latest round of families which have suffered another devastating blow from the forces of nature. We certainly hope, as many of you do, that this period of severe weather will be coming to an end as quickly as possible.
THE RISK EXPANDS EAST

Mild to warm in the east, cooler in the west. Threat of rain and thunderstorms increases the farther north and east your location. The cold front that has been firing storms in the Midwest will continue transporting warm moist air ahead of it. Upon reaching the Eastern seaboard by Thursday, front is likely to stall. As shown on this 2-day map projection by the NWS, much of the Eastern U.S. will enter a classic May "stationary front" pattern by end of the week. Not what wedding planners and outdoor graduation organizers want to hear, but waves of weak low pressure should develop along the frontal boundary toward Friday, delivering periods of rain and cooler conditions in the period from Thu May 25 to Sat May 27 as noted in the graphic above.
HURRICANE PREPAREDNESS WEEK NOAA and the National Hurricane Center have rolled out what our team believes is the most important week of preparation for those living near or along coastal areas. The NHC has produced a series of multi-media presentations for the public each day of this week, which we will post in the Tropical Zone and on the Tropical Facebook page. For teachers and students unable to view a Youtube video in school, you can at least get the audio from the Hurricane Preparedness website.
STUDENTS KEEPING WATCH
Our Affiliate Forecaster Joe Puma of the Puma Weather Center in metro Chicago has posted a preliminary report on the Missouri outbreak on his main site and facebook forecast page. For the latest severe weather advisories, visit your local NWS office or our Stormcast page.