We might be in the clear,
(even though it's dark now)
7:00 PM EDT 10/19/11

Dominant dull grey skies for much of today in the Mid-Atlantic and Northeast, along with a wider-than-expected separation of the two Eastern low pressure systems, may have been among the factors which prevented the widespread severe outbreak we were concerned about. Granted there is still sustained cold winds in the Upper Midwest and Western Great Lakes, which will work to the East by tomorrow.
The wrap-around northerly flow behind this storm has produced the first real taste of winter: Portions of the Central and southern Plains are under the first Freeze Warnings of the season. Visit our Affiliates CirrusWeather (Kansas) and ConvectiveWeather (Southern Plains) for a local perspective on the recent severe weather and arrival of cold.
However, we hope most of you in the East are NOT unhappy about avoiding a surprise torrential downpour, or have the atmosphere fail to produce dangerous cloud-to-lightning at rush hour. Additional observations from the NOAA Storm Prediction Center (SPC) provided insight as to why the strong damaging winds they, and our team meteorologists, did not materialize as expected.
Forecaster Jason noted this comment in a recent team collaboration: "(Subtropical moisture at the surface) is
what keeping the low levels juicy, I think that warm/moist air is acting as as an inhibiting factor for development. The SPC said this afternoon;
'"

MODEL FORECAST SOUNDINGS INDICATE CONSIDERABLE MID/HIGH

LEVEL WARMING WILL OCCUR EAST OF AN INTENSIFYING CYCLONIC UPPER JET

TO THE LEE (or east) OF THE APPALACHIANS.

'
In short, it is possible that the "primary low stayed stronger, longer" and in doing that, the energy did not merge as expected, hence truncating the chance for several weather.
(Forecasters Foot and Jason M. )
An October surprise no more
Our latest storm updates in Facebook...and in "Eastern" tab.
WISCONSIN Heavy bands of rain to setup across the region
9:00 AM EDT 10/19/11

By now, it's no longer an "October Surprise" but a "Oh man not again" storm. We think the current setup of an Ohio Valley low pulling in tropical moisture to "phase" with the subpolar jet is beginning to look a lot like a possible Winter pattern.
The NOAA Storm Prediction Center (SPC) has identified the Mid-Atlantic with a 30% probability of strong winds.
Were this storm to occur just 45-days from now, those west of I-95 might be hearing thundersnow, while areas from Eastern North Carolina to the Delmarva and the Northeast feel like Irene "did an Ivan" and cycled all the way back around to make another run up the coast. Our overview of the threats and timing for today, Wednesday 10/19.
Primary threats & storm timing
We have high confidence this event can produce similar high-impact disruptions to commuters and municipalities as was observed on January 26, 2011 and the recent flooding rain event of Tropical Storm Lee. Remain alert to changing conditions and monitor your local NWS office for any warnings.
1.
STRONG WINDS, LIGHTNING, HEAVY RAIN:
A digging trough in the Midwest leading to rapid interaction of dry air with tropical moisture from the east may fire surprisingly powerful severe weather today from the Carolinas north to Eastern Pennsylvania. (See Water Vapor). The primary threat for most areas should be heavy downpours.
*Along and east of I-81 today,
including the Richmond-Washington-Baltimore I-95 corridor, 3 PM to 6 PM is
our targeted time frame for highest risk of dangerous weather conditions.*
2. TORNADOES & HAIL The SPC has also identified a portion of the central Mid-Atlantic with a 5% shot at Tornadic activity. You may think those numbers are low, but for weather forecasters and emergency managers alike, it is enough to raise eyebrows this time of year. Under this scenario, areas of central and eastern Virginia, east of I-81 would be first in line for tornado threats early this afternoon, with the I-95 corridor and east late this afternoon into tonight.
Previous post from 10:50 PM 10/17/2011:
Residents of the Eastern U.S. from the Ohio Valley to the Carolinas and the Mid-Atlantic might have their breath taken away by a little-known surprise lurking in the Gulf of Mexico. We may dub this the "you've got to be kidding me" storm. Believe it or not, this area of disturbed weather currently identified by the NHC with a 30% chance of development...may be pulled into a deepening trough regardless of whether it becomes Tropical Storm Rina or not. Moving rapidly over land, this system could could reorganize as a "cold core" storm as it bisects the East Coast, and deliver a real punch of wind to millions of folks along the coast who tomorrow might say, "What storm?"
Several notable computer model guidance packages, including the "Hurricane-Weather Research and Forecasting" model, or HWRF (shown left) and the "European" model show some type of fast-moving windstorm slicing through Eastern North Carolina. By Tuesday night, and moving along the DelMarVa penisula by Wednesday. In this scenario, the primary threats will be tidal flooding and strong gusty winds near tropical storm force. Our concern is that because the system is relatively far away, and is not a named storm, there may be a lack of awareness as to how quickly this system could ramp up if it is pulled into the trough and rides up the coast.
WIND: Coastal areas from Eastern North Carolina to Southeast Virginia and the DelMarVa may experience sustained winds of 40 mph to 55 mph Wednesday to Thursday morning. Inland areas along the I-95 corridor could see gusts above 30 mph at times.
RAIN: Latest precip projections from NOAA show a large area of 1.5" + of rain from the I-95 corridor east, with a larger slug of moisture from the primary low in the Ohio Valleyheaviest rain exceeding is expected in central and south Florida on Tuesday with decreasing amounts the farther north.
FLOODING If the storm arrives in an area on a high tide, the strong southeasterly fetch may produce tidal rises of 1-2 feet in coastal communities regions of the Carolinas to the Delmarva.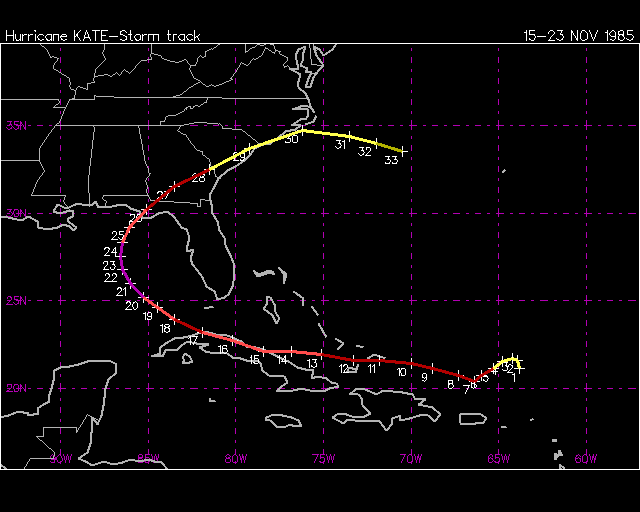 Even though it is October, a quasi-Tropical system merging with the active energy of the subpolar jet stream? That'll turn some heads, especially if it happens in a span of less than 48 hours. Those of you seasoned enough may remember Hurricane Kate in November 1985, which made landfall in Florida before heading northeast across the Carolinas. After making landfall near Appalachiacola, FL in mid November as a Category 2, the storm went right over the Cape Fear area and exited near cape Lookout. Despite going no farther north, the unraveling storm produced 50 mph winds as far north as Salisbury, Maryland. I know, because I was there to see it and boy was that ever a surprise. This time we want you to know about it earlier than the day before it happens. (Inset: Hurricane Kate track, slide show)
We would encourage our readers, along with local emergency management officials, facilities & operations staff to keep close watch on your NWS forecast office, as well as the NHC for any surprise developments with this system.
(Forecaster Foot and Connor M., Baltimore MD)