Real snow to rock Seattle:
9 or more inches by Wednesday
2:50 PM PST 1/16/12 | Untimely snow & ice storm arrives during exam week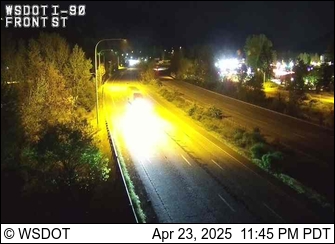 I-90 traffic cam in Issaquah, WA
Winter Storm Watches and Warnings
plaster the Pacific Northwest with up to 9" possible in unlikely places such as downtown Seattle by Wednesday night. Intermittent snow west of the Cascades today will increase slowly overnight and spread across the region, becoming heavier from Tuesday night into Wednesday. The untimely nature of this storm is arriving when some public school systems are about to begin mid-terms or semester finals, confounding the school schedule.
Total storm accumulations
may reach or exceed 9" in the cities of Seattle and Tacoma, along the I-90 corridor to Spokane and south toward the Tri-Cities. The image is of the Washington State Department of Transportation on I-90 in Issaquah.
For details on this high impact, wide ranging storm, please visit our Pacific Northwest page by Lead Forecaster Mark Ingalls. If you live in the Seattle-Tacoma metro area or live along the I-5, I-90 or Route 405 corridors, we would welcome additional weather forecasters interested in becoming involved in our team during this event. Contact us at info@footsforecast.org or mark.ingalls@footsforecast.org.
Our forecaster on the radio: KORD 102.7 in Southeast Washington state is interviewing Forecaster Mark at 6:20 AM Pacific Time (9:20 AM Eastern) tomorrow morning:
http://1027kord.com/listen-live/
Atmospheric Science students at the University of Washington are also closely following the snowstorm potential, with a scientific overview of the latest winter weather developments on the Cliff Mass Weather Blog.
Nuisance in the Northeast
2:25 PM EST 1/16/12 | A different storm system currently stretching from the Plains to the Midwest will track into the Northeast by Tuesday. A large and potent area of high pressure along the Northeast coast is keeping cold temperatures and a dry airmass in place at this time. Winter Weather Advisories are posted throughout this region as noted on the National Weather Service Eastern Regional Headquarters page.
As the storm system moves into the region, precipitation will reach the Northeast by midnight from southwest to northeast.
Temperatures
at the surface will be below freezing, with above freezing temperatures in the mid levels of the atmosphere. This will allow for wintry mix of snow, sleet, and freezing rain. Freezing rain accumulations should be under one tenth of an inch for most locations, with up to one inch of snow and sleet accumulation. Accumulations will be greater for the higher elevations of the Northeast.
This wintry mix should gradually transition to all rain Tuesday morning.