Fiery Hot Frenzy:
HIGH HEAT AND STRONG WINDS FUELING CATASTROPHIC
FIRES IN CENTRAL COLORADO AND BEYOND
Visit our Central Colorado forecast page in Facebook
1:30 PM 6/27/12 (Forecasters Mike & Mark)
– It is certainly heated in the middle of the country this Wednesday as the summer heat machine is cranking. Even elsewhere in the country where the heat is not as evident, the pattern is becoming more active. Debby has become a Tropical Depression though catastrophic flooding will stay behind in Florida long after Debby has moved into the Atlantic. Further north the cool high pressure over the east is losing the battle to the massive heat wave over the Plains.
SERIOUS FIRE THREAT
– The
Central Colorado
zone is keeping a close eye on the fire threat and evacuations ongoing in for region, nearly 32,000 people from the city of Colorado Springs have been evacuated from the area. A local Colorado news station, 9news.com, has written this
news article
about the evacuations and destruction due to the wildfires. While Wednesday will not be as hot across this region, it will still be dry and windy. Colorado is not the only state on the lookout for wildfires though. Red Flag Warnings are issued for western Kansas as the heat builds, as well as Wyoming, eastern Nevada, and western Utah.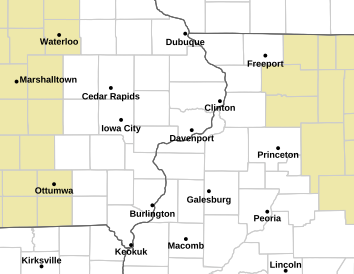 HEAT ADVISORIES EVERYWHERE
– As the heat wave builds in the middle of the country, local National Weather Services have issued a number of Heat Advisories (Orange) and Excessive Heat Warnings (Magenta) extending across Oklahoma, Kansas, Nebraska, Iowa, Missouri, Southern Minnesota, Illinois, Indiana and western Ohio, as well as a few counties in Texas we see highs soar into record challenging territory. Central Kansas will be bearing the worst of the heat on Wednesday with highs climbing well about 100º, and some areas topping 110º. (Red Flag Warnings are in Bright Pink, and Excessive heat Watches are in Dark Red)
Hill City, Kansas (North-Central Kansas) hit a record 115º on Tuesday which shattered the old record and it may be heading back to challenge Wednesday's record of 107º.

Omaha, Nebraska was not in record territory on Tuesday, but may have a shot at surpassing Wednesday's record 104º.

Kansas City, Missouri is less likely to hit a record of 105º, but significant heat surpassing 100º is likely across the Kansas City area.
Debby's projected path and strength by the NHC




A DEPRESSION BUT STILL A THREAT

– Debby may have weakened to a tropical depression, but that does not mean that its threats are a thing of the past. Even tropical depressions can have access to a bank of tropical moisture, and cause heavy rain threats to continue. Since Debby is such a slow-moving system, rainfall concerns are ongoing across the southeast United States.

For all things tropical, the Foot's Forecast: Tropical Zone is always on top of the situation. Even after Debby departs our lead stories, the Tropical Team will be keeping you updated on the tropics on both

Facebook

and

Twitter

.



Even though the

Southern Georgia zone

is not on the Gulf Coast where Debby's threats were most significant, that area is still on the alert for flooding rains.
The

Panhandle zone

has already picked up several months worth of rain in just the last few days. The only good thing that comes out of this is the complete elimination of the drought situation in that region. However, so much rain in so little time is creating some serious flooding situations.
The

Central Florida zone

is not exempt from the flooding one bit, but in addition, tornadoes have been forming most often across this region. While not as significant, we do need to watch for some isolated severe weather on Wednesday
COOL WEATHER LOSES GROUND
– The Washington D.C. area and the
Capital
Region
will hit the mid to upper 80s on Wednesday after National Airport was capped at 82º Tuesday. Additionally the same regions will easily climb into the low to mid 90s on Thursday and possibly the upper 90s by Friday. As is inevitable in the early summer season, the heat is winning out across the east once again. While Tuesday was below average across many states, Wednesday will bring many of those same areas up to at least average, set to climb well above average on Thursday and especially Friday. For some, this coming heat wave will not be as strong as the one last week, but this one does appear to have some significant staying-power.
Stay tuned and have a great Wednesday!