Inside The Storm
Central Florida: Watches Rising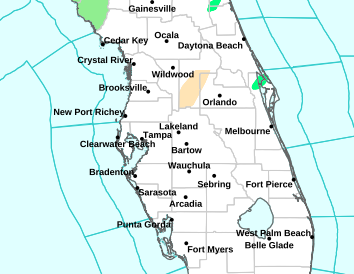 South Florida:
Tip Of The Spear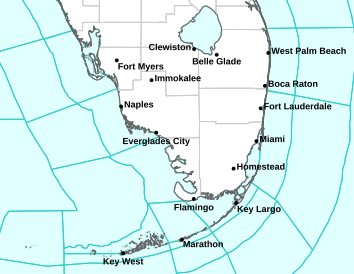 The current Watch/Warning Map for South Florida.
Bright Red = Hurricane Warning
Dark Red =Tropical Storm Warning
Bright Pink = Hurricane Watch
5:10 PM EDT 8/25
(Advisor Shundra)
Tropical Storm #Isaac is not changed significantly since the last NHC update, but the storm has picked up forward speed. Currently Isaac is located 120 miles East of Camaguey, Cuba and 270 miles South-Southeast of Nassau, The Ba
hamas.
Sustained winds at 60 mph but the central pressure has dropped a little to 997 mb and moving to the Northwest @ 21 mph.

Isaac will continue his northwest track for the next 48 hours as he gets closer to the US. He will continue to move over Eastern and Central Cuba tonight and move close to the Florida keys and Southern Florida sometime tomorrow.

We expect some strengthening in the next 24 or 48 hours as it moves over the Gulf of Mexico.
2:00 PM EDT 8/25
(Forecaster Jason M.)
With the latest NHC advisory, not much has changed over the past couple hours with Tropical Storm Isaac. Maximum sustained winds remain at 60 mph. The storm is moving northwest at 17 mph, and the center i
s currently located on the far eastern tip of Cuba.
A HURRICANE WATCH has now been posted for the western Florida coast from Fort Myers northward to the coastal waters off New Port Ritchey, with A TROPICAL STORM WATCH for Tampa/St. Petersburg and adjacent coastal waters.
THE NEXT 12 HOURS: Deteriorating conditions are expected in the Florida Keys late tonight, with significant impacts throughout much of the day Sunday.
By this point, Isaac may be near hurricane strength. Isaac has a large wind field, and regardless of where his first US landfall will be impacts will be felt across the southern Florida peninsula as well.

Strong winds, torrential downpours, storm surge of 3-6 feet and isolated tornadoes will all be likely hazards in the areas affected by Isaac.