If you figure how to put Summer weather in a bottle...
then let's talk!
11:05 AM EDT 9/23

(Second Report by the Long Range Team) As we turn the corner into Astronomical Autumn, we believe a long-wave pattern hinting at clues for winter may already be establishing. The full details of this analysis will be available in our by-request-only Winter Risk Assessment. Here is the synopsis for a sunny Sunday:
September: A notable cool down for first week of Fall will continue until mid week for the northern and eastern U.S., courtesy of the first round of colder Canadian air we've seen so far this season.
October: As shown in the NOAA CPC image below, Pumpkin month is projected to start above normal for a large portion of the country. Following this we expect a mid-month cold snap - with the traditional first big widespread frosts and freezes possible. A resurgent warm trend may return toward end of the month.
November may start warm for much of the northern and central U.S., and then produce a sharp cold spell by mid-month that could drain the reservoir of Canadian cold. This could set in motion a significant imbalance of cold vs. warm that might take several months to correct, leading to yet another winter of "out-of-season" extremes.
Will this result in Fall 2012 being counted among the legendary ones?
Only time and data will tell.
Legends of the Fall,
Talk about a Weather Legend!
This is an acrylic painting by Central MD reader Carol Zika.
It's legendary because she rendered this from a photo
by Forecaster Joey posted in an daily update.
12:15 PM EDT 9/19
(First Report by The Long Range Team) So is this the beginning of the step-down? Actually, it has been well underway in the Upper Great Lakes, A
close look at the National Weather Service Watch/Warning Map showed little light blue squares earlier this morning in places such central Michigan and New England. Your eyes do not deceive, those were Frost and Freeze Advisories!
What may end up becoming a legend of THIS fall is the start of a long range temperature pattern as projected below by the NOAA Climate Prediction Center (CPC), for the period September 24-28.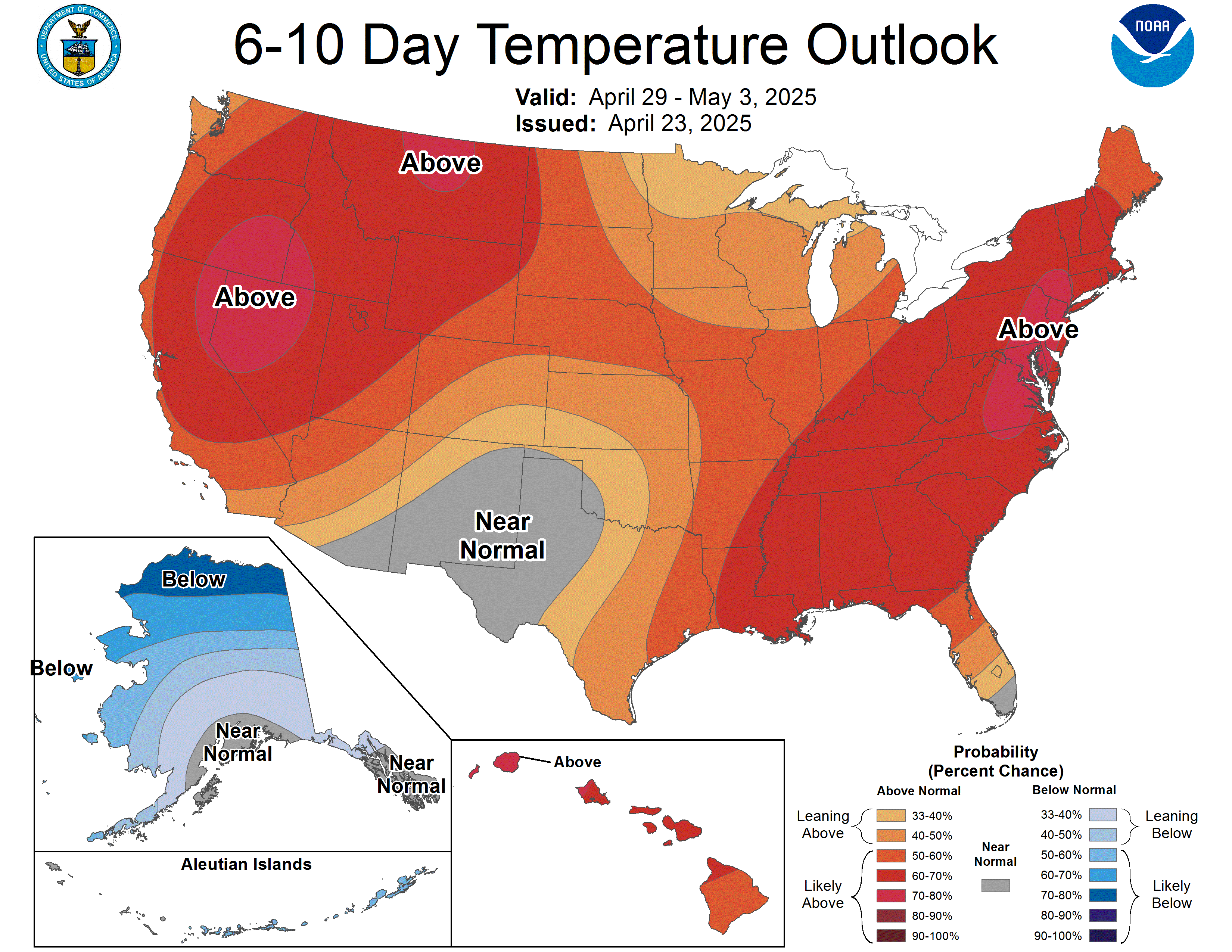 PORTENDING SOMETHING? Why yes, we think it does. This projection indicates that temperatures in the 6-10 day period ahead are very likely to be below normal for the large area under the dark blue shading. If you are a Mid-Atlantic Powderhound you might want to skip over the next few lines. If you are in the Decision Services, Facilities or Operations communities, don't face the risks of winter alone. Our team is on your side. Register now in a secure email list to receive our FREE Winter Risk Assessment to be issued October 1 -- send a short message to winter@footsforecast.org.
What do we foresee in the months ahead?
THE NEXT 3 MONTHS, IN SHORT. The CPC temperature projections for the next two weeks suggests development of a deep upper level trough over the Eastern U.S.
I
f this western ridge, eastern trough pattern were to repeat in a general 30-45 day cycles as has been the case in recent months, then we hypothesize the following weather pattern timeline over the next three months for the Central and Eastern states. It should be noted the western U.S. would generally see a near opposite outcome of this pattern:
In October, a warming trend, followed by below normal temperatures into November;
By late November, a sharp outbreak of cold weather for the Midwest, Southeast and Mid-Atlantic;
For early to mid December, a rebound of U.S. temperatures to above normal.
Stormy periods? Moving forward from the just-passed cold front of September 18, we expect a compressing 15-30 day cycle of significant storminess to reoccur in mid-October, early November and then again by late November. This would produce an "early season" draining of the cold reservoir in Canada.
WANT SNOW? GOTTA HAVE COLD. This timeline would spell trouble for snowcover customarily building up in Canada by December. Were a large chunk of cold air to be displaced south from Canada in November, followed by a resurgent El Nino fueling an amplified Southern Jet in December, it could give rise to an early winter warm spell. If northern regions showed a slow recovery of cold air from this scenario, it would suggest a connection to a known observation: The record reduction in Arctic sea ice.
While Powderhounds amping for big snows can correctly point to notably above-normal sea surface temperature anomalies in the western Atlantic as an influential factor (such as the 2011 "Snowtober" storm) major storms like this also require an ample supply of cold air. A warm October would set in motion a challenging setup for Canada to build that reserve of cold by limiting early season snow cover.
A BROKEN REFRIGERATOR. While some forecasts are pinning hopes on a less-than-expected return of El Nino, the real issue going forward for winter is, as reports by the National Snow & Ice Data Center suggest, "the Arctic refrigerator is broken." The mantle of snow and ice at top of the world is the most important moderating force for the Northern Hemisphere, acting as a balance against heat generated by land areas, as well as ocean and air currents delivering heat from the tropics. Learn more about the Arctic refrigerator in this August 2009 article by the NSIDC.
If winter ends up having a surprisingly slow start in the Eastern U.S., or if the "above normal snowfall" for some areas of the U.S. proposed by other organizations does not materialize,
there'll be some new Legends of the Fall to talk about. Only time, and a
data-based verification of our hypothesis, will tell.
Lead Writer: Rich Foot
Contributors: Nic Roberson, Jason Mitchell, Mike Natoli