Where's The Ice?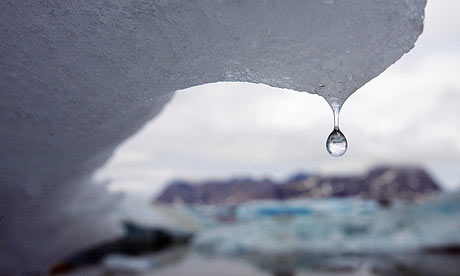 Photo credit: UK Guardian
ASSESSMENT OF CLIMATE INDICATORS QUESTIONS
CALL
FOR BIG SNOWS IN EASTERN U.S. CITIES THIS WINTER
Register now to receive our Winter Risk Assessment
5:50 PM EDT 9/17/12

(Winter Stormcast Team) So, you've heard that the big Eastern cities are set for big snows this winter? Hey now, that would be fun! Lots of snowdays for the students and teachers, ski resorts would be lovin' life, and snowplow operators would be raking in the dough. There's just one problem with that kind of forecast.
We don't believe it is founded on solid data, and we disagree with it.
WISHING FOR REALITY

.

Our Long Range Analysis Team has been crunching the data for months, and yes, we've seen at all the wild-eyed winter forecasts issued by other organizations. Now we're putting our less-than-snowcovered hat in the ring.
Here's our summary of their winter forecasts: Despite record meltoff of Arctic sea ice, a lackluster run-up by El Nino, and accelerated glacier melt in Greenland, North America is going to *somehow* experience a brutal, snowy and extreme winter?"
If those headlines were tied to winter projections for Europe, we do agree with that as outlined in this article by the UK Guardian. But for the U.S., not so fast. Here's an alternate view by the Washington Post's Capital Weather Gang about the likelihood of a big snowy Mid-Atlantic winter.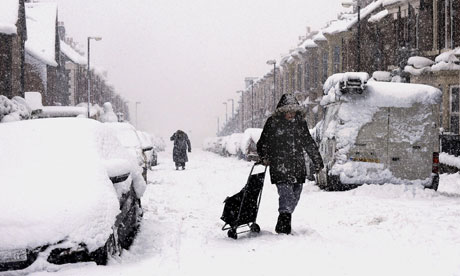 Europe has experienced harsh winters when Arctic sea ice decreases.
The same is not always true for the United States and Canada.
When Arctic sea ice decreases to a level millions of square kilometers less than a 30-year average, it is going to have a major impact on climate-driven interrelationships across the Northern Hemisphere. One does not need a computer model to make that statement, simple photographs will suffice. These resources from the NASA Scientific Visualization Lab include a report to the August 26, 2012 sea ice update.
The forecasters on our team are Powderhounds just like many of you. We all enjoy a big snowstorm. But there comes a time when one must put aside desires to spark hype or push ratings, and just focus on the data. w
e welcome your input on this discussion in our Winter Stormcast Zones on Facebook for the
Mid-Atlantic,
Northeast
,
Western Lakes
and
Central Plains.
LET'S BE STRAIGHT ABOUT THIS.

If we wanted to give all the Powderhounds big promises about bongo snow this winter, here are the headlines we'd rather see right now:
"Arctic sea ice surprisingly rebounds to pre-2000 levels..."
"Heavy early season Siberian snows portend brutal winter..."
"El Nino temperatures jump to readings higher than in 2009..."
But guess what snow friends, those are NOT the headlines right now. Read further if you're ready to dive into the truth behind the data.
WHAT DOES REAL DATA SHOW?

Here's the real truth as generated by the scientists of NOAA and many others in the climate science community who have devoted their lives to tracking this data:
Aghast about the Arctic

As widely reported in science and media this summer, the customary summer meltoff of Arctic Sea Ice (ASI) broke WAY below the 2007 record low. Current levels are 2.5 million square kilometers LESS than the observed level at this same point in time in 2009. Why is that important? That year, we headed into winter with a much greater extend and "older" supply of sea ice. This year, we're heading into winter with less ice than in 2007. That's a LOT of ice to recover, not a lot of time to do it. Need proof? Checkout current sea ice levels

measured by the NOAA National Ice Center, compared to previous years.

This article by Minnesota Public Radio gives a straight-on overview of the real data.
What Siberia Says

Look, let the public record state without reservation: We believe no winter forecast by any organization is worth it's salt before October data from Siberian snowcover is accounted in the analysis. Not even October yet, friends. Here's the current Asia-Europe snow cover, and the comparison to the same point in time back in September 2009 (left) and September 2002 (right).
Image source:
Archived data from the NOAA National Ice Center

What's t

he point? Based on these indicators and an observed run-up in El Nino, we made a little known call in Fall 2002 that Baltimore would see snow by the first week of December, and at least 2 snow days for schools before Christmas. Fast forward to 2012: Based on the current data, you would not catch us dead saying anything like that now, nor could we in good faith call for significant snows along the I-95 corridor 5 months early.
How about El Nino? No help there. The latest weekly ENSO report from the NOAA Climate Prediction Center shows that a mid-summer projection for the three-month mean Oceanic Nino Index (ONI) ended up being adjusted by nearly 1.0 degrees C. We even got excited about it ourselves. The original call by the Climate Forecast System was that the June-July-August ONI reading would experience a FULL ONE DEGREE jump from the May-June-July reading. Well, so much for that. The revised reading now shows El Nino is in a "dead heat" with readings over 6 months having changed barely 0.2 degrees C.
Image credit: NOAA Climate Prediction Center Weekly ENSO Report.
Sea Surface Temperature Anomalies in past 30 days highest in the north.

Contrast this to this same period in 2009: Sea Surface Temp Anomalies in the equatorial Pacific had already seen a 0.4 degrees C increase from April to August. Combine that steaming pot of equatorial Pacific water with a hefty end of October Siberian snowcover, and a notable rebound in Arctic Sea Ice... it's no wonder the Eastern U.S. was clocked by multiple "Snowmageddons." So what's gonna move your needle? If you're a ski resort operator and you want "big eastern snows" (plural there), the stakes are very high for all this. We hypothesize this will be difficult to attain a big snowy winter without a strong and steady influx of tropical moisture from the Pacific across the Gulf of Mexico and into the Eastern U.S. This is usually generated by a more "west-based" El Nino as observed in the equatorial Pacific during 2009, than the pattern we are observing presently in 2012.
HOW WE CAN HELP
If your company or organization is looking for reliable, data-based winter weather intelligence, you're in the right place. This year, we're putting the data to work so you can make cost-conscious preparations grounded in transparent scientific analysis, and presented in a plain language format. It is called a "Winter Risk Assessment."
WINTER RISK ASSESSMENT

On Monday October 1, the Winter Stormcast Team will release our preliminary Winter Risk Assessment on this site for the period November 1 to January 15. A more detailed PDF version will be available by special email request to winter@footsforecast.org.
This document is designed to outline for the operations and decision service community our risk assessment, confidence intervals of expected hazards for the winter ahead. The document can be customized for a particular geographic area. Those who may have interest include:
Facility operators, ski resort managers, corporate property owners

Transportation coordinators, food distributors, health service managers

Public safety officials in municipal, city and county governments

Construction, architecture, engineering and snow removal firms

School district and university operations, day care facilities.
We hope you'll join our conversation about assessing risks for the winter ahead, and we welcome your input to the discussion in our regional pages of the Winter Stormcast Zone. Thanks for making our team your right step for winter weather.
Winter Stormcast Team contributors to this article include:
CEO & Lead Advisor Rich Foot - Dundalk, MD
Mid-Atlantic Director Greg "Winterman" Jackson - Pittsburgh, PA
Long Range Forecast Coordinator Nic Roberson - High Point, NC
Maryland Winter Stormcast Coordinator Connor Meehan - Columbia, MD
Capital Region & Lead Forecaster Jason Mitchell - Huntington, MD
Maryland Team Forecaster Mike Natoli - College Park, MD