HOW COLLAPSE OF AN EXPECTED EL NINO MEANS
A NEW DAWN IS BREAKING FOR THE WINTER FORECAST





8:30 PM EST 11/16

(Long Range Team) As fans of the teen-themed dark epic "Twilight" bundle in front of theaters for the final chapter in this saga, climate watchers are abuzz over unexpected loss in a different -- but just-as-sweeping saga: The collapse of an expected El Nino for winter 2012-13 (MSNBC article: "Why El Nino May Say 'Adios' To 2012" ).
Were Edward Cullen of the Twilight series to speak on the El Nino issue, he might simply say "I've had a bad habit of underestimating you..." So now we turn to re-assessing what this Pacific-driven change means for the long-range pattern, and why it may put the winter forecast of some organization in checkmate.
1. In early summer 2012,
a number of computer model operated by U.S. government
agencies, including NOAA, NASA and the Navy, projected El Nino reach least 1.0 degree
Celsius above normal by December 2012.
Private forecast companies, such as this July 2012 report by Accuweather.com expected that a weak to moderate
El Nino would build by Autumn, contributing to an above-normal winter of snowfall in the
Eastern U.S.cities. While too early to tell if that will occur with certainty, it is clear the rise in El Nino, while noticeable in early summer, was not sustainable as computer models had projected.
2.
For an El Nino warming event to be classified
as such, sea surface temperature
anomalies in the crucial "Region 3.4" monitoring area of the equatorial Pacific must reach
or exceed a positive 0.5 degrees C, and remain there for 3 months. This is reported
publicly as the Oceanic Nino Index, or ONI. In comparison, by November 2009, just prior to
the historic blizzard-filled winter of 2009-10, the ONI had already reached 1.0 C+ and was
still rising. Presently, the ONI was last reported at 0.4 C+.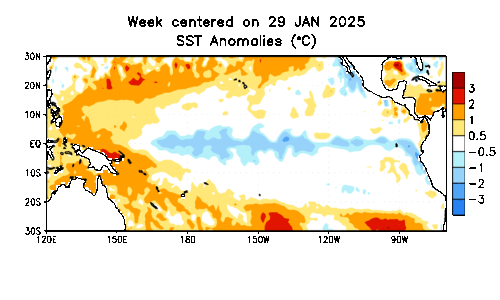 NOAA Animation of recent weekly sea surface temperature anomalies in the
equatorial Pacific shows much of the region has had near-normal

levels.
3.
By September
, these projections were revised downward, but the expectation of a
Nino-regime of above normal sea surface temperatures for winter 2012-13 was still in play.
In October
, the historic observation of heavy snow in six states, as a result of Hurricane
Sandy, followed by the freak East coast snow event a week later, has reinforced the
expectations of some that a snowy winter for the East is still on the docket. In a few weeks, we will find out if El Nino's twilight will lead to a new pattern breaking the dawn. Continue reading for our analysis looking ahead.
A June 2011 sunrise in Manzanillo, Costa Rica
Photo by the Foot's Forecast Tropical Team
Our Long Range Team proposes that the unexpected collapse of El Nino m
ay both produce a relatively short term period of high-impact winter
weather in parts of the U.S., while also paving the way for a big January thaw:
We hypothesize that the rapid run-up of Pacific sea surface temperature anomalies in El Nino regions as observed in mid- to late summer may have

influenced the large scale atmospheric pattern which helped lead to unusual events such as Hurricane Sandy and the storm after.
This gyrating pattern between several brief intense events separated by long

periods of calm suggest there may be one more "last hurrah" in the pattern

where the southern jet amplifies at some point next 15-30 days.
G

iven significant snow

cover increases in the western U.S. and Canada in the past two weeks, if the North Atlantic or Arctic Oscillations indices trend moderately negative in the 15-30 day period ahead as projected, this

could assemble some of the ingredients necessary for a major a winter weather event in the Eastern US.
What Lies Beyond The Dawn? For one, many climate watchers and long range forecasters may have to revisit their earlier projections for the winter pattern. Perhaps we should consider that if El Nino has faded into the forest for now, is there another less noticed factor, lurking beyond the shadows, waiting for the right moment to make its move on our winter?
Contributors to this article:
Rich Foot, CEO & Lead Advisor - Baltimore, MD
Zach Fasnacht, Pennsylvania Outreach Coordinator/Forecaster - State College, PA
Jason Mitchell, Winter Stormcast Team/Forecaster - Southern MD/Capital Region
Jason Isaacs, Southeast Education Coordinator/Forecaster - Atlanta, GA
Wesley Hicks, Affiliate Forecaster - ConvectiveWeather.com - Wylie, TX