34 inches, and still snowing...
- Hartford, CT Courant
"Roads across the state were impassable Saturday morning, with drivers, emergency responders and even highway crews stuck in 2 to 3 feet of snow.




At 5 a.m., Gov. Dannel P. Malloy ordered all roads closed until further notice, according to spokesman Andrew Doba.
Just before 7 a.m., more than 36,000 Connecticut Light & Power customers were without power, along with more than half a million households in Massachusetts and Rhode Island.
OUR WISHES FOR YOUR SAFETY The Winter Stormcast Team conveys our wishes of safety to all readers being impacted by this storm. We hope our advance forecasting has been of value to your decision-making and preparation. Our efforts will begin shifting to analysis for the next storm event now developing across the Rockies this weekend, heading to the Western Great Lakes.
Our previous reports below...
Winter Fury Joining Forces
STATES OF EMERGENCY: MASS, RHODE ISLAND, CONNECTICUT
NYC EMERGENCY MANAGEMENT WINTER SAFETY INFO
HEAVY PRECIP BANDS OFFSHORE ARRIVING BEFORE SUNDOWN
AMTRAK SERVICE SUSPENDED FOR NORTHEAST CORRIDOR
OVER 2 FEET POSSIBLE CT & RI TONIGHT INTO SATURDAY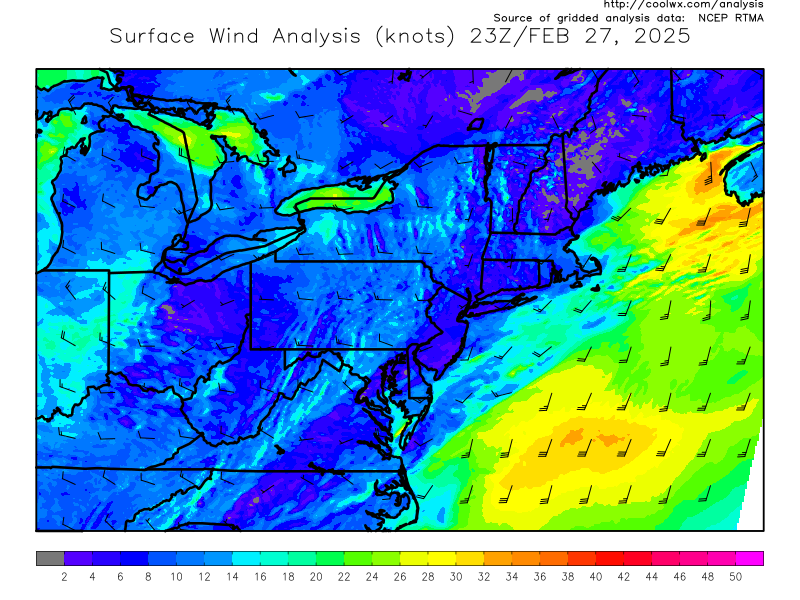 shows the storm developing off the Virginia Capes
1:40 PM EST 2/8 | STORM IMPACT STATEMENT FOR CONNECTICUT READERS
In collaboration with U.S. Leadership Team & Winter Stormcast Team
SNOWFALL & TIMING
We expect snow to be light to moderate through later afternoon with a few inches of accumulation possible by evening rush.

The heavier snow will begin during the evening hours and continue until shortly after midnight.

By Saturday morning, expect 18-24" to have fallen across the entire state, including Hartford and Bridgeport, with some isolated higher amounts possible. The graphic below from the NAM model as rendered on coolwx.com shows a possible 2.60" of liquid for Bridgeport, CT. At a normal 10:1 ratio, this would be 26" of snow.
IMPACTS:
Bands of heavy snow with rates of up to 3" per hours tonight into Saturday.

Combination of these high snowfall rates and gusty winds of 30-40 mph will make travel impossible.

Snow drifts up to 4-5' will be likely,
RECOVERY:
We recommend avoiding travel and outdoor activity at all costs after sundown today until Saturday afternoon at the earliest.

Roads will quickly become snow covered as crews will not be able to keep up with the heavy snowfall rates.

Back roads may stay snow covered through Sunday, post storm temperatures are expected to remain near freezing, and slow melting thereafter will slow recovery efforts.

A second storm is likely to affect the region by the middle of next week.
A Textbook Storm:
Primary Low Stays Stronger Longer
FACTORS CONTRIBUTING TO HISTORIC WINTER STORM INCLUDE:
ABOVE NORMAL SEA SURFACE TEMPS; AMPLE GULF MOISTURE; COLD AIR RESERVOIR IN QUEBEC; UPPER LEVEL ENERGY IN OHIO VALLEY
11:25 AM EST 2/8
(Winter Stormcast Team) Why are we and other weather organizations confident about this storm? Because of a rule we employ called "the primary low stays stronger, longer."
This earlier animation from Penn State Meteorology depicts how wind speeds at upper levels will exceed hurricane force. This also reveals how the storm will produce sustained surface gale to storm force winds tonight into Saturday (39-55 mph), i
f winds at 5,000 feet are nearly 100 mph. Regardless of your snow amount, this storm will make your area look blizzard like for a 6-12 hour period, because of the wind issue.
Animation capture from PSU Meteorology's E-wall show how the
coastal low is expected to absorb energy from the inland low.
ANALYSIS:

While a northern system (at 1008 mb) is producing snow across the eastern Great Lakes, a southern system has tapped Gulf of Mexico moisture, and has already developed a surface low (at 1000 mb) deeper than than the northern system. The coastal system has ample time to rapidly develop as it moves up the Eastern seaboard, projected to deepen to 974 mb upon reaching the New England coast. As it does, upper level energy is slowly transferred from the weaker system over the Great Lakes, into the stronger system moving northeastward. The latest NOAA surface map as shown below:
RESULT:

The result will be a long-tracked, rapidly developing coastal storm which is widely expected to produce sustained winds of 35 mph or greater and reduce visibility during times of heavy snow to less than 1/4 of a mile. Hence the official definition of a Blizzard, according to National Weather Service winter weather terminology.
The New England Blizzard of 1978 paralyzed the region for weeks.
Zach F., Andrew B. [PSU],