Does
Lucky Green
=
White?
Latest analysis from NOAA on this developing situation:
4:35 PM 3/15 - SNOW? RIIIIGHT

. You could just hear Bill Cosby making a full standup routine on this one.

But like an R & B song of recent years, "Girl you know it's true." The trend this winter has been brief warmups, followed by drastic cool downs and then, a storm.
That High pressure system sliding to Eastern Canada today will begin funneling cold air southward tonight, and by Sunday afternoon we will see rain and snow mixed overspreading much of the Mid-Atlantic.

Given the warm temperatures, it's obvious that the first few hours of snow will obviously have trouble sticking, or just melt on contact.

By the overnight hours, snow will become heavy across much of Maryland and Virginia, and unless things change drastically, the clovers will be snow-covered Monday morning.
We hope there are some lucky county school officials who DIDN'T FILE for the emergency waivers yet, and if so you'll be glad you waited. If not, oh well, El Nino will be back next winter anyway.
COULD IT BUST?
Absolutely! There is no guarantee this pot of powderhound gold will be waiting at the end of a long winter's rainbow. March is a fickle month for storms. Let's see what the daytime highs end up Sunday. Until then, take good advantage of this pre-storm bonus today, and we'll be here tomorrow to work the storm with you.
11:35 AM 3/15 - "Predict the High, and you predict the storm."
A synopsis on the St. Patrick's Day Green-to-White Snow Gala:
LIQUID AMOUNTS are still expected to be 0.50-0.75" for northern Maryland, (Up to 0.50" in southern PA), and near 1.0" in southern Maryland/eastern shore. Source - NOAA: (http://www.wpc.ncep.noaa.gov/qpf/fill_99qwbg.gif)
COLDER AIR will filter in starting tonight, with Sunday's highs fully 10 degrees or more colder than today's 50s. This is know as "Cold Air Damming" and can turn what looked like a mostly rain event into a snow event under the right setup.
WAVES OF LOW PRESSURE moving to near the coast will pull on the cold air in the High in SE Canada and wrap it down over Maryland and along the Blue Ridge. In this setup, rain Sunday changes to snow at nightfall, and continues into Monday morning. Accumulations could be as high as 4-5" across the central Mid-Atlantic by daybreak Monday under this scenario. You can review the projected development of this storm idea by scrolling through the NOAA National Forecast Maps at the WPC site.
Our Winter Stormcast Team is developing our traditional set of scenarios and maps, which we will post later today. So for now, enjoy the sunshine while you can!
PREDICT THE HIGH...

An old forecasting rule that I first learned at Penn State in the meteorology program still holds true today. Those w

ere the days well before computer model maps could be posted online with the press of a button. At 4:30 AM in State College, PA students would enter (or rather, stumble) into the Campus Weather Service on the 6th floor of the Walker Building. There we would discover reams and reams of giant facsimile charts splayed out all over the floor. We had to quickly separate and hang up all the maps in the right location on the "Map Wall"- and THEN do the analysis.
When forecasting for a winter storm, the FIRST THING we looked for on those black and white maps with all the wavy lines? Yep, position of the High pressure system!
...PREDICT THE STORM

Fast forward to the instagrammed, ultra-tweet, Facebook-flash world of today - there are no maps to hang on the wall anymore in some weather forecast centers. But the skills we learned still carry forward. By 8 AM on Monday morning, charts from the NOAA Weather Prediction Center have been showing for several days now the classic setup as described above, and yes, it's mid-March.
And yes, sun angle, liquid amounts, Sunday's high, the overnight low, surface wind direction, temps at 5000 feet, etc etc will ALL be important factors for how this storm evolves. But the ONE factor and trend that cannot be denied: Warm ups in our area have been fleeting, and all winter have been quickly replaced with a rush of cold air. This is due to more favorable placement of Canadian highs in recent months over a very dense and expansive snowpack.
Unless something major changes in the setup, to this old-time forecaster, the rule looks to hold true, yes even for a mid-March storm. We'll continue watching for you, but the evidence shows that winter is not done with us. If you would like to "Predict the high" with us, we welcome your thoughts on where this puppy will end up by Monday!
(Forecaster Foot - and Proud Penn Stater, Class of '96)
7:30 PM 3/14 - Snow probabilities rising for a potentially significant St. Patrick's Day Winter Storm -- and a second system to follow.
The enclosed graphic derived from the Winter Weather guidance suite at the NOAA N

WS Weather Prediction Center

has seen snow probabilities for Sunday night to Monday night rise considerably today. Earlier, our region was in a 40% probability for 4" or more. Now the same areas are in a 40% probability for 8" or more, have been advanced to HIGH for the 4" category and even the sneaky little 12" category has weasled in with a 10%!
ABOUT THE LIQUID

Liquid equivalents have also risen, with WV-Northern VA-northern Maryland and Delaware fully in the 0.50-0.75" range. Southern Maryland, the lower Eastern shore and central VA are knocking on the door to 1.0" of liquid. On the western side of the Bay, our thinking is that regions along and east the I-81 corridor may see more freezing rain and sleet than snow.
Either way you slice it, while SOME Irish eyes will be smiling on Monday, they will only be the ones who want to look upon a snowy Mid-Atlantic landscape one more time. We'll have additional updates this evening at our main site:http://www.footsforecast.org/
WHADDYA MEAN WE'RE NOT DONE?

Beyond Monday, there is ANOTHER wave of low pressure lurking in the long range that may affect the region on Wednesday in the wake of the Sunday-Monday storm.
And here you all thought you had GIVEN UP snow for Lent!! See our previous posts for an overview of climate-driven scenarios for this next system.
(Forecaster Foot, Meteorologist Justin Barker and the WSC Team)
INCREASING PROBABILITY OF A SIGNIFICANT WINTER WEATHER EVENT?
OR
ANOTHER MARCH STORM THAT WON'T BE REMEMBERED FOR MUCH?
1:14 PM 3/14 - On this Happy "Pi" Day (since the date is 3.14), we have a special climate-focused report on the upcoming storm, titled "A Tale Of Two Forecasts."
As with every winter storm that looks to impact the Mid-Atlantic, there are a

lways a multitude of factors that feature prominently in the final outcome. Now with late March upon us, throw 2 more factors into the forecast fire: Sun angle and climatology.
Normally, we are skeptical about any forecast for significant snow this time of year, and even in our collaboration, several members of the team are unconvinced there is strong potential for a significant winter storm Sunday into Monday. Our usual approach to resolving the many details is to present the A v. B scenarios.
This time we will present the situation in a "climatology concerns" approach, which zeroes in on the key question: Will the climate norms of March, which do not lead to big snow events in the southern and central Mid-Atlantic -- win over the apparent favorable alignment of factors that NOAA is pointing to?
This is our "Tale of Two Forecasts" Which one are you leaning towards?
The A-List is for Spring-a-lings who just want to be done with Winter, and will take every shred of climate data in their favor.
The B-List is for Powderhounds who believe storm dynamics can overcome climatology, much like the Palm Sunday Storm of 1942, March 18-22, 1958 or March 1993.
CLIMATOLOGY CONCERNS - The A-list:

March storms like this one tend not to pan out in much of the Mid-Atlantic because of the following factors --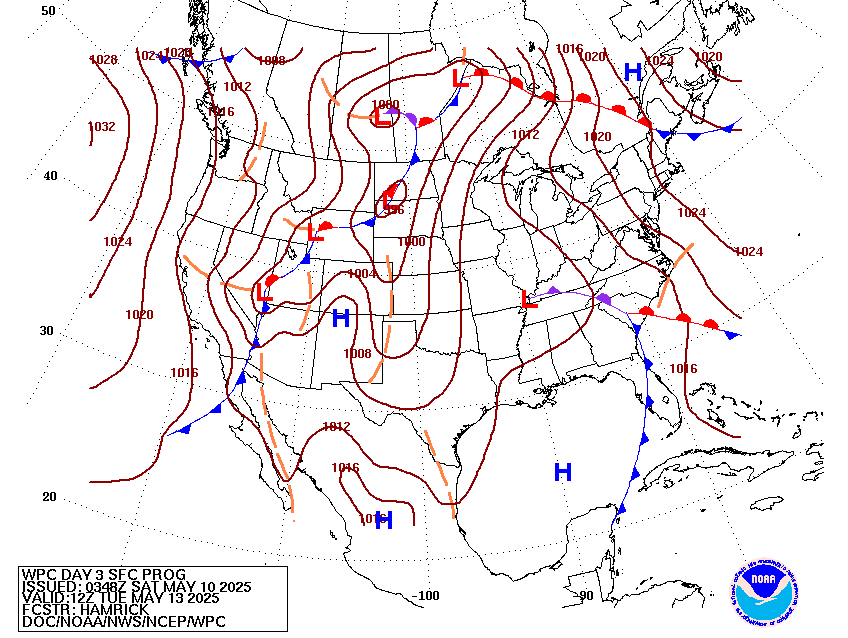 1. Computer-generated model snowfall maps, such as those you see from the GFS, European and other models convey the impression all snow that falls will stick. This time of year that is not always true.
2. Snow to liquid ratios of 10:1 or higher are difficult to attain in March, even at night - except for interior rural areas away from metros.
3. The mid-March sun-angle is high, equal to mid-October. Daytime snow accumulation is difficult to get this time of year, and even if the sky is cloudy, solar radiation still heats the ground much more than it would between December and February.
CLIMATOLOGY CONCERNS- The B-list:
About once or twice every 10 years, more January-like ingredients come into play for a storm, and can offset March climatology. These factors appear to be back on the map, such as:
1. Favorable placement of a sub-Arctic high pressure system in SE Ontario, fueling a "cold air damming" setup as noted by the Sterling NWS and the NOAA Weather Prediction Center for Sunday into Monday.
2. Copious moisture overrunning the surface high, and doing so mainly at night, when it would be more normal to expect a change of rain to snow where temperatures are seasonally still low enough for this. NOAA liquid precip shows 0.50 - 0.75 an inch!
3. Upper level energy from the southwest moving to the East coast. This energy can increase the intensity o multiple waves of low pressure near the Carolina/SE coast as well as tap cold air from with the nearby high
WHAT WE THINK IS THE MOST PROBABLE?
Because temps will not be in the teens like our last March snowstorm, so marginal temperatures become an issue and could negate some of the forecasted snowfall;
Colder, northwest suburbs west and north from the Washington, Baltimore, PhIlly metro have a better chance to get in on some snow
Any snow that does fall in the region Sunday night is likely to be a heavy wet gloppy snow, similar to March 25, 2013.
Let's hear from the Spring-a-lings and Powderhounds alike! Which of these two outcomes do you think is best supported by the evidence?
Image source: NOAA WPC
(Forecaster Foot, Mike N., Julian B., Jason M., Kate O., Connor M. and the Winter Stormcast Team
Just When We Thought It Was Safe
12:00 PM 3/14 - There's just no easy way to break this news: Snow is coming back to the Mid-Atlantic.
There is even some Irish potatoes in there (meaning probabilities for higher amounts as well) making this a bigger deal than most thought was possible toward late March. Our best advice: Don't put away the shovel or the snowblower.
What is currently understood to happen the next 3 days:
1. Several pulses of new cold air will overspread the region by Sunday;
2. A coastal system is expected to develop along the Carolinas;
3. A sub Arctic high pressure system is projected to be in a "favorable" location -- SE Ontario -- to provide a supply of cold air into the storm.
4. Liquid equivalents are at 0.50-0.75" and timing brings most of the precip to Maryland overnight Sunday into Monday.
We agree that March storms are always problematic for many reasons: Sun angle, timing, recent temps, daylight savings affecting when the AM commute happens, etc. We'll continue outlining the scenarios for what are the most probable outcomes, so please check back again this afternoon!
(Forecasters Foot, Julian B. and the Winter Stormcast Team)