Preparing for Peak Season ?
(You better while
it's calm)
PART ONE OF OUR "WHAT ABOUT WINTER?" SERIES

(By Rich Foot - Baltimore, MD) As we bid farewell to a summer that almost wasn't for some, our Long Range Team is keeping watch down the line on a decidedly more chilly sight: Arctic Sea Ice.
We love September for many reasons: Football, start of the harvest season, end of the third quarter, college applications...
But most importantly, in honor of the Powderhounds, September provides a first whiff of climate indicators for the winter season ahead.
For our clients and partners in the many industries impacted by adverse winter weather, take note of the following early data we find significant as you plan toward your "peak season" in the months ahead.
ARCTIC SEA ICE: 5.07 million square kilometers as of the latest report by the National Snow & Ice Data Center, nearly equal to the level observed in September 2013, and 2 million square kms higher than the final melt-off values reported in September 2012
POLAR TEMPERATURES above 80 North latitude: Virtually the entire summer season saw below normal temperatures for Northern polar regions, as reported by the Danish Meteorological Institute's Center for Oceans and Ice. In comparison, the same region in summer and fall of 2009 saw a majority of days with polar temperatures near or slightly above normal.
EL NINO : The crucial region 3.4 where El Nino status is measured has rapidly risen in the past 60 days to 0.5 degrees C, with the surrounding three regions also in a warming phase, as noted by the NOAA Climate Prediction Center's weekly report. The most recent data available is June-July-August (JJA) readings. By the first week of October, the CPC will post in their weekly report the next set of 3-month means. The "JAS" numbers, for July-August-September, should reveal the influence of recent warming since August.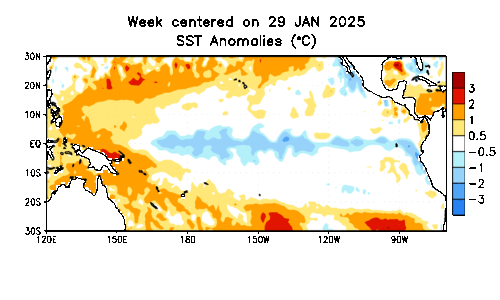 A comparison to the three most recent El Nino periods of 2009-2010, 2002-03 and 1997-98 show the following for the normalized three-month measuring period, known as the Oceanic Nino Index, or ONI.
2002 - Warming commenced earlier in the year, with an ONI of 0.8 C by August 30.
2009 - Steady warming was underway, with an ONI of 0.5 C by August 30.
2014 - A rapid transition from cool-to-neutral conditions has been in progress most of the year. The June-July-August ONI was 0.0 C, but rapid warming resumed in August in all four regions, likely to be reflected in the October reports.
Discussion of the data
Arctic Sea Ice:
Although the 30-year trend of sea ice concentration and thickness is understandably much lower in the 2010's than it was in the 1980s, the key is to know where things stand at end of the summer melt-off period.
First
, Sea Ice in northern polar regions was, until earlier this month, about 700,000 square kilometers GREATER than in September 2013.
Second,
the levels are nearly EQUAL to where data was observed
in September 2009.
Long time readers understand that number means Sea Ice in the Arctic is currently
on par with levels from September 2009, which for the mid-Atlantic became the snowiest winter in recent memory
El Nino & Hurricanes:
How about that amazing hurricane season eh? Why you can count all the named storms on, er... one hand. Have you heard about the jellyfish and
warm coastal waters in places like Virginia Beach and Ocean City, MD?
What's the connection here?
The influence of upper level westerlies coming from a growing El Nino in the eastern Pacific have steered or sheared most tropical systems, dampening the Atlantic Hurricane season. Thus, Gulf and western Atlantic waters have warmed to noticeably high levels, such that the jellyfish have had a heyday along northern beaches where they normally are not seen.
The counter-intuitive reality of this phenomenon:
If coastal waters are WARMER heading into winter,
this provides a more accessible source of moisture from which to evaporate for fuel into "Nor'easters" to tap while developing along the coast.
If the hurricane season proves to be an under-performer, waters along the coast are not "stirred up" by frequently passing tropical storms and thus, can continue warming unabated until the calendar clicks to winter.
What's the bottom line?
We know decision- and policy-makers want to know how this information will impact their bottom line this winter. Based on our analysis of the data trends, we can offer this fast, clean, early projection for the first half of winter (Dec 1, 2014 to Jan 15, 2015)
Overall, we expect a wetter and snowier winter for the Mid-Atlantic as compared to the past several years, and could resemble what was observed in 2009-2010. Areas that saw above normal snowfall in 2013-14 could easily reach or exceed their seasonal norms.
An earlier start to winter-like conditions for points north of 40 degrees latitude. Among the primary signals for this expectation has been the relatively cooler summer in the Arctic, The first significant accumulation of snow for the Mid-Atlantic could occur as early as mid-November, in a system similar to October 2011's "Frankenstorm."
However, in contrast to 2013-14, the eastern U.S. should see less "ice storms" or prolonged periods of below normal cold. It is hypothesized that increased moisture and warmth from a strengthening an El Nino signal may shorten the duration of cold waves.
Weather Intelligence. When you need it.
If your business, agency or organization would like to receive a PDF version of this technical report to guide your long range planning, send a short request to our Winter Team via
winter@footsforecast.org
. For on-site consultation or "entertaining" session to understand the weather and climate issues ahead, contact us:
team@footsforecast.org
or call
443-220-6863
About the author:
Rich Foot is the Founder and Client Advisor of Foot's Forecast LLC, a Baltimore-based weather forecasting and decision services company. In January 2004, while a teacher at Dundalk High School in the Baltimore County Public School, the website was launched as a classroom resource, urged by students and teachers seeking insight on when school would be closed for snow. After ten years, the organization has grown to a multi-state team of over 50 forecasters operating local "Foot's Forecast" sites from Boston to Washington to Atlanta. The Maryland Team has served clients that range from county transportation departments to emergency management offices, snow removal companies and local business alliances.
Mr. Foot resides in Dundalk, MD with his wife, Dana, who is a middle school Special Education Teacher, and their two children.