(Sorry Ravens fans, no Purple Pill this time...)
WINTER STORM WATCHES POSTED FOR

MID-ATLANTIC & NORTHEAST
(Click on link above to see latest watches and your local NWS office)
MARYLAND: NEAR 70 DEGREES MONDAY, 5 OR MORE INCHES WEDNESDAY?!?
3:55 PM 11/24
UPDATED: Scenario A & B Map Below
Special FREE teleconference

briefing available Tuesday late AM and early PM to ask our forecasters your questions about the storm. Send us a message to winter(at) footsforecast.org to register for the call. I

ndicate what weather information about this event would aid your decision-making.

Four (4) time slots will be available, pick any of them at your convenience.

For companies or organizations, denote one representative who can report back to your group. A briefing package will be sent Tuesday AM with call-in details.
OVERVIEW

(By Forecaster Mike Natoli) Regardless of heavy rain or snow, we all are likely to see a disruptive storm moving up the East coast at the very least.
We have refined our ideas to two scenarios depending on surface temperatures. Temperatures will be marginal, near or slightly above freezing, which will initially make snow accumulation difficult. However, as computer models have been projecting for the past 24 hours, high snow fall rates may overcome warm surfaces and create a surprise situation Wednesday afternoon.
We remain cautious on this storm, because a slight shift of precip arrival or type over just 2 hours on Wednesday morning will impact the entire day's forecast. If we decide we need to make a snow accumulation forecast, that will be issued either later tonight or Tuesday morning. Until then we have narrowed the potential outcomes to TWO SCENARIOS, outlined in the next section.
SCENARIO A (50%) THE RED PILL. It's the
January 26, 2011 "snow monsoon" all over again,only this time on the worst possible day of the year.
This scenario would occur if we end up with colder air entrenched and a weaker flow of warm air off the Atlantic. The I-95 Corridor may start out as rain, then transition to snow Wednesday late morning. This could bring accumulating snow to the big cities on the busiest travel day of the year.
A burst of heavy snow and low visibility in several hours ending Wednesday evening could bring holiday travel to a grinding halt.
SCENARIO B (50%)
THE BLUE PILL. We start Wednesday with heavy rain through the morning, then mix with snow by the mid-afternoon, and all snow by the evening.
A brief period of heavy snow may have trouble sticking in the I-95 corridor, but will still make for some slick conditions and low visibility. Travel will certainly be disrupted, but it won't be the disaster we'd see if Scenario A plays out.

The heavy rain will snarl traffic as well. Those inland can expect to see heavy snow, possibly accumulating over 4". The metropolitan areas and major cities see light accumulation, enough to look pretty for a pre-holiday glint, but shouldn't adversely impact travel.
DATA UPDATE:

We want to re-emphasize for those who may not have seen our previous posts. Not since January 2011 have we seen such a high intensity-short duration projection for heavy snow. Below is a live-link to the GFS liquid forecast for BWI Airport as a representative location in the Mid-Atlantic. Many others show the same, for DC, Philly, Harrisburg, Roanoke, you name it.
Even the afternoon of February 4, 2010 started generally light to moderate. The map below shows over 0.50" of liquid falling at BWI airport in just 6 hours. That's 1"per hour -- for 6 hours. It's not a guarantee, only a projection, for now.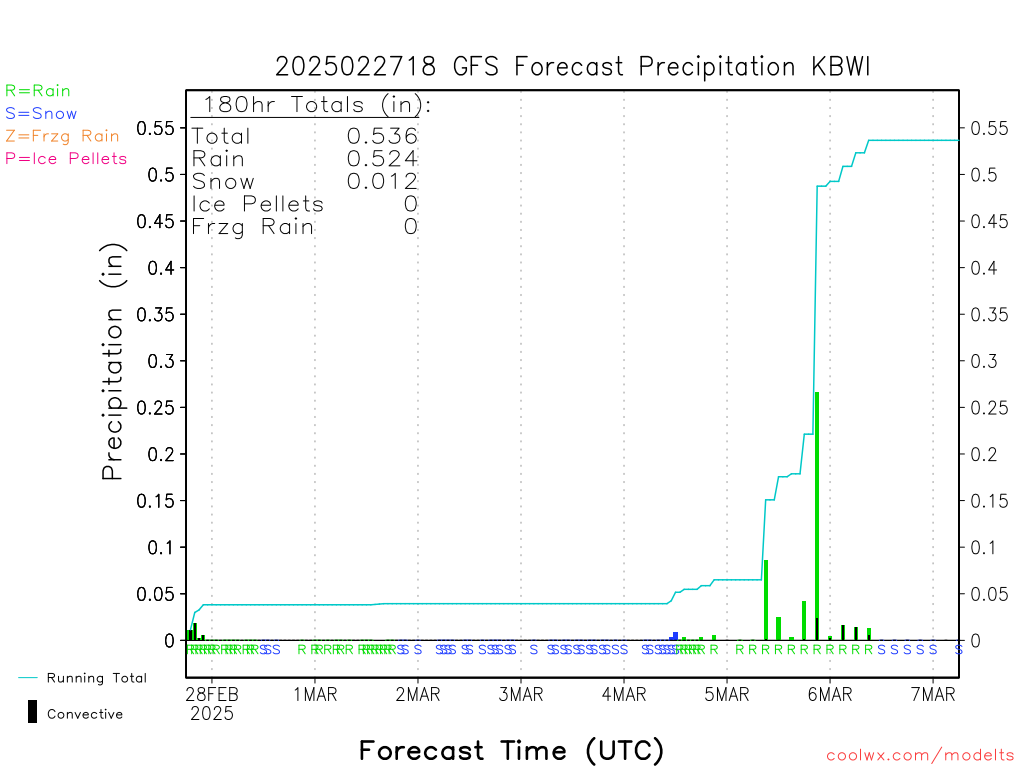 Forecasters M. Natoli, R. Foot and the WSC Team