WELL, A WINTRY PATTERN IS ABOUT TO TAKE FLIGHT, SO BUCKLE UP.
from the NOAA Weather Prediction Center:
"A POTENTIALLY HIGH IMPACT STORM FIRST AFFECTING THE SOUTHERN ROCKIES / SOUTHWEST AND SOUTHERN PLAINS...BECOMES A SIGNIFICANT SNOW/ICE THREAT FOR THE TENNESSEE VALLEY / APPALACHIANS/MID ATLANTIC BEGINNING ON DAY 3."
4:20 PM 1/22 - SCENARIO UPDATE As the window before Winter Storm Watches or Advisories begins to close, we have been watching upper level dynamics (the real data), and model projections (the simulated future data.) What these two data sets tell us about the weekend storm so far is:
That strange placement of a cold front in SE Canada could be a game-changer, or a non-issue. Usually one looks for a High pressure to settle in that location (if a snowy coastal event is desired.) However...
This storm is going to arrive at one of the climatologically coldest periods-- toward late January. Other computer models are indicating the storm could rapidly intensify once north of the Virginia capes.
This could in turn lead to "dynamical cooling" where the storm begins to manufacture it's own supply of cold air. The most notable example of this in recent years is the October 2011 "Shocktober Snow" -- which also lacked a surface High in the usual favored spot.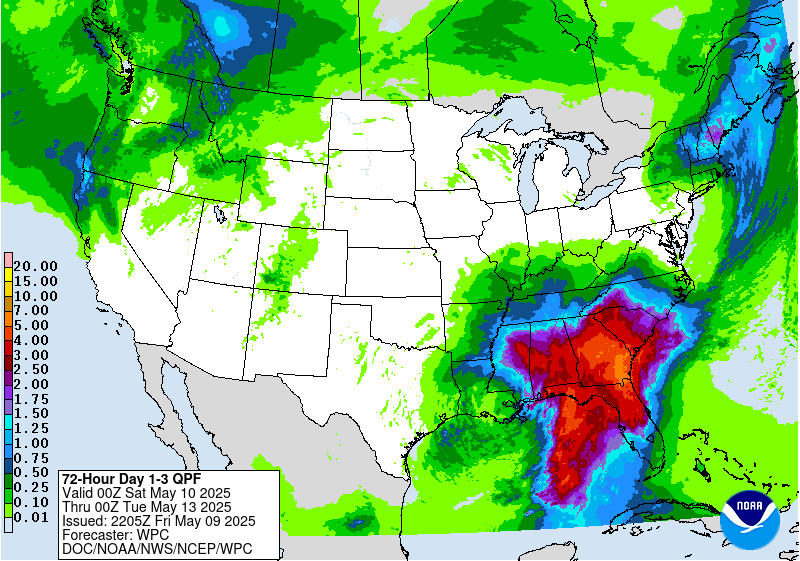 What's next? We are developing scenarios and probabilities for the situation facing the Mid-Atlantic and Northeast, along with a map of possible outcomes.
6:00 AM 1/22

(WINTER STORMCAST TEAM) - Those old forecasting rules are coming back to make an appearance in the next system that is on track to affect the Eastern U.S. and Mid-Atlantic this Saturday into Sunday. There's more behind that one. Lets just say our 11th anniversary date of January 26 is usually a festive time of flakes (if you like celebrating special events coinciding with snowstorms.)
WHAT OUR TEAM THINKS

(Using those old rules):
"Predict the High and you predict the storm" Notice the lack of a large High pressure system in the customary spot of southeast Canada by Saturday morning? That's essential if you want a nice cranking coastal Low to toss a bunch o'snow across the region. A pesky cold front to the north is not the best setup, but it's a start.
It "snows where it wants to snow." Ample snowcover over large areas preceding the arrival of a significant storm can more often than not result in another heavy dousing of snowfall in those same locations. Why? The reflective properties of white act to chill the surface and the lower atmosphere, paving the way for the next system to tap that cold air as a resource. That can help offset lack of a large High.
"GO Ahead, MAKE my day." Well, that's actually not an old-time snow forecasting rule, unless Eastwood was a forecaster on the side. The one shred of truth in it is that normally a snowstorm made in the middle of the day has difficult delivering heavy snow. Sun angle at most times of the year can negate some of that energy by warming the cloud tops.
However, we are currently nearing the climatologically "coolest" spot of the entire winter calendar. It's what some might call the "dead middle of winter." Thus, neither the sun, or Client should be able to stop the storm from making your day. (If you want some more snow. ;-)
We'll have additional reports throughout the day from Forecaster Clint.
SPEAKING OF SPECIAL EVENTS... Something BIG is coming on 1/26 and it's not just another winter storm. It is something we've been planning for over a year now, just for the many loyal Maryland readers who have been with us since those scrappy days in 2004.
It is the long-awaited, much requested, team-designed "Maryland Flag-in-the-Foot'.
This Limited Edition Embroidery-only will be unveiled this weekend at our online store, and you can get it on zip-ups, pullovers or Sherpas.
"Hold on!

" You might say. "Isn't a big storm coming at the same time?" Oh it sure is, in fact-- model projections show TWO events in the 5-7 day period ahead. both potentially significant for the entire DC to Boston metro region. What it means for this special new embroidered hoody offer?
If interested in placing a pre-order to let us know what you might order.
This way, your zip-up or pullover item can be ordered quickly, and have the items in hand for the embroidery to begin once the snow is cleared away.
The MD flag foot is available in zip-ups or pullovers, in

NAVY

,

PURPLE

and "

STORM GRAY

" - a popular charcoal gray color our snow removal clients at Four Seasons Landscaping wear proudly during big storms.
How to pre-order?

Send a simple message to our online store email (store.footsforecast.org) indicating your preferred type (pullover or zip-up), one of three colors, your name and location. By Friday afternoon 1/23, we will have samples ready to show at the online store, so if you prefer to wait, that is OK too.
We look forward to seeing our Maryland readers patriotically blazing a new trail in authentic weather apparel this winter...and through the year ahead!