Weather the grinds the soul
Precipitation and Surface Map Projections for 7 PM Saturday
from the NOAA Weather Prediction Center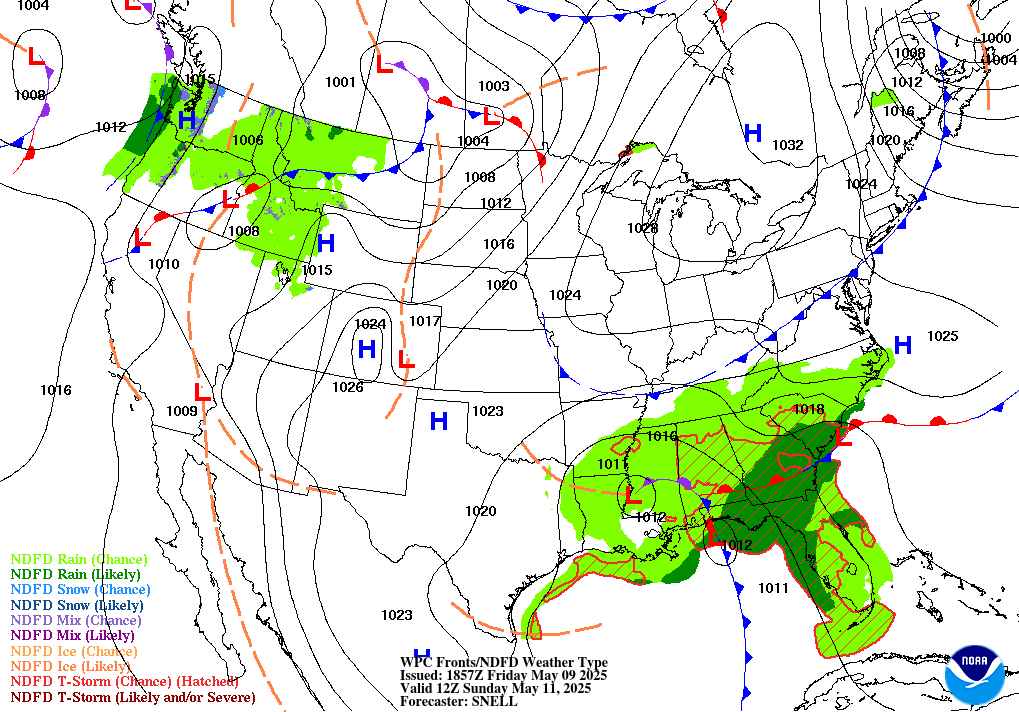 INCREASING POTENTIAL FOR A SIGNIFICANT WINTER STORM TO AFFECT THE MID-ATLANTIC SATURDAY INTO SUNDAY MORNING.
LATEST COMPUTER MODEL INDICATIONS SHOW 4" OR MORE OF SNOW IS PROBABLE ACROSS A LARGE AREA, INCLUDING MUCH OF WEST VIRGINIA TO NORTHERN VA, TO CENTRAL AND NORTHERN MD INTO SOUTHERN AND CENTRAL PA.
ICE AMOUNTS UP TO 0.10" AN INCH POSSIBLE AFTER SNOW ENDS, CREATING WIDEPSREAD DISRUPTION TO TRAVEL INTO SUNDAY.
TEMPERATURES FOLLOWING STORM DROP BACK TO TEENS, CREATING EXTENSIVE RE-FREEZING OF RUNOFF AND MELTING SNOWPACK.
11:50 AM EST 2/20
- FORECAST UPDATE PENDING
Our team is assessing the latest computer model guidance, and will have a revised statement and new precipitation forecast map later today. For now, we want to point out a few considerations for the Sat-Sun event:
Single digit lows Saturday AM

will allow for precip to start as mostly snow across most of WV, VA, MD, PA and DE. Pre-treatment of roads may not help mitigate initial snowfall due to low temps.

Model projections have indicated higher liquid amounts of 0.50"

or more are possible prior to when temperatures rise above freezing. Thus, it is plausible the NWS could extend watches further east if additional data points to more areas being probable to meet warning-level criteria snow of 5".

Most areas may also see a change to freezing rain Saturday night into Sunday,

which will create additional hazardous travel issues for second part of the weekend.
Continue monitoring the latest official statements from the NWS on this developing storm potential. Our team will have an updated map and overview this afternoon, however we expect Winter Storm Watches will soon be extended east to encompass the 95 corridor metro areas of Baltimore and Washington as well as adjacent interior sections.




3:00 AM EST 2/20

(WINTER STORMCAST TEAM)

We have the potential for the coldest temperatures in 19 years coming in tonight, followed by a storm system which may bring some more w

intry precipitation. This graphic focuses on the storm system Saturday into Sunday, so read ahead for details.
THIS MORNING

- BWI hasn't dropped below 0ºF since February 5th, 1996. It hasn't dropped below 0ºF this late in the season ever. That could change tonight, but it will be a close call. The record low for February 20th is 4º. There's a good chance that one falls tonight. Lows are expected to drop near to below zero for the suburbs of all metro areas in the Northeast Corridor from DC north to New York City, with wind chills approaching -10º to -20ºF. For the metros, we will be right around 0 to the lower single digits.
FRIDAY

- Cold. Can we skip it? Highs in the mid teens with NW winds at 10-15 mph.
THE WEEKEND

- We are watching the potential for the next winter storm to impact the region Saturday into Sunday. We have limited the possibilities down to two scenarios. We are fairly confident about the storm track - to our west which means we will be in the warm sector, but the question is how much the storm can warm us up.
SCENARIO A (60%)

- In this scenario, the storm system remains weak and thus ineffective at bringing in warm air. The entrenched and extremely cold air wins out.
We would start as snow during the day on Saturday, and finally mix with sleet to the north, and mix with sleet and freezing rain or rain to the south.

This is the favored scenario at this point due to the fact that we will be in the single digits Saturday morning and cold air is very hard to get pushed out.

If more cold air remains in place than currently expected, the system could become a significant storm with snowfall exceeding 4" with highly disrupted travel. This is the favored scenario at this point due to the fact that we will be in the single digits Saturday morning and cold air is very hard to get pushed out.
SCENARIO B (40%)

- This scenario brings a stronger storm. Then the southerly flow is much stronger and more effective at beating out the cold air. We would start with a snow/wintry mix Saturday during the daytime, but changing over to plain rain by the evening or overnight. This one we think is less likely than Scenario A, but can't be eliminated just yet.
Stay with us through the next few days and stay warm!!!
Weather that grinds the soul
(unless you're a Powderhound ;-
)
10:19 AM EST 2/19

- COLD, COLDER, ICY AND SNOWIER When weather like this hits, long time readers are fond of saying, "Well, now you know what it was like for me as a kid in the 1960's."
A true winter hound, by reader
Kelli Lynn F., Ballenger Creek, MD
WIND CHILL WARNINGS OR ADVISORIES across the Mid-Atlantic and Eastern U.S. that will see readings hover between -10 and -25 F over the next several days
ZERO OR BELOW FRIDAY MORNING throughout the region. Even BWI and Dulles airport could go below zero, or even flirt with all time low temperature records.
WINTRY MIX SATURDAY INTO SUNDAY that will produce ice from the Tennessee Valley to the southern Mid-Atlantic, with snow to the north, then snow/sleet in the Northern Mid-Atlantic Saturday night into Sunday, possibly changing to rain (believe it or not) by Sunday morning. Below: Current precip projections for 7 PM Saturday 2/21