2:45 PM 3/19
- MOISTURE WORKING NORTH WILL BRING LIGHT RAIN OVERNIGHT TO THE PA LINE, MIXING WITH SNOW BY SUNRISE FRIDAY, LASTING TO 12 pm.
UP TO 5" EXPECTED IN EASTERN / SOUTHERN PA AND BLUE RIDGE MOUNTAINS, 2" IN NORTHERN MARYLAND, UP TO 1" IN BALTIMORE/DC METRO.
AVERAGE OF CURRENT MODEL DATA IS 0.30" LIQUID AS A GENERAL AMOUNT FOR CENTRAL & NORTHERN MD, WITH 10:1 RATIO YIELDING THE OVERALL 3" FORECAST FOR WINTER WEATHER ADVISORIES. (GFS IS 0.13", NAM IS 0.56")
ANY DELAY IN ONSET OF PRECIP DUE TO DRY AIR AND LOW DEWPOINTS MAY SLOW THE CHANGE TO SNOW, AND WARMER GROUND COULD NEGATE ACCUMULATION ON PAVEMENTS BUT IS EXPECTED ON GRASSY SURFACES.
PROJECTED PRECIPITATION / FRONTS AND PRESSURE FOR 8 AM FRIDAY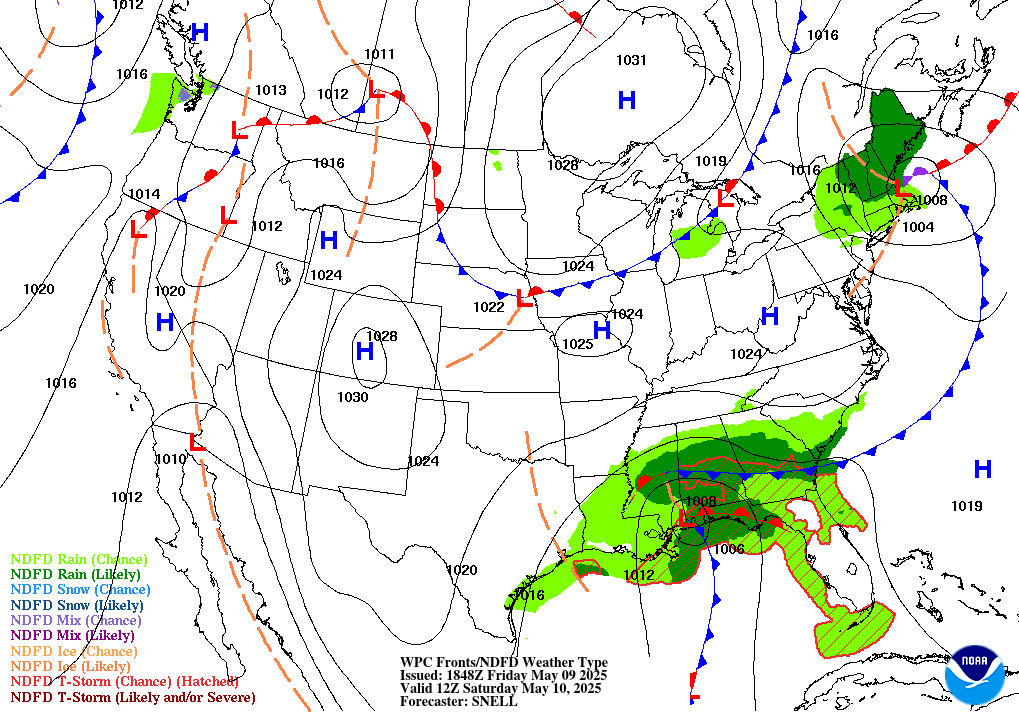 EARLY LOOK AT MONDAY'S SURFACE MAP PROJECTIONS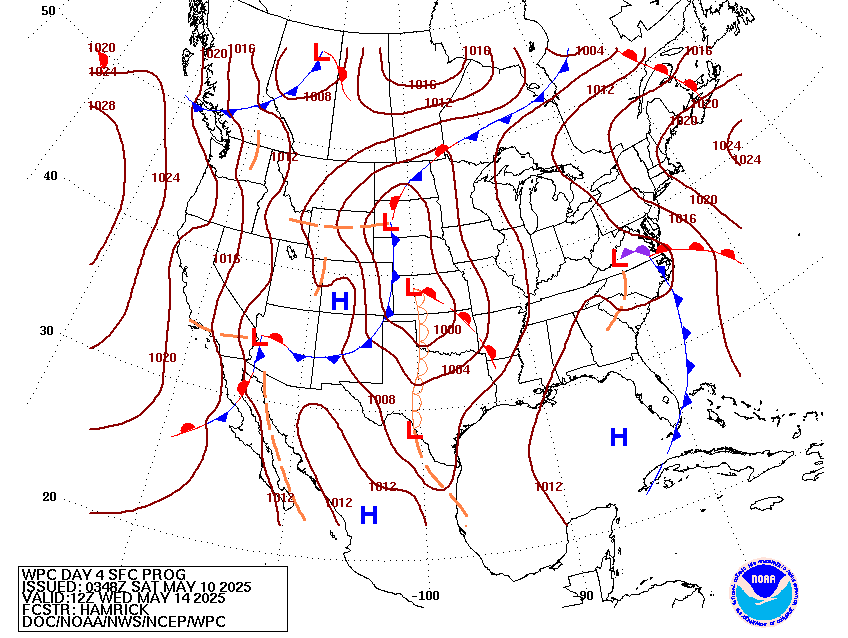 "No, There Is Another..."
EARLY FRIDAY AM SNOW FOLLOWED BY JANUARY-LIKE PATTERN INTO NEXT WEEK.
STRONG WINDS AND HIGH PRESSURE IN WAKE OF DEPARTING LOW WILL REINFORCE COLD AIR WHILE MOISTURE FROM A REACTIVATED SOUTHERN JET STREAM WORKS NORTH BY MONDAY.
LONG RANGE INDICATIONS POINT TO A SECOND POTENTIALLY DISRUPTIVE WINTER WEATHER EVENT MONDAY INTO TUESDAY.
3:45 PM 3/18
- By now, most are aware of forecasts for a return of snow to the Mid-Atlantic region by early Friday morning. This minor event alone is not reason to be overly concerned. However that which will rush in behind this system from the weekend forward into next week sets up a reinvigorated wintry pattern that may delight only the hardiest among us.
IN THE SHORT TERM - We have no major changes to the expectation for accumulating snow in the central and eastern Mid-Atlantic by the Friday AM commute. Temperatures look to trend colder the next 36 hours, and an overnight change of rain to snow suggests rapid accumulation will be observed on pavement and grassy surfaces until the higher sun angle can go to work.
The image below is for 8 AM Friday showing a large area of "Snow Likely" noted in the dark blue. A blend of the GFS and NAM liquid for BWI shows about 0.35" by 9 AM Friday, which at a general 10:1 ratio translates into the 3-4" range posted by the NWS parts of northern and central Maryland as a representative area.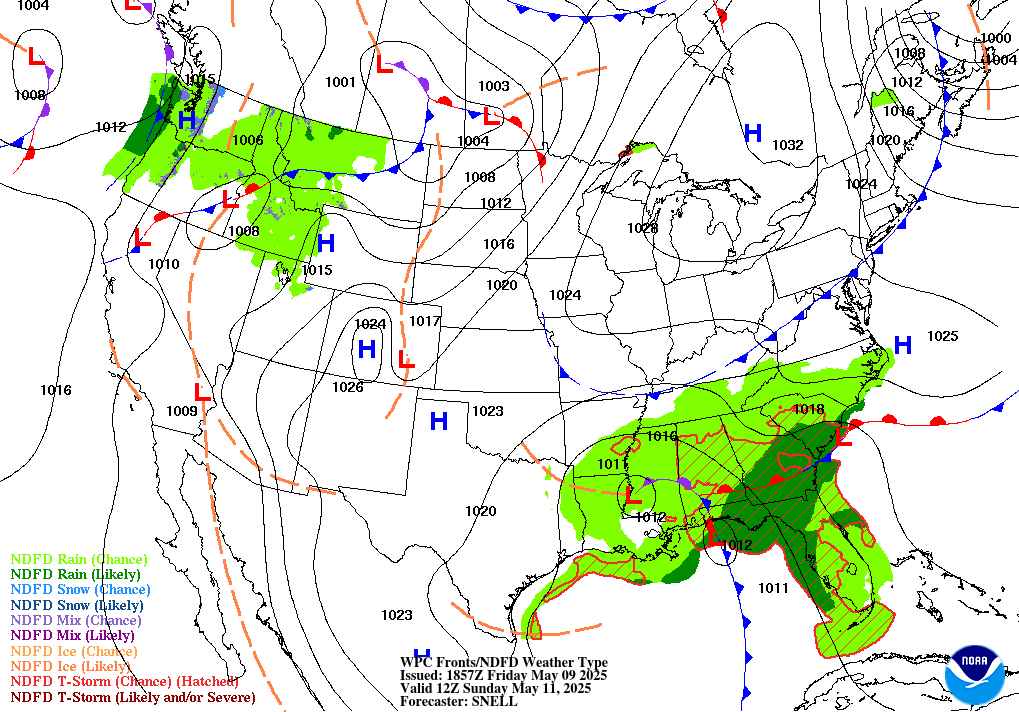 IN THE LONG TERM - The 6-10 day temperature and precipitation outlooks have been showing for several days now the classic arrangement that even in late winter can still yield significant snow. What arrangement? One where precipitation is projected to be above normal, and temperatures to be well below normal. If this was April, we'd say it just means a cold Opening Day. But in March, pattern pandemonium can produce madness of a different kind.
In late March 1958, a pattern like this led to one of the heaviest end-of-season snowfalls on record,

as recounted in this archival newsreel from the era.

If this prospect makes you jittery, you're not alone. A writer to the Baltimore Sun in 1991

retold the tale in ways that would challenge any Powderhound for their love of snow.
WHY THE CONCERN? Each year around this time period, our Long Range Team looks closely at current and historical upper level charts for clues indicating if the specter of a "March 1958" has any possibility of resurfacing. For each of the past 11 years, thankfully the pattern was not conducive to produce a blockbuster event. This year, the situation may be different, and long range global models are already showing troublesome scenarios that suggest our "There is Another" headline could end up with a different meaning than originally intended.
If something like this is in the offing, we want to make sure you
have as early a heads up as possible.
8:15 PM 3/17

- For Powderhounds searching their winter feelings and seeking one last stroke of luck this season, Yoda's line of foretale may be your last, best hope.
By Thursday night along the Mid-Atlantic coast, a confluence of several key factors is increasingly likely to produce some accumulating snow in the region, especially north and west of the I-95 cities. At present, the time period for snowfall looks to be late Thursday into mid-morning Friday, the timing of which could have some impact on the AM commute. These factors include:
Newly arriving Arctic air will bring daytime and overnight temperatures back to more January-like levels, with highs in the 40s and lows below 30 F.
Two days and two nights of brisk northwest flow will chill ground surfaces ahead of Friday morning. A series of Lows moving along the southeast coast Thursday into Friday are expected to interact with the recently arrived High pressure system.
Easterly flow across the Mid-Atlantic, occurring during favorable overnight timing, raises the probability of snow for suburban and rural areas between the I-81 and I-95 corridors. By 6 AM Friday morning, we expect light to moderate snow may be falling from Washington DC north into Pennsylvania and New Jersey.
BUST FACTORS? The probability of this event producing significant snow is unlikely. Time of year, sun angle, recent warming and eventual southerly flow are reasons why the next system should not become a surprise late March nor'easter. However, the introduction of Arctic air prior to these Lows will make it very possible for "several inches to fall" but just not stick until early Friday morning, and even then only for a few hours until sun angle makes progress on whatever snow did reach the ground.

But.. if temperatures trend colder and rain switches to snow earlier than planned, many areas may awaken to a much snowier scene than you might think for the last weekend of winter.
Thus, the next snow event of the season will aptly fit Yoda's task-completion criteria. This time of year, with more factors against a storm than for one, the rule will simply be: "Do. Or do not. There is no try."