Winter Strikes Back
3:50 PM 3/4
- FINAL SNOWFALL PROJECTIONS & STORM SCENARIOS BELOW
TIMING

– Rain will move in with higher intensity this evening. start to mix with sleet for the NW counties around 10 PM-1 AM, then transition to all snow around 1 AM-4 AM.
The metros will mix with sleet from 1AM-4AM and transition to all snow by 4AM-7AM with heavy snow possible across the region by daybreak.
ACCUMULATIONS

– We expect light sleet accumulations

overnight, then around 5-8" of snow north of route 50. South of there, expect lesser totals. Roads will be hazardous across much of the Baltimore/DC Metro early Thursday morning, continuing through the day as temperatures drop.
TEMPERATURES

– Hovering in the lower 30s while we transition tonight, getting into the upper 20s early Thursday, mid 20s by midday, then rapidly plummeting to the lower teens overnight.
BUST SCENARIOS

– As with any forecast, there is a significant amount of uncertainty with this system. The last two years, we've had snow events in early March that did not live up to expectations. This system actually bears a lot of similarity to March 3rd, 2014.
BAILING TO A BACHATA (20%)

– The prime bust scenario would be a slow change-over to sleet and snow overnight would mean more water on the ground, warmer ground temperatures, and less snow. The cold will still come, but just a few hours later than what we expect could allow us to escape the worst of the impacts from this one. Less time in the snow means less snow falls, and less snow sticks, and most regions would fall more in the 3-5" range, struggling to get to the lower end.
GOING "BIG KAHUNA" (20%)

– Conversely, if we have a fast change-over to snow, and limited sleet, then much of the region is all snow well before daybreak. This allows for a burst of accumulating snow to whiten the ground again before sunrise, with ample moisture falling all as snow. This scenario could cause some people to receive over our 8" high end, with 8-10" common across the region.
11:30 AM 3/4

- UPDATED SNOWFALL TIMING GRAPHIC & OVERVIEW
Latest computer models including the European, GFS, NAM and others beginning to indicate a longer duration of snowfall on Thursday than first anticipated. Original ideas south of I-76 in PA to southern Maryland was snow ending by early afternoon then clearing.
New scenario being considered: (from central VA to southeastern PA) - a changeover of sleet/snow to all snow by 5 AM, with all heavy snow from 6 AM to 12 PM, then light to moderate snow remainder of the afternoon, tapering after 4 PM. See Columbia, MD NWS hourly weather grid for timing in a representative location
This setup would significantly impact the AM and PM commute, whereas earlier ideas had more of just an AM impact with some inprovement toward the PM commute.
3:30 AM 3/4
- TEAM STATEMENT & MAP ON STORM SCENARIOS
SCENARIO A - THE ALL SNOW BIG KAHUNA (60%)
Heavy rain mixes with sleet late Wednesday evening and transition to snow from NW to SE starting around 10pm and reaching the Bay by 3AM.

Then, several hours of heavy, accumulating snow until Thursday morning with temperatures dropping into the 20s.

By the early afternoon, this scenario would bring a significant (4+") snowfall region-wide. Some areas could see up to 10" of snow north and west of the 95 corridor.
SCENARIO B - THE BACK-AND-FORTH BACHATA (40%)
This scenario would occur if the front stalls further north and cold air has a harder time moving in. Rain would continue falling through the evening mixing with sleet late at night.

Then the transition to snow would occur Thursday morning from 3AM to 8AM. Snowfall would still be disruptive to the morning commute, but not quite to the high totals expected in Scenario A.

Most places could still get up to a few inches for the metros, and maybe reaching the "significant" criteria north and west of the cities.
CURRENT PRECIPITATION TIMELINE FOR AREAS NORTH OF THE BAY BRIDGE
(Note: A revised timeline to be posted around Noon today)
INTELLICAST REGIONAL RADAR
4:00 PM 3/3 - OVERVIEW OF HAZARD TIMING & BASIC IMPACTS for the next 3 days for the Ohio Valley, Mid-Atlantic and Delmarva Regions.
OVERNIGHT

: Sleet and freezing rain this evening for areas south of I-

76 transition to all rain by evening and continue into the daybreak hours as temperatures rise above 32 F by midnight.

WEDNESDAY:

Moderate to heavy rain with temperatures in the 40s will lead to widespread snowmelt, runoff and some creek, low-lying and basement flooding.

WED NIGHT INTO THU: Rain begins mixing with sleet and snow in the evening, changing to heavy snow after midnight. Periods of heavy snow and snow-covered roads likely for the Thu AM commute. Daytime Thu temps in 20s drop to low teens overnight.
EPISIODE I: TUESDAY ICE ASSAULT
3:30 AM 3/3 - The first hit of a triple-header event arrives this afternoon along and east of the I-81 corridor, as snow and sleet around noon today transitions to light freezing rain between 3:00-5:00 PM before turning to rain overnight into Wednesday.
The Precipitation Projection below for 1:00 AM Eastern Time Wednesday shows ice transitioning to rain in Maryland west of the Bay, while holding on in central Pennsylvania into southern New York and New England.
EPISODE II: WEDNESDAY RAIN REBELLION
Freezing rain on Tuesday night transitions to rain into Wednesday AM for most locations south of I-80, becoming heavy at times with 1" of liquid possible in daytime. Cold front will press east as moisture plume streams northeast from Gulf of Mexico. Overnight Wednesday into Thursday, rain will quickly flip to heavy wet snow by daybreak. Map below denotes liquid equivalent for the period 7 AM Tuesday to 7 AM Thursday.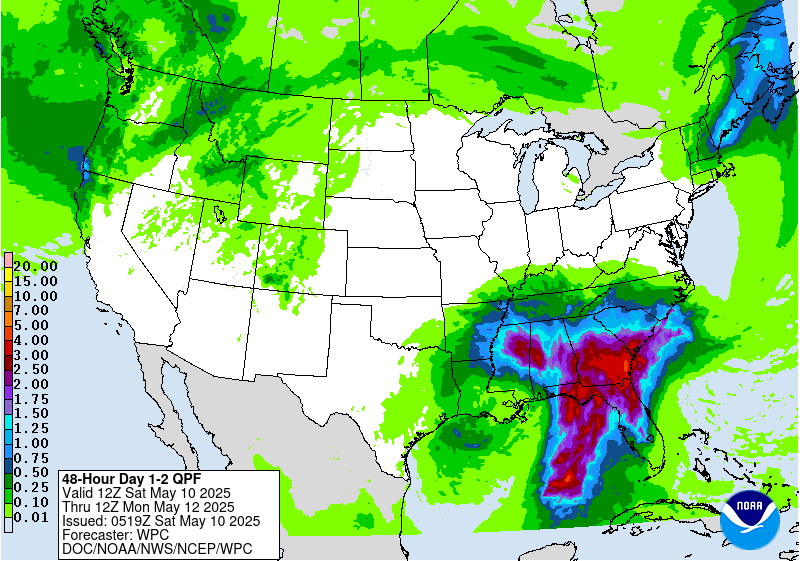 EPISODE III: THURSDAY SNOW WAR