RECAP OF THE PRESIDENTIAL POWDER STORM
AND PRELIMINARY DETAILS ON NEXT WEEK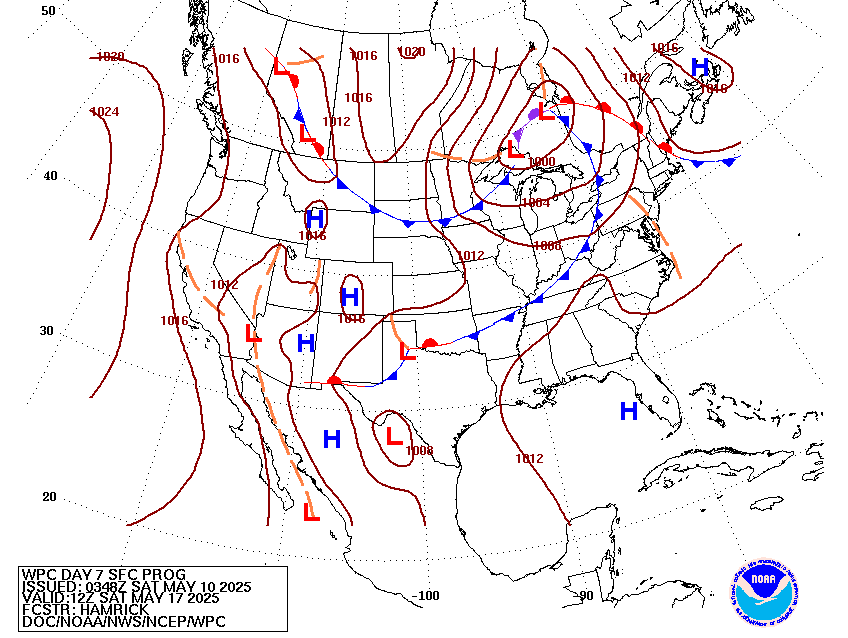 Day 7 Surface Projection from the NOAA Weather Prediction Center
6:30 PM EST 2/17
-
RECAP & LESSONS LEARNED FROM THE MONDAY 2/15 EVENT
By Southern Maryland / Capital Region Forecaster Jason Mitchell
SUMMARY This year's President's Day snow/ice storm for parts of the southern Mid-Atlantic exceeded the expectations of many forecasters, including some of us here at Foots. For our readers in Southern Maryland, the team presents this outline of factors that led to some areas receiving much higher totals than the 1-3 inches that was expected.
1. The snow started several hours ahead of schedule, with most locations seeing snow prior to midnight Sunday night. Due to the extremely dry airmass in place, the thinking was that it would take some time for the airmass to moisten. However, the moisture surge in the low and mid levels of the atmosphere was strong enough to overcome the dry surface air faster than expected.
2. During the overnight hours Sunday night, snowfall bands become heavily concentrated right over this area, while areas to the north over DC and to the south in Virginia saw less snow.
While the initial expectation was for snow to begin by 3-4AM and continue through early afternoon, the combination of the earlier arrival and heavier bands overnight allowed snow to accumulate much faster.
3. Snow-to-liquid ratios in this storm were reported to be around 20:1, whereas the standard is usually 10:1. This means that had we seen the liquid equivalent of 1 inch of rain between Sunday night and late Monday morning, we would have had 20 inches of snow.
Due to the dry airmass and well below freezing temperatures, high ratios were expected (closer to 15:1), but not quite this high.
CONCLUSION: All three of these factors accounted for an extra 3-5 inches of snow. What was also remarkable was Part 2 of the storm.
Computer models indicated for days that we would see a significant dose of rain and much warmer temperatures following the initial round of snow and ice.

Not since December 2009 have we seen a significant snow depth disappear that quickly. And to think this all happened after we had subfreezing temperatures for 120-130 consecutive hours is very noteworthy.
LOOKING AHEAD: Heading into the long range, computer models suggest that it may not be safe to say this was our last accumulating snowfall event of the winter. Whether there will be enough cold air in place remains to be seen, but it looks like El Nino is not done yet with bringing significant moisture-laden storms to the region.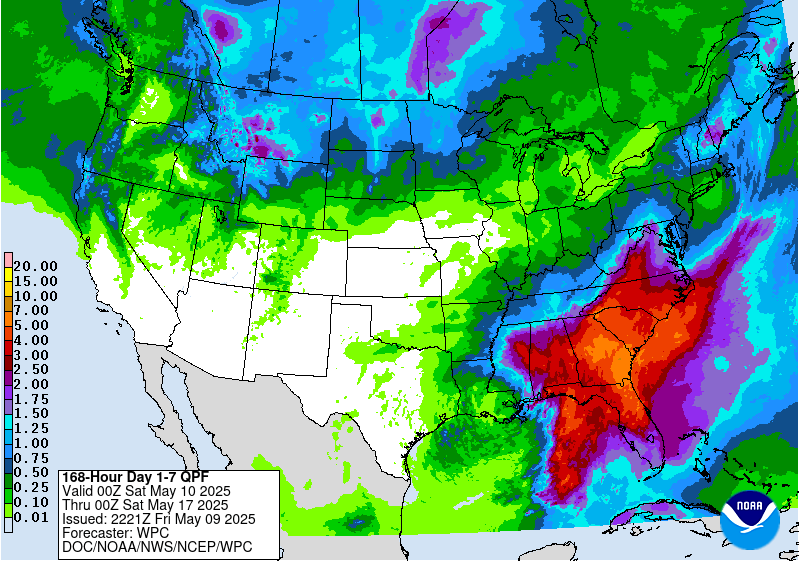 Day 6-7 NOAA Liquid Projections: The last time you saw a map like this?
That's right... last month.
Indeed the period next Wednesday 2/24 to Friday 2/26 is looking more significant with time and may be taking on aspects of both recent and memorable storms of the past.
To receive on-going reports by app, text and email on this next potential winter weather event, we invite you to consider joining the Powderhound Insiders. We hope to see you on board there soon!