Why Is Spring Still On Backorder?
9:15 AM EDT 4/6

- Wondering what is going on with this April chill? For those of us who thought the season would take a sharp turn to Summer, a resurgent period of cold has obviously put those plans on backorder. Long range indications show that traditional warmth expected this time of year looks to remain delayed through at least the middle of April and possibly longer.
This "third-year-in-a-row" delay of Springtime warmth (as similar cold episodes occurred in 2014 and 2015), warranted an investigation of where northern climate indicators stand, as summarized below. See below the text for live-linked images of the cited data.
ARCTIC SEA ICE EXTENT: Currently reported near 10 year averages, according to the National Ice Center. We hypothesize this level of sea ice and the higher reflectivity of nearby snow cover is having a dampening effect on surface air temperatures, and thus may be retaining a colder influence on passing High pressure systems.
CANADIAN & NORTH AMERICAN SNOW COVER: This measure of geographical snow extend, as reported in this graphic from the Rutgers University Snow Lab, indicates current snow cover levels as of March 30, 2016 are running slightly higher than 30-year seasonal averages.
GREAT LAKES ICE COVER: An important regional influence on eastern U.S. snowcover is water temperature and ice cover on the Great Lakes. A comparison of present ice cover in 2016 to the previous two years shows interesting differences. The April 2016 lake ice coverage is a minimal 1.1% reported by NOAA, whereas this same time period in 2015 and 2014 showed levels of 37% and 54% respectively.
ANALYSIS:
Less lake ice in 2016, due to a warmer El Nino winter, in concert with cooler Canadian air masses crossing into the U.S. has permits Low pressure systems recently to harness the Lakes as a moisture source for Eastern snowfall
. The resulting northeastern U.S. snowcover has in turn created a regional chilling effect on area temperatures, as each passing High pressure system has helped to reinforce the regional cold.
See below the latest snowcover imagery from the
NOAA Snow & Ice Data Center
and scroll further for live-linked imagery and our conclusion at the end.
NORTH AMERICAN END OF WINTER SNOW COVER
Note: Line of best fit denoted by Rutgers Global Snow Lab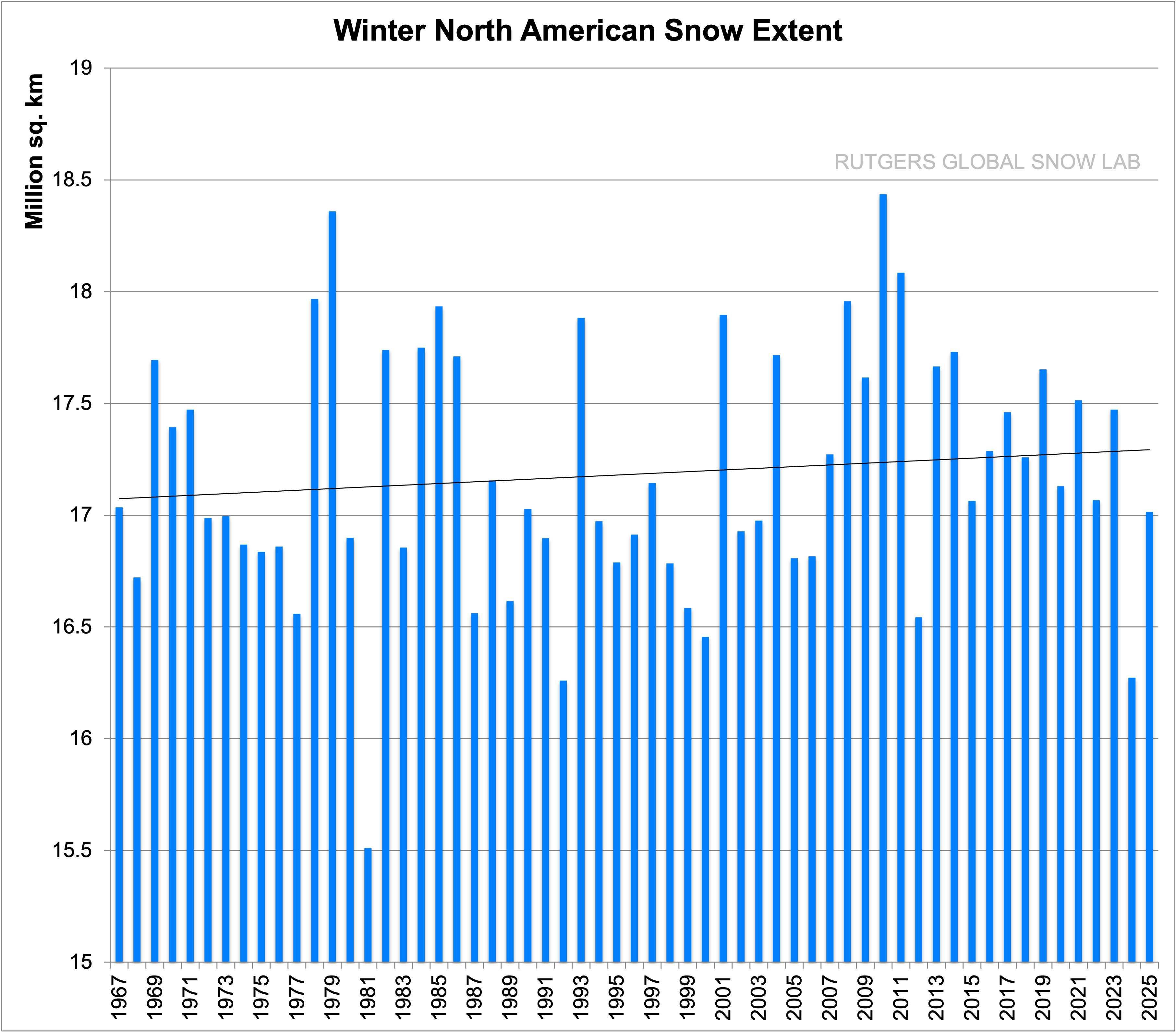 U.S. & CANADIAN SNOW COVER
GREAT LAKES ICE COVER EXTENT
CONCLUSION:

These indicators point to the possibility that u
ntil Arctic Sea Ice and corresponding Canadian snow cover shows an appreciable decrease,
a continual period of cold and occasional post-Winter snow squalls that may last through end of the month. Below is the 6-10 day temperature probability outlook from the Climate Prediction Center
, indicating in the blue shaded areas a higher probability of below normal temperatures through April 15.