Wintry Weekend Ahead
NWS FORECASTS AND COMPUTER MODELS INDICATE A PROLONGED PERIOD OF FROZEN PRECIPITATION

IS EXPECTED FOR MUCH OF THE CENTRAL MID-ATLANTIC FROM EARLY SATURDAY INTO SUNDAY.
SIGNIFICANT TO MAJOR ICE STORM IS LIKELY ACROSS A LARGE PORTION OF THE CENTRAL AND SOUTHERN U.S. THROUGH SUNDAY.
Light freezing rain in the daybreak hours of Sunday, January 18, 2015 led to this 20-car pileup in New York City and hundreds of other precipitation-related accidents throughout the region. Image credit: New York Post.

Widespread ice storm expected from Midwest to southern Plains
READERS MAY RECALL IN 2015, ON THE SUNDAY BEFORE MARTIN LUTHER KING DAY, A RELATIVELY MINOR GLAZING OF ICE (LESS THAN 0.01") CAUSED SIGNIFICANT TRAVEL IMPACTS ACROSS THE ENTIRE NORTHEAST CORRIDOR FROM WASHINGTON TO NEW YORK. (Example: 1/18/15 articles by WTOP and New York Post.)
HOURLY FORECAST CHART FOR BEL AIR, MD IS A REPRESENTATIVE LOCATION FOR PROJECTED PRECIPITATION HAZARDS EXPECTED THIS WEEKEND ACROSS THE REGION. PAST EVENT SHOW THAT EVEN LOW PRECIPITATION AMOUNTS IN SUBFREEZING TEMPERATURES MAY CREATE HAZARDOUS DRIVING CONDITIONS WHERE ROADS ARE UNTREATED.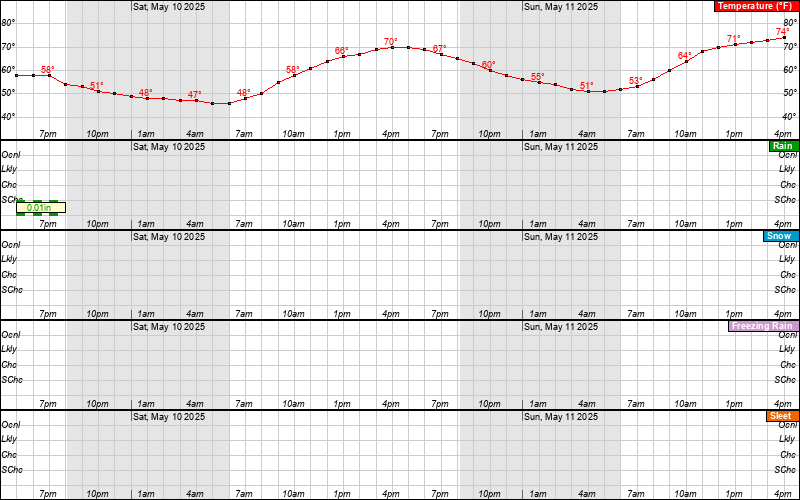 Projected surface map for 7 AM ET Saturday 1/14