What comes after the Kahuna?
INTERMITTENT SNOW SQUALLS into the overnight hours, with light accumulation up to 1/2" possible overnight from central PA to northern MD counties.
SQUALLS likely to return mid-morning Wed into afternoon hours, could produce a coating on untreated roads and sidewalks.
NEW PULSES OF SIGNIFICANT LATE SEASON COLD AIR are set to arrive early next week into next weekend, keeping much of the month's temperatures below normal.
THREE SYSTEMS TO WATCH next 2 weeks are this Saturday, next Tuesday and the 25th-26th.
11:00 AM ET 3/14
- PRECIP BELOW PA/MD LINE ENDING BY 2 PM, HEAVY SNOW IN PA CONTINUING THROUGH AFTERNOON.
Let us know your precip and road conditions, and here is what we see for the 24 hours ahead:
OVERNIGHT.. what happened? A significant push of warm air from the Atlantic worked into the region in the early morning hours, changing snow to sleet and then freezing rain for many areas south of I-70. This cut way into earlier expected snow totals. Computer models and forecasters alike did not identify the potential intensity of this warm air push until after it was showing up on the ground - and hadn't even been showing on the radar. Hence, the "Look Out The Window" model.
CURRENTLY, as the Low begins pulling north, cold air is moving into the region on the west side, and will reduce the duration of sleet/freezing rain. However, next 2-3 hours may see intense precipitation rates as 1/2" of liquid or more is working north and west from the Low center.
MORNING & AFTERNOON: By 9 AM, we expect all precip to change back over to snow in most areas north of Route 50, with areas south of that over to snow between 9-10 AM. Another 1-2" through 12 PM on top of icy roads and sidewalks will make for treacherous and dangerous travel.
OVERNIGHT INTO WEDNESDAY: Temperatures plunge into the teens or low 20s, refreezing over hard any standing water or snow, creating widespread road ice issues for the PM commute and Wed AM as well.
NWS HOURLY FROM TIMONIUM, MD to represent how rest of the day will progress.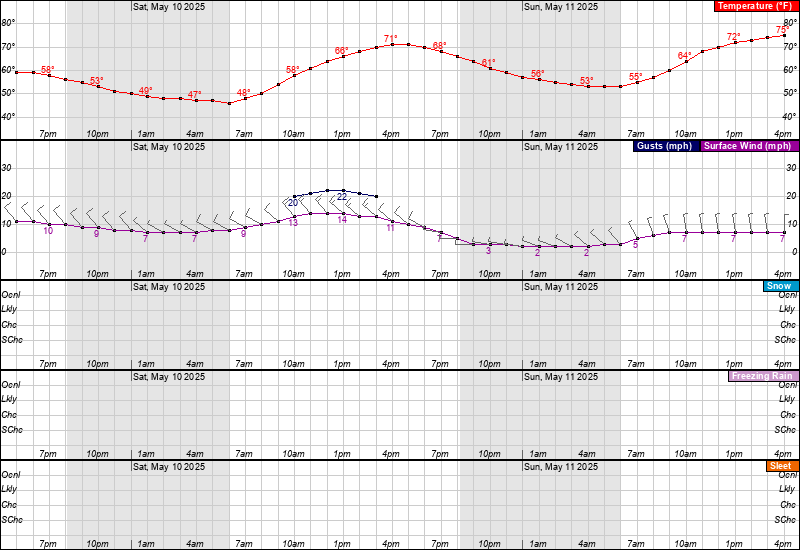 "Courage...
the most important of all the virtues."
- Maya Angelou: Poet, Author, Speaker, Advocate
8:10 PM ET 3/13

- Seeing powder or flakes but getting cold feet? We advise giving your brain a break from pouring over the radar. There is a lot going for this storm, and for now, we allow the courage to let Nature will take over and fulfill it's part of the forecast.
Readers are reporting snow arriving right on schedule as outlined in our Impact Graphic below. Let us know when you see snow, especially when it starts to stick! Additional updates will be posted below the graphics, or scroll to previous posts for our earlier statements.