When is the next one?
An "intermission" of southern jet stream-enhanced mild air will overtake eastern third of the U.S. from midweek into Friday, with temperatures trending into the 40s. After this raucous cold, we're not sure if our hearts want to "come back from Havana" anyway until the thermometer at least crosses 32.
Brief periods of snow possible Thursday afternoon in the Mid-Atlantic at back edge of departing cold front. Little or no impact expected due to warm air & rainfall prior. Refreezing unlikely as snow should be light, intermittent and roadways mild.
By Friday afternoon, a new Arctic High pressure system will be reintroducing a fresh supply of much colder air into eastern U.S. This is a strong indicator for the next storm: Accumulating snow has a better chance when cold air is in place before a system develops.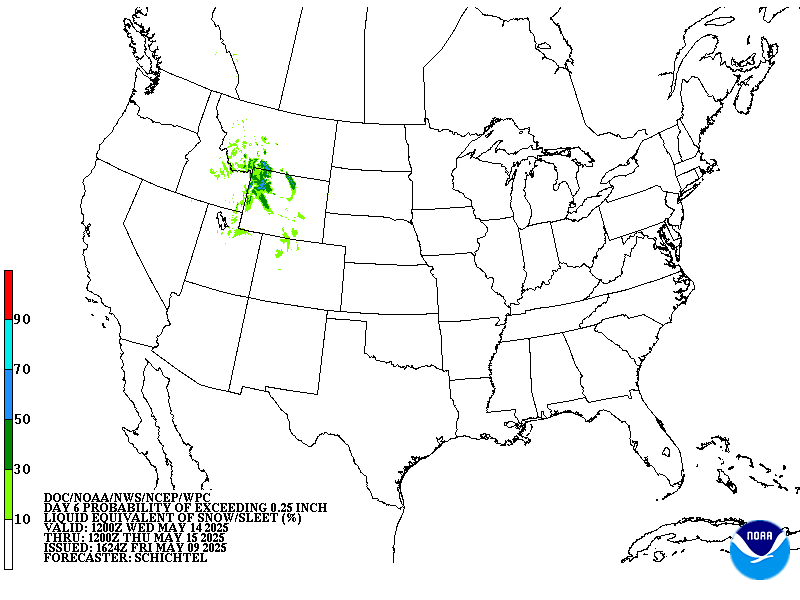 ABOVE: Probability that your area exceeds the liquid equivalent of 0.25" in snow or sleet, projected for the Sunday 1/27 into Monday 1/28 time period. A similar map is shown for Day 7, Monday into Tuesday.
BELOW: Long range projection of general surface low position by early Monday morning 1/28 indicates the potential for a favorable setup of a classic "Nor'easter" type system.
When you see the whiplash weather coming for February, you may look back on January with fondness for the days when temperatures would go above 32 F for more than one day.
And, if you're a Powderhound, there is so much fun lurking in the long range, we are sure it will be a delight to behold once we can map out all the possibilities coming up.
- Forecasters Foot and Wise