The FIRST day of Summer for some,
might also be their LAST day of the school year.
At the rate this winter is going, unorthodox approaches may have to be
considered by school districts caught in the calendar conundrum.
LAST UPDATED 3:30 PM SUN 2/17/19
HIGH PROBABILITY FOR A SIGNIFICANT WINTER STORM TO IMPACT A MAJORITY OF THE EASTERN MID-ATLANTIC early Wednesday into Thursday from Southern PA to Western MD to Northern & Central VA to the Baltimore-Washington metro area. The Sterling VA NWS has for the first time this season outlined an enhanced threat for a widespread impactful event as shown below. (NWS)
LIQUID EQUIVALENT EXCEEDS 1.0" for many areas for the Wed-Thu postion of this event, with overnight start and sub 32 F temperatures indicating potentially high amounts of snow, sleet & freezing rain may occur. (NOAA WPC)
HOW MUCH SNOW & ICE? Northern areas which remain cold enough for mostly snow could exceed 5" with areas closer to the Bay turning to a wintry mix Wednesday morning, reducing snowfall totals east of the I-95 corridor but increasing the sleet & freezing rain threat to 0.25" of ice in those areas (US GFS model)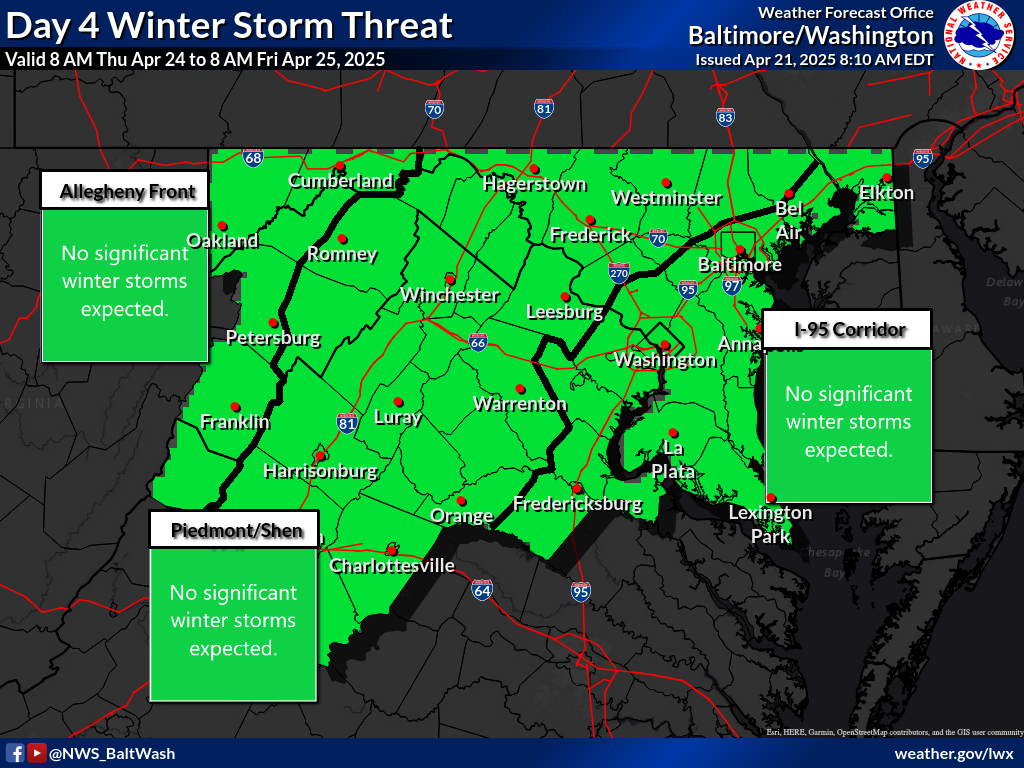 But, significance of this storm
goes beyond just weather:
Could this system be the season's first "Big Kahuna?"
BELOW IS THE NOAA DAY 4 PROBABILITY MAP depicting the chance of frozen precipitation occuring in the shaded areas would exceed 0.25" of liquid equivalent. In the acacdemic study of statistics and probability, this high level 4 days in advance reflects confidence in the atmospheric dynamics required to produce this type of outcome.
WHY IS THIS IMPORTANT? The extensive coverage of green shading, which represents a moderate 30-50% chance of the 0.25" liquid equivalent threshold, is the first time in the 2018-19 season such a strong probability has been posted for such a large portion of the densely populated Mid-Atlantic region.
WHAT IS A "BIG KAHUNA"? First coined by FF writers and readers on this site in 2005, this term is assigned by our team to denote a widespread moderate to high impact winter storm affecting a large portion of the Mid-Atlantic (or other region), and produces 6-12" of snow. However, at 4 days out, uncertainty precludes us from determining this early it WILL be a Big Kahuna.
Preliminary timing & scenarios:
Columbia, Howard County, MD
is
chosen as the representative location to illustrate location of the dividing line on Wednesday
between two areas of different outcomes:
Areas to north & west of Columbia/I-95 that may remain mostly snow for a majority of Wednesday, and;
Areas south & east of Columbia/I-95 which are more likely to transition to a wintry mix of sleet, freezing rain and rain.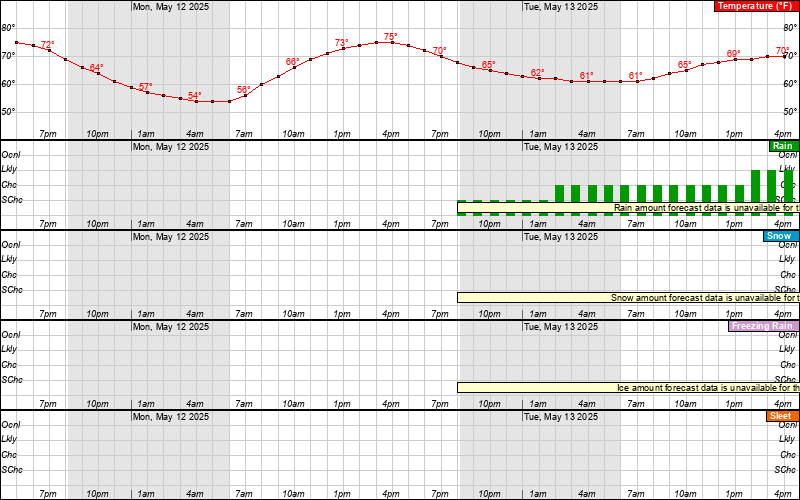 SCENARIO A: Another sloppy schedule mess
Despite probable Winter Storm Warnings posted throughout the region by the time Wednesday morning arrives, dry air and a slower onset of precipitation results in some schools & colleges deciding to open on time, observing that no snow is occuring at 5 AM.
Soon after students arrive, heavy snow sweeps east to the 95 corridor by 8 AM. Another round of hastily announced early dismissals occur. This time, condition decline rapidly as snowfall rates quickly hit 1.0" an hour. The result is thousands of commuters and parents take hours to get home, harkening back to an era when less detailed technology made these kinds of situations commonplace.
For areas north and west of I-95, north of I-70 into northern VA, central MD and the I-81 corridor into southern PA, snow continues unabated through 6 PM, with many areas exceeding 6", with higher amounts along the PA line. For areas south & east of 95, including much of the DC metro, mixing with sleet and freezing rain develops by mid morning, turning the PM commute into a complete icy lockout disaster. By Thursday morning, overnight runoff and refreezing has created another ice nightmore, although all precip is turning to rain around sunrise.
Below: European model projected precipitation type by 7 AM Wednesday:
SCENARIO B: 2-DAY BIG KAHUNA BLOWOUT
Light to moderate snow develops in the early morning hours of Wednesday, with at least 1.0" on the ground in all locations north of the I-66 corridor in Washington, DC. Many schools and colleges elect to close outright instead of a 2-hour delay with re-evaluation, as it is clear conditions will worsen through the day.
Colder than expected surface and upper level temperatures permit snow to persist longer than forecasted, and over a larger area. A change to sleet & freezing rain is delayed until late afternoon for areas east of 95, and never occurs for areas north of I-70 to the PA line & southern PA. Winter Storm Warnings are extended into early Thursday for heavy snow in the north, and up to 0.30" ice along from I-70 south to I-95 and east to I-97.
By Wednesday evening, snowfall totals approach 12" for areas north of I-70 and along I-81. In northern Maryland, some parts of the "the North 4" of Frederick, Carroll, Baltimore & Harford counties exceed 12" in areas bordering the PA line, and it is still snowing by nightfall. Cecil County is vying for recognition with a respectable 8-10" of snow. Areas from I-70 to 95 are seeing a sleet/freezing rain mix producing a glaze on top of 4-6" of snow, and from DC to southern Maryland precip is turning to rain by Noon after 3-4" of snow.
Below: NOAA Global Forecast System (GFS) model for 7 AM Wednesday.
And finally, the weather map feature
that will determine what really happens:
Position of the High pressure in Canada.
An old forecasting rule proven correct time and again is simply this: Predict the High and you predict the storm. If the High in SE Canada positions where shown by Wednesday morning, Scenario B has a high chance of succeeding.
If the High in upstate NY/SE Canada pulls east earlier than expected, the other Low pressure features will convert this setup into a snow-to ice-to rain outcome similar to what has occured twice in the past 2 weeks.
And now, let the speculation games begin!
Which scenario are you siding with?
Are you prepared for the consequences of that?
We shall see and time will tell.