SIGNIFICANT WINTER STORM TO AFFECT MUCH OF MD, PA VA & WEST VA TUESDAY NIGHT INTO THURSDAY. Five or more inches of snow possible
into Wed AM, then changing to sleet & freezing rain by Wed PM.


EVENT GRAPHICS / WINTER STORMCAST TEAM STATEMENT
Below is our latest anaylsis and revised scenarios reposted from our central Maryland facebook update on Sunday evening. Check back during the day for additional information and updates.
1. STERLING VA NWS SNOW MAP as of 9:54 AM MON 2/18
2. LIQUID EQUIVALENTS
Approximately 1.0" of liquid or more is expected across the region from Tuesday night to Wednesday night. Some will be lost to evaporation in the first few hours of Tue evening, and another amount to sleet or freezing rain later on Wednesday.

It is reasonable to expect at least 0.75" is convertible to snow for areas under a Winter Storm Watch.

With temperatures around 30-32 F for most of the region during the event, a general 10:1 snow-to-liquid ratio can be expected until there is a change to sleet/freezing rain.
The second image is NOAA's precipitation projection from Wednesday morning through Thursday morning. Excessive rain is lurking just to the south of the Mid-Atlantic with amounts of 2" and higher for just a 24 hour period.
3. SURFACE MAP for WEDNESDAY AM
How to know if the forecast is on track? It's all about position of the High. We are closely watching for movement of the surface High in New England.

If the center ends up moving back over SE Canada, the Mid-Atlantic may turn colder and receive higher snow amounts for longer.

If the High shifts further east, expect a mix to move in sooner and cut down on snow totals.
4. STORM SCENARIOS as of 11:00 AM MON 2/18
Slight revisions to the scenarios posted Sunday morning are shown below, accounting for potential movement of the High as noted in item #2.
By this evening, as we approach issuance of any Winter Storm Warnings, our team will publish the Regional Snow Map in accordance with our "24 hours out" rule on snow projections.
SCENARIO A (60% chance):
Another Snow-To-Ice Mess
This projection produces an all-snow start across the region late Tuesday into early Wednesday, with accumulation prior to the Wed AM commute.
A coating to 2" from Bowie, MD / eastern DC metro to Anne Arundel County and down to southern MD before a wintry mix works in by mid-morning.
4-6" for all other areas from there north and west to the 95 corridor and the I-70 corridor. Snow remains the primary precipitation typle through Noon Wednesday, with sleet mixing by the afternoon hours. Amounts exceeding 6" are possible in the higher elevations along western portions of the 70 corridor and near the PA line.
Sleet & freezing rain would persist into early Thursday, changing to all rain area wide soon after the AM commute, but not soon enough to prevent significant ice problems on roadways.
BALTIMORE CITY AS EXAMPLE FOR TIMING & PRECIP FOR SCENARIO A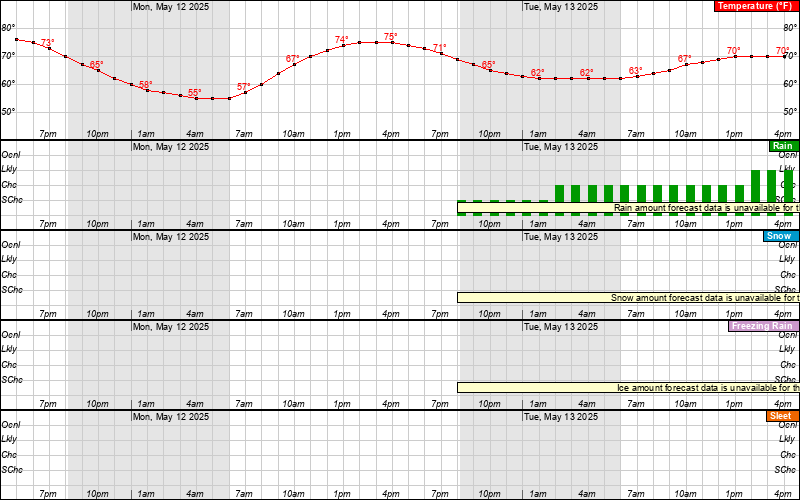 SCENARIO B (20% chance): A 2-Day Big Kahuna Blowout
This projection takes into account the trend we have seen this winter, of storms "overperforming" with higher accumulations than forecasted for some areas, or warnings and advisories being extended due to a longer duration than first expected.
6-10" for areas along and north of I-70 into southern PA, with greater amounts along the PA/MD line
4-6" for areas south of I-70 to the 95 corridor, with mixing to develop by mid-afternoon Wed after bulk of heaviest snow has fallen.
2-4" for areas south and east of 95 to the Route 50 corridor, including DC metro, with mixing to develop by 12 PM.
Coating - 2" from below Route 50 to southern Anne Arundel Co & Southern MD, with mixing by mid-morning.
WESTMINSTER, CARROLL COUNTY AS EXAMPLE FOR TIMING & PRECIP OF SCENARIO B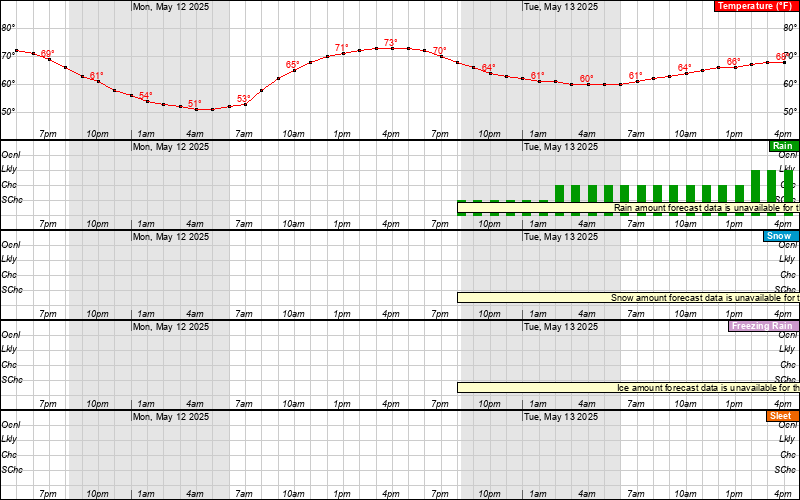 SCENARIO C (20% chance) for a Cold, Curmudgeony Rain.
Snow area wide by the Wed AM commute turns to a mix along the 95 corridor by mid morning, then to rain, with all other areas turning to a rain/sleet mix by Noon.
Due to copious warm air transport from the Atlantic

, where water temperatures off the VA coast are in the low 50s, snow totals are held down to generally 2-3" for areas south of I-70, with up to 1" in the DC & Baltimore metros.
Warm air at the mid-levels, combined with a southeast surface wind, erodes boundary layer cold air and mixing develops soon after sunrise. All turns to rain by Noon Wednesday into the evening, becoming heavy at times into Thursday.
Additional information, weather decision graphics and our long-awaited regional snow map will be added later today, so please check back by lunchtime and this evening.
Winter Stormcast Team collaborators:
Forecasters Jason M., Ira W., Keith K., J. McDuffie, R. Foot