What About Winter?
EXAMINING LONG RANGE INDICATORS FOR THE 2013-14 SEASONAL KICKOFF
11/25/2013 (Winter Stormcast Team) As the first winter weather event of the season begins to take shape in the eastern U.S., we know we know many readers (especially teachers and students in the mid-Atlantic) have ONE QUESTION on their mind. This report is designed to present evidence to support one hypothesis to help answer your question.
Forecaster Christy, a Penn State meteorology student, is wondering the same thing.
Basic synopsis for busy people
Based on our analysis of long range pattern tendencies, comparisons to previous setups prior to disruptive wintry weather, and favorable climatology, we are identifying the period of November 30 - December 10 as a time frame for the first occurrence of significant winter weather in the Mid-Atlantic. "Significant" winter weather is generally defined as a snowfall that produces 4 or more inches in a 12 hour period.
Climate indicators, current weather patterns and computer model trends are pointing to additional outbreaks of colder weather in the eastern U.S.
Three key atmospheric indices are moving in a manner which, in another 2-3 weeks, could produce an alignment that favors one or more significant winter weather events along the U.S. East Coast in early December.
Probabilities from NOAA. This image from the Climate Prediction Center shows a probability of temperature departure from normal in the 8-14 day period ahead (currently for November 24-30) A large area of the US is expected to have 50% or greater probability of below normal temperatures in that time period, when the teleconnections noted above will begin aligning to favor storm development.
This alignment resembles some aspects of a pattern our team observed in the 30-day period prior to the 12/5/2009 and 12/19-20/2009 Mid-Atlantic snowstorms. For a historical perspective on what we said prior to the 2009-2010 winter, visit our "What We Said, And When" posts from 11/01/2009, 11/11/2009 and "that statement" we made on January 24, 2010.
Student meteorologists at Penn State, members of our
Pennsylvania & Mid-Atlantic Winter Forecast Teams
ABOUT OUR FORECASTING: While our team does not make specific "forecasts" about storms weeks before they materialize, we customarily set target dates for potential stormy periods. To do this, we utilize long range climate indicators, known in the meteorological community as "teleconnections." These quantified, observational-based reports prepared by NOAA meteorologists and other researchers around the world, are a backbone of essential analysis into signals from the atmosphere weeks before any storm develops. The objective of our
Winter Stormcast Team is to provide readers with second opinions on how the upcoming winter pattern may play out, as formulated by educators, researchers and students studying meteorology. So let's play ball - winter style!
Data points for powderhounds
Whether you are a snow-seeking student, in the transportation industry, or make the tough calls at the emergency operations center, we hypothesize that early data indicators suggest
an
early and strong start to winter weather in the central and eastern U.S. is more probable this year than in the previous 3 winters.
1. CRYOSPHERE (links to snowcover maps for US/Canada, Alaska & Eurasia)
Significant Arctic Sea Ice rebound in Fall 2013

Latest figures from the NOAA National Snow and Ice Data Center show that seasonal refreezing of Arctic Sea Ice is considerably greater at present than compared to past Octobers in 2009, 2010 and 2011. Examine results

on this interactive chart,

which reveals the nearest analog years for similar levels of sea ice attained by October 27 are 1995, 2002, 2008.

Snow cover in Siberia, Alaska and Canada is showing much greater extent as compared to the previous 4 Novembers. One example, compare the relatively limited coverage of snow on November 17, 2009 with the snow cover as of November 17, 2013.
2. ATMOSPHERE
A

rctic Temperatures in Summer 2013 The early and frequent cold outbreaks since mid October are continuation of a trend picked up by the Danish Meteorological Institute this past summer. The DMI monitors air temperatures along and above the Arctic Circle, among other data. Latest figures show that the normalized number of days where temperatures rise above freezing (usually about 90 days), ended the summer with less than half that number, or approximately 40. See this chart from the DMI's Centre for Ocean and Ice
North American teleconnections including the North Atlantic Oscillation (NAO) and Arctic Oscillation (AO) are expected to trend toward negative between mid November and early December. The Pacific-North American Index (PNA) is negative and expected to move positive. When the NAO and AO are generally negative, while the PNA is building toward positive, this alignment strengthens the likelihood of a western US "ridge" counteracted by an eastern US "trough" developing by December 1.
3. HYDROSPHERE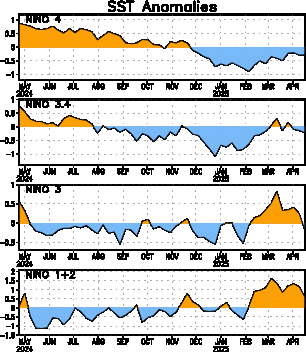 Weak but rising La Nina signal in Region 3.4 heading into winter points toward what could be interpreted as a "pseudo-El Nino" signature. This indicates central Pacific sea surface temperature anomalies, though officially "neutral" have been rising since September and should continue doing so for the entire winter season.
Above normal sea surface temperatures in portions of the western and northern Atlantic suggest that greater evaporation of oceanic moisture into developing coastal lows is available to provide such storms with extra fuel this winter.
Weakest Atlantic hurricane season in 45 years is one of the reasons Atlantic sea surface temperature ended the summer higher than what is normally observed.
The summary: What does all this mean?
We DON'T expect a prolonged period of high impact winter weather such as 2009-2010 produced, because the absence of a strong El Nino signal generally removes what would have been a considerable influx of Pacific moisture into Atlantic coastal storms.
We DO expect storms that develop in the first part of the 2013-14 season to produce relatively higher accumulations in the eastern U.S. than has been observed in that time period (December 1 - January 15) over the past three years.
Historical note:
Ten years already?
The winter of 2013-14 will also mark a historic milestone for all of us here at Foot's Forecast. It was January 26, 2004, at the height of a three-day ice storm in the Mid-Atlantic, that our website - and this revolution in authentic local weather, first launched. In the decade since, many of you have lived with this journey with us through devastating hurricanes, crippling blizzards and in quieter times, have enjoyed meeting each other at public events from Maryland to New Orleans to Seattle.
As we approach our tenth, your collaboration in communicating weather has been an integral part in our quest to build a more civil and informed society for everyone. Though the winter ahead may present complex and unusual challenges, we will continue working to build your trust as we look for ways to sustain this effort as a common good enterprise for the benefit of all readers.

Contributors to this report included: Forecasters Andrew Barney (PSU), Forecaster Mike Natoli (UMD), Forecaster Jason Mitchell (CSM), Advisors Jason Isaacs (GA), Keith K. (MD), Rich F. (MD)