8:30 AM 3/2

-

If you have been feeling like the region is beginning to resembles a Star Wars movie set, we would tend to agree. March is now the fifth straight month of wintry weather to be observed in the Mid-Atlantic. Appreciable snowfall for this season first began in mid November 2014 and show no signs of stopping.

IMPORTANT PLANNING MESSAGE FOR THE EDUCATIONAL COMMUNITY: We recognize that in some states such as Maryland, standardized testing is scheduled to commence this week and next across the state. With this in mind, we wish to provide the best available information about the weather pattern to aid school administrators in navigating this complex scheduling challenge ahead.
This synopsis is valid for areas from I-76 in Pennsylvania south to the I-66 and I-50 corridors, including the Philadelphia, Baltimore and Washington DC metro areas.
MON 3/2 - Dense ice on a several inches of snowpack will begin to fracture and melt with rising sun angle. This will lead to significant runoff into the evening. Temperatures are expected to drop below 20 F for most areas of the northern and central Mid-Atlantic north of the DC metro.
TUE 3/3 - Runoff will have refrozen overnight and is likely to prompt more school delays due to widespread ice in parking lots, sidewalks and sidestreets. Residual moisture ahead of a warm front will reintroduce sleet and freezing rain toward the Tuesday PM commute. See the NOAA precipitation projection below for 7 PM Tuesday night.
WED 3/4 - Temperatures warming to the 50s will lead the most improvements in melting of snow and ice on sidewalks, driveways and snowpack. Extensive moisture ahead of a cold front will deliver up to 0.75" of rain across the Mid-Atlantic. However, the front will be fast-moving, and turn rain over to snow Wednesday night.
PROJECTED PRECIPITATION & SURFACE MAP FOR 7 PM TUESDAY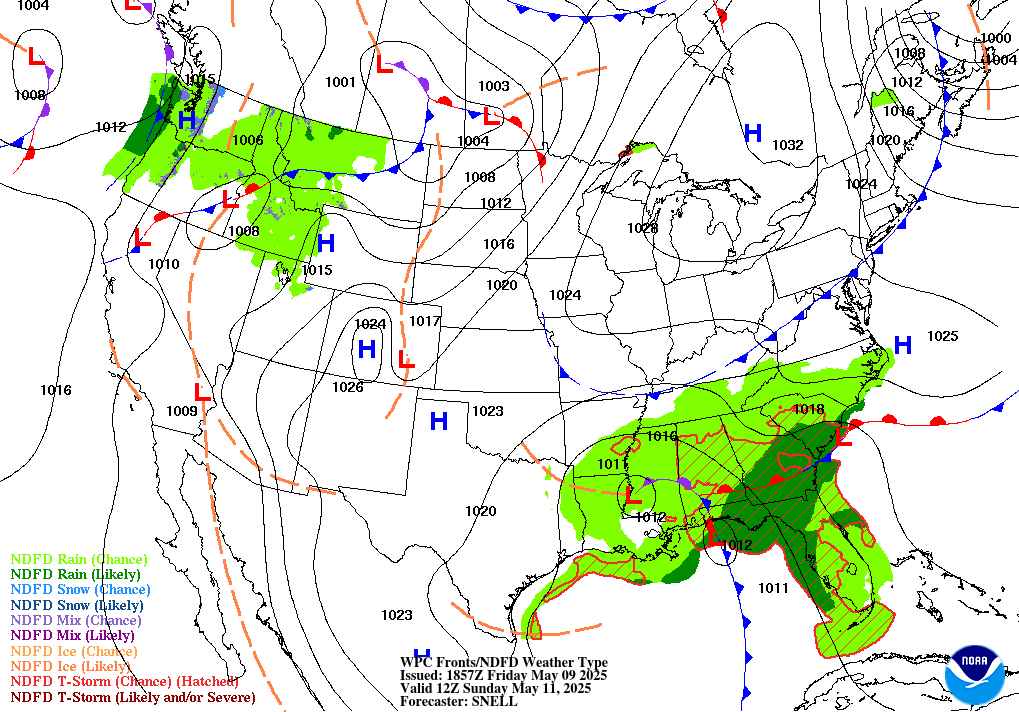 WHAT IS LESS CERTAIN
THU 3/6 - Cold air rushing in behind the Wednesday frontal passage may change rain to snow by evening, continuing into Thursday AM. Warmer surfaces should negate some of the snowfall, so if forecasts are for 2-4" (as an example), warming and March sun angle may reduce actual accumulation to less than that. However, road conditions may be problematic again by daybreak Thursday.
FRI 3/7 - Temperatures drop back to below freezing in wake of the Thursday front. Any surface moisture, standing water or snowpack will refreeze Friday morning as highs are not expected to break 30 F for most areas.
We will continue to monitor the mid- and late-week developments and update later today when we have new information.
If you liked our Star Wars Hoth reference, we defer the credit for the photo to this creative blogger which has a series of crafty and chuckle-worthy shots at
http://media.gunaxin.com/battle-hoth/179677
.
Given the long and toilsome winter, it's our way of trying to use some humor to help warm hearts.
Mr. Foot, Forecaster Mike, Advisor Keith and the Winter Stormcast Team