How Much Longer & What About Monday?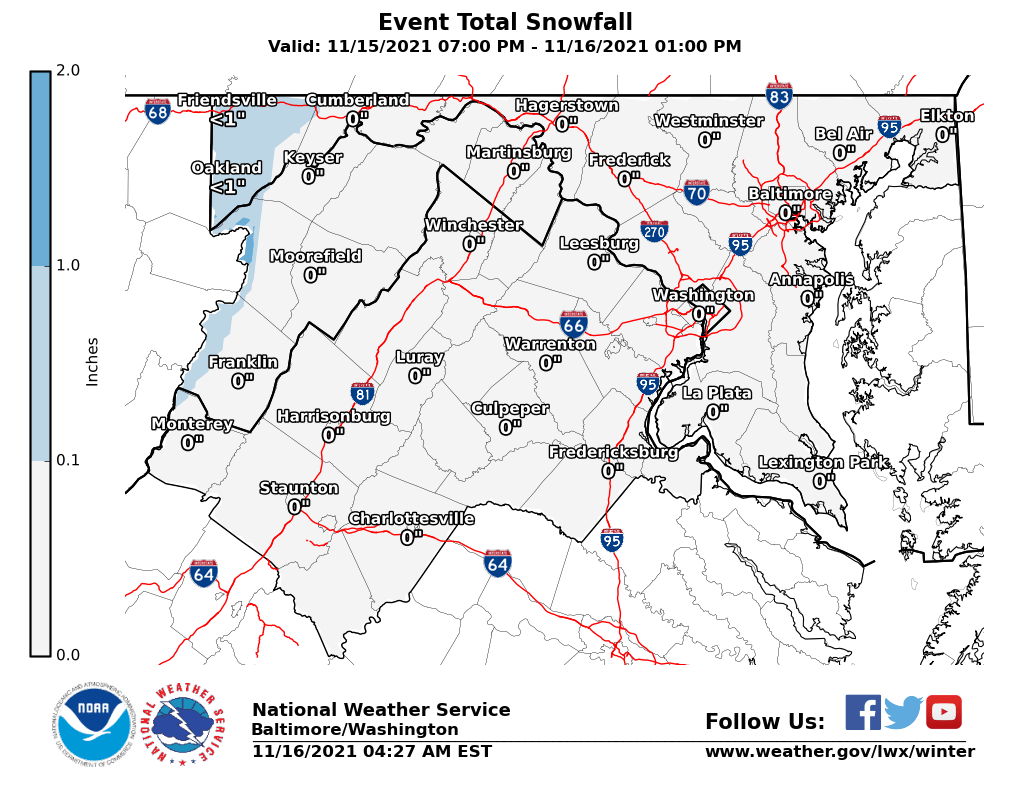 UPDATE AS OF 10:45 AM ET SUN 1/13
NORTH OF THE PA LINE

, LIGHT TO MODERATE SNOW CONTINUES THROUGH 7 PM BEFORE TAPERING TOWARD MIDNIGHT, WITH AN ADDITIONAL 2"
FOR NORTHERN MD COUNTIES TO I-70/BALTIMORE CITY LINE, M

ODERATE SNOW

CONTINUES THROUGH 5 PM, THEN BECOMING LIGHTER AT TIMES AFTER SUNDOWN, WITH AN ADDITIONAL 4-5" AND STORM TOTALS OF 5-10" LIKELY.
FROM BALTIMORE CITY SOUTH TO DC METRO

INCL. MONTGOMERY, ANNE ARUNDEL, PRINCE GEORGES, MODERATE SNOW TO CONTINUE THROUGH 10 AM, THEN BECOME HEAVY THROUGH 4 PM, WITH AN ADDITIONAL 4-6" PROBABLE IN MOST LOCATIONS, WITH 10" OR MORE LIKELY. TAPERING TO LIGHT SNOW AFTER 10 PM.
FOR THE EASTERN SHORE,

HEAVY SNOW WILL CONTINUE AT A STEADY PAVE THROUGH NIGHTFALL, WITH WIDESPREAD 4-8" TOTALS FOR ALL AREAS NORTH OF OCEAN CITY. AREAS NEAREST THE BAY MAY EXCEED 8" BY 6 PM TODAY, WITH ACCUMULATING SNOW ENDING BY MIDNIGHT.
FOR ALL AREAS:

SOME DECREASE TO LIGHT AND MODERATE SNOW INTENSITY EXPECTED FROM AROUND 6 PM, WITH SNOW STARTING TO EXIT THE REGION AROUND 10 PM. ACCUMULATING SNOW SHOULD END BY 12 AM, AND WITH TEMPERATURES REMAINING BELOW 32 MOST OF THE DAY, REFREEZING WILL QUICKLY DEVELOP BY SUNDOWN WITH LOWS IN MID 20S REGION-WIDE.

ABOUT MONDAY

:

hWell, considering that Winter Storm Warnings were just extended to 12 AM Monday for most locations-- we think tomorrow is largely done for most schools and colleges. The NWS hourly chart above is from Parkville, MD a representative location for the region to illustrate that scattered light snow is still possible in some areas until at least 11 PM tonight. An upper level disturbance is expected to pass through in the final hours, and this would briefly enhance any last snow showers to produce up to 1/2" extra in the 8-11 PM period. This indicates icy conditions should be expected for the AM commute beyond major highways & beltways, specifically in backstreet roads, secondaries, bridges, overpasses and off ramps.
PLOWS & LOTS

: Many plow operators may need to make three full passes for removal due to the extended duration of this event. If a late stage accumulation occurs, they would have to come back for a 4th pass. Crews working on school & bus lots will have to decide if there is adequate time to make one full cleanup once snow ends this evening, or should they start early knowing a second full pass will be needed before Monday morning?
SHORT RANGE SIMULATED RADAR:

Snow exiting the 95 corridor around 11 PM as shown below in the High Resolution Rapid Refresh (HRRR) model.