IF ARCTIC AIR IS NOT YOUR THING,
we recommend one of these, today.
8:00 AM SAT 1/19
With

current temperatures in many areas east of the Blue Ridge mountains a few degrees above forecasted levels -- it would seem wise to take full advantage of today and GET STUFF DONE that you prefer not to do when temperatures are 10-15 F.
For most of Maryland east of I-81 to the 95 corridor and Eastern shore -- as well the DC metro area -- precipitation onset may not occur until at least Noon. This should permit road temperatures to improve into upper 30s, and would reduce potential for ice to develop this afternoon in areas where roads are well above 32 F.
HOWEVER, THE SUNDAY ICE AGE IS STILL COMING.
The Arctic front is still going to barrel through Sunday morning, dropping temps 30+ degrees in 12 hours or less and dropping below 32 F in most areas by mid morning. Below is an hourly projection for Ellicott City in Howard County MD as a sample location for timing and precipitation types.
Untreated roads, which will be many, are going to see standing water quickly refreezing by Noon, despite windy conditions. Doc Brown from Back to the Future would be vindicated,because after the ice develops, some of us won't need any roads on Monday -- or even Tuesday.
Winds will rise to 15-25 mph with higher gusts, producing sub zero wind chills for 24+ hours from Sunday afternoon through Monday. It will be the coldest air you've felt beating again your house or apartment in a long time. So consider today as one good chance to get ahead of the cold and wind while you can.
Additional details on the 4-day weekend potential in the previous post.
NWS HOURLY FORECAST

for Ellicott City in Howard County, MD as the example location for precip timing and temperatures in the region.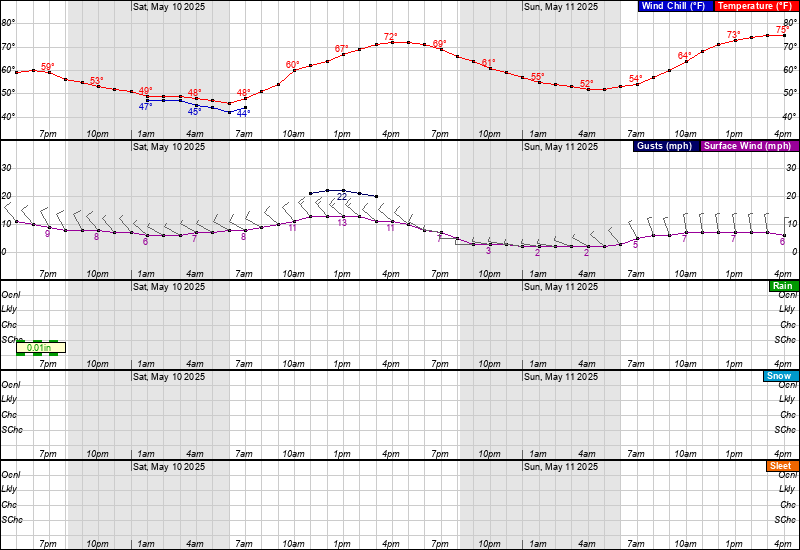 FOUR DAY WEEKEND ?
How ice on Sunday could threaten Tuesday
Projected mid-day highs for Martin Luther King, Jr. Day, 2019
For the upcoming "Big Wet Kahuna" weekend storm, regardless of if your area receives all snow, snow to rain or a wintry mix -- temperatures region wide will crash 30-40 degrees on Sunday from the 40s to the 10s or lower.
THE SALT PROBLEM:

Road crews are not likely to apply salt treatment to many surfaces prior to or during 12+ hours of rain Saturday into Sunday would wash all that chemical and effort away. For areas south of I-70 in Maryland, along the I-95 corridor from Phila to Baltimore & DC - rain changes to snow by Noon on Sunday, as temperatures crash. By nightfall, all the rainfall and snow is flash freezing on parking lots, overpasses, off ramps, secondaries, driveways and everywhere else left untreated.
THE COLD PROBLEM

: In wake of the storm Sunday night into Monday, temperatures continue dropping to single digits for most locations north of Washington DC. All that standing water freezes solid, and the saturated, slushy ground along with it. Then what happens to temperatures Monday and Tuesday? Almost nothing! Highs Monday for most areas north of DC are 15-20 F. In Pennsylvania, highs may not break 10 F. Monday night, lows dip to single digits again.
THE ICE PROBLEM

: Neither Sun, nor Salt nor Shovels nor Spears will be able to dislodge and de-ice what could become a region-wide paralyzing, widespread ice event that will severely impact travel Monday and Tuesday. The good news is, this *probably* won't be the start of the next Ice Age. But for a time, it sure will feel like it...