How about "Wish I Knew Wednesday?"
UPDATE AS OF 4:20 AM WED 1/30/19
WEDNESDAY: Surprise Squall Line 10 AM - 2 PM
Did you know an Arctic front is coming? If not, you will feel it soon. Short range computer models are depicting a literal white-out wall knifing through the entire region from 10 AM to 3 PM. Winds will spike to 25-35 mph with higher gusts of 45-50 mph in the mid afternoon, just as a near-instant burst of snow arrives with it.
Wind Advisory in effect from 9 AM to 6 PM today for much of the region, and statements from NWS to expect "heavy snow at times" with reduced visibility and strong gusty winds creating power outages. This is especially concerned with single digit temperatures coming tonight and sub-zero wind chills much of Thursday.
On a 2-hour delay? You might be stuck facing an approaching squall line of snow, cold surfaces where salt is not working due to low temperatures, and wind-blown snow reducing visibility right at the time everyone is either heading into school or work, or heading home. This is what we call a multi-hazard high impact event.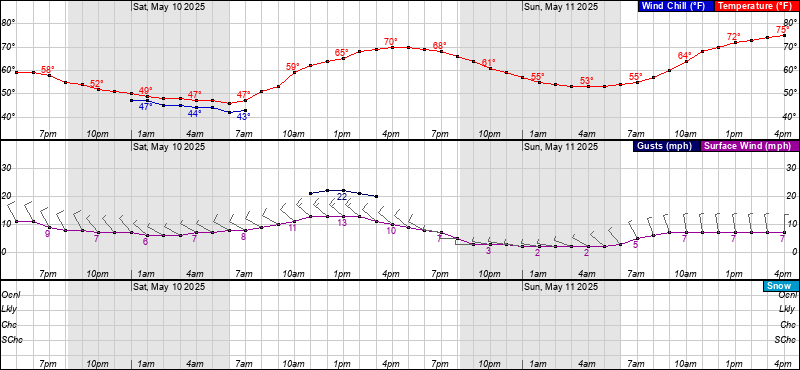 From the Sterling VA National Weather Service: "

Strong winds may blow down trees and power lines which would result in power outages. Loss of power could be life threatening due to the very cold temperatures. Snow showers or snow squalls could enhance gusty winds and briefly lower visibility, resulting in very hazardous driving conditions, especially near and north of Highway 50."
So now you know, and it won't be a surprise for those like you whom have seen the latest "High Resolution Rapid Refresh" model, (HRRR) shown below. They KNOW how serious a winter squall line CAN be, and recognize it's not something to be dismissed.
Squall line depicted on short range map for 12 PM Wed 1/30
Now, let's ask ourselves, how could the computer models bother with depicting a seemingly tiny little stripe of snow around 12 Noon Wednesday? Wouldn't all the dry air squeeze it out to nothing? Since many of you were no doubt wondering that same thing this very evening, here's our answer.
Not if the moisture is traveling WITH the Arctic front, and is tapping high liquid to snow ratios of 20:1 or greater. In that case, just 0.01" of water can produce up to 1/2" of snow. Imagine if it all fell in just 1 hour. For fun, let's say...2 PM. Right before buses start to roll. Wish you knew about this on Tuesday?
In our 15 years of forecasting here at Foots, we have learned there is ONE THING school districts and other organizations seek to avoid if at all possible when making an opening/closing decision:
To announce a 2 hour delay, only to realize after it's much too late, that conditions have conspired against you in the computer models, forcing your hand into an early dismissal, or a closing.
It is a tricky call all the way around, but we are glad to help work the storms with you, and glad you have found the information useful over the years.
- Forecaster Foot & the Advisory Team