Two words for the wise:
El Nino
INDICATIONS SHOW "MODERATE" WARMING IN CENTRAL AND EASTERN PACIFIC IS UNDERWAY, SETTING STAGE FOR A TROUBLESOME WEATHER PATTERN NEXT 6-12 MONTHS.
6:30 AM 4/12 - "So you are predicting a rough winter coming up, but aren't sure about MONDAY? Meteorologists just crack me up."
Many of our long time readers will notice if they examine our reports on this site, and in our local Facebook forecast pages, that the our team hardly ever delves into the "climate change" arena. Is this because we don't have a stance on the subject, are afraid of it, (or maybe we are part of the global cover-up, and just don't realize it...?)
No, in reality we elect to maintain a "forecast local, think global" approach. We choose to focus on relatively short term, observable and verifiable data in climate science, while keeping an eye on the underlying long term trends. For our readers and clients, we believe that your immediate need are more likely to be "what's the deal with next week?" or "give me a sense of next winter" than "how much time left before I have to put the house up on stilts?"



EL NINO IS COOKING, ARE YOU READY?
We closely examine climate data and known trends to identify what types of long range patterns are most probable in the near future. We believe if you have a general idea of what's coming the next 3 to 6 months, you can more effectively plan your life or business needs going forward. When rough times do hit, such as a repeat of winter 2013-14, or an Isabel-like event, we hope the foreknowledge of what's possible aids in your resiliency and recovery.
Here's a look at the indications we see from the NOAA Climate Prediction Center, with a brief explanation below the summary. True long range watchers, oceanographers and climate scientists already know why this graph gets us going, and should be a message to purchasing agents who want to be ahead of the game by next winter.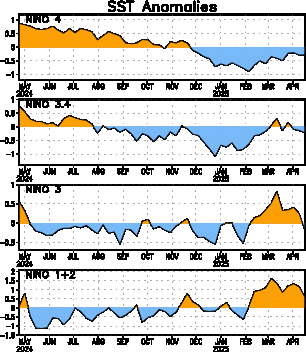 It is month-by-month measure of changes in sea surface temperature (in degrees Celsius) across different regions of the Tropical Pacific. The most important of the 4 regions shown below is "3.4" as noted in the center of the chart.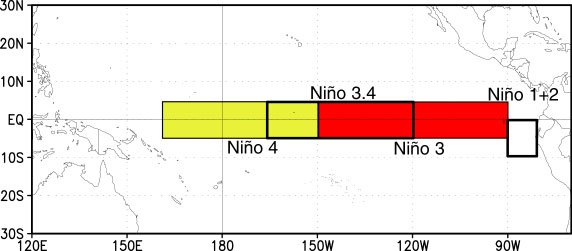 Region 3.4 is the universally identified "indicator" chart that NOAA and the Climate Science community hang their hat on when gauging status of Pacific warming (El Nino) or cooling (La Nina).


Red indicates sea temperatures are above normal, blue is below normal -- relative to the time of year. It is plain to see that 3 of the 4 measured regions in the Pacific are showing a fairly rapid warming that commenced in February 2014 and has continued well into April.


Long term historical climate records of El Nino events going back 50+ years show that moderate episodes of warming in Region 3.4 -- (influential factors in recent winters such as 2009-10 and 2002-03) -- got underway in April, and never looked back.
THE BOTTOM LINE FOR YOU (AND US)?
Once warming in the crucial El Nino Region 3.4 starts, it usaully becomes a major driving factor in weather patterns for the 6-12 months ahead.
Influence on the southern jet stream and Atlantic wind patterns can disrupt hurricane formation, hence the recent outlooks for a less active tropical cyclone season.
Reduced tropical cyclone activity in the Gulf and East coast allows sea surface temperatures to be less disturbed, and in turn can enter the winter season WARMER than normal. THIS becomes a key fuel source for major winter storms that develop along the coast, and was a strong factor in the Winter 2009-2010 blizzards.
WORKING THE STORMS WITH YOU
The important take-away for emergency managers, municipal operators and school district officials is that El Nino has signaled it's intent to return this winter. We suggest you begin planning ahead now so you are ready, if 50 years of known climate trends are of value in your long term risk management planning.
If your company or organization is interesting in making our weather intelligence services a part of your planning process for the seasons to come, we welcome your inquiry:
team@footsforecast.org.
By Rich Foot, CEO & Senior Advisor - Foot's Forecast LLC