Message to Old Man Winter:
Please STOP.
10:45 AM EST 2/23

- As the Ohio Valley and Mid-Atlantic shovel the remaining slop that became of Saturday's over-performing snowfall, eyes and minds are looking for how the winter pattern reaches conclusion. The one glimmer of hope we see in the distant long range is a potential for above normal temperatures toward the middle of March.
However the next 2-3 weeks may make you feel like winter has decided to start over from the beginning. The updated overview of our concerns going forward:
MELTING AND REFREEZING SNOWPACK in the East as temperatures dropping to the teens tonight in metro areas and possibly single digits in northern/western and rural areas, with sub-zero readings in the Appalachians.
SERIES OF LARGE ARCTIC HIGHS

will ontinue the wave train of bitter cold air over the next 5-7 days, first entering the northern Plains then drifting toward the Ohio Valley and Mid-Atlantic. This will keep temperatures below normal for most of the week.

REACTIVATED SOUTHERN JET STREAM moving toward a more Spring-like pattern. It doesn't take an advanced meteorology degree to see how the convergence of this with large Arctic highs points to a primary hazard into early March: Multiple winter weather events.
COASTAL MISCHIEF PLAYING AROUND on the medium range model maps, as evidenced by this westward creeping edge of precipitation from a coastal Low at the edge of the High. Image below is the Day 1-3 NOAA Liquid Potential through 7 AM Thursday.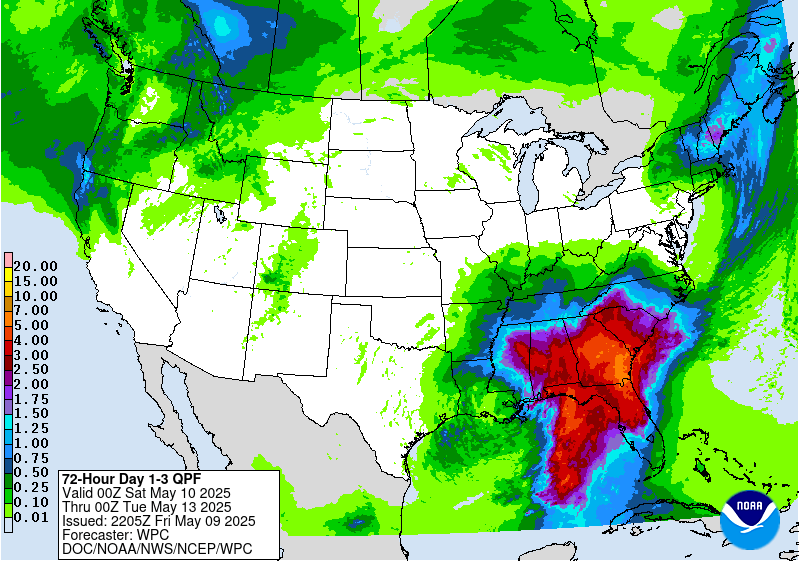 THE PATTERN PLAN?

SUCCESSIVE PERIODS OF WINTRY WEATHER may

impact large areas late this week into early next week, starting in the Southwest - to the Deep South - to the Appalachians, then the Mid-Atlantic and Northeast. One glance at the

6-10 day outlooks from the Climate Prediction Center

is evidence enough the wild winter ride is not stopping anytime soon.