Let's Call It "Tricky Tuesday."
Update as of 5:30 AM ET TUE 1/29
AM TO AFTERNOON

: The latitude of Interstate 70 in central Maryland expected to be dividing line between areas of mainly snow (Frederick, Carroll, Baltimore, Harford), with areas south of I-70 seeing a rain/snow mix until after 2 PM.
BETWEEN 12-2 PM:

North of I-70, all precip changes to snow and becomes heavy, with up to 1/2" per hour at times after 2 PM to 4 PM. South of I-70, rain/snow mix will battle a few more hours, then convert to all snow starting 4 PM. If you are not home by 4 PM, consider staying where you are until after 7 PM. Remember the Jan 26, 2011 "Carmageddon" on the JFX? Need we say more.
PM COMMUTE

: From 4-6 PM, once sun angle is lost, snow should become heavy in all areas from I-66 to central PA. Prepare for extended delays, hazardous travel anywhere north of I-66 in DC, snow-covered roads, plow trucks trying to treat roads, frazzled nerves and occasional hair loss.
WHAT'S NEXT? It gets cold, really really cold. And windy through Thursday. A squall line of snow showers may push through the region Wednesday morning, creating a new round of potential delays and icy conditions, with temperatures around 15 F. See below for previous updates and details on timing.
"When can I see you again?"
Update as of 5:30 AM ET TUE 1/29
A three-day period of significant and potentially disruptive winter weather will produce widespread impacts on the Mid-Atlantic region from Tuesday 1/29 through Thursday 1/31. A combination of rain to snow, falling temperatures, Arctic conditions and sub zero wind chills may create hazardous travel conditions at times from Tue AM through Thu PM. Today would be a good day to get done as much as you can in advance of this winter resurgence.
TUE 1/29: Fast-moving cold front with ample moisture will cross the region, quickly changing rain to snow in all areas west of I-95 corridor by mid afternoon. Short range models show a period of high snowfall intensity up to 1.0" per hour is possible from northern Virginia through the DC metro and into central Maryland. Map below is generalized conditions expected from 4 PM on, with 00Z Wed = to 8 PM local time.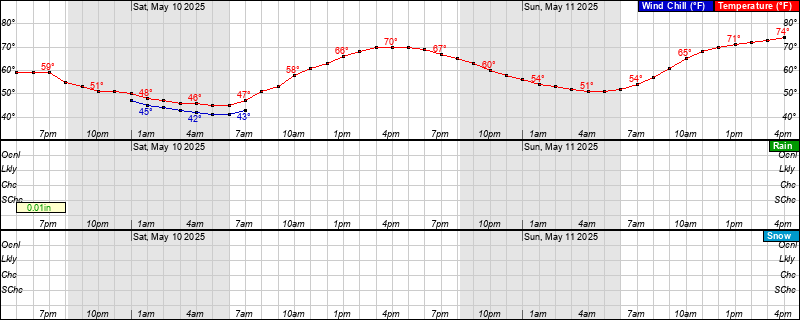 WED 1/30:

Region-wide temperatures holding in teens to low 20s, with winds gusting to 30 mph at times. Any residual water or snowmelt will quickly refreeze, possibly creating icy travel conditions for Wed AM commute.
THU 1/31:

Arctic front sweeps across the region, with AM temps near 5 F in areas south of I-70, -5 F to 5 F north of I-70 into southern PA, and near 10 F on Eastern shore. AM Wind Chills -10 F to 0 F for much of central MD, southern PA and 0 F to 5 F above for DC metro / northern Virginia.
NWS Hourly for Sykesville, MD in Carroll County along I-70 as representative of the expected cold intrusion and wind chills

For readers in area school systems, now you have the explanation behind today's headline, so buckle up and get your schedule ready for a re-do. - Forecaster Foot & the FF Team